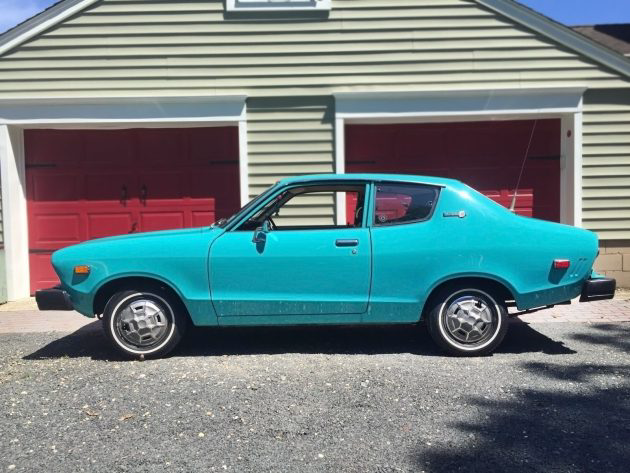 Here's one for you vintage Japanese collectors and/or lovers: a 1977 Datsun B210 Sedan and it's on eBay with an unmet opening bid of $3,000 and a Buy It Now price of (are you sitting down?) $14,000! It's located in Point Pleasant Beach, New Jersey. The seller says that they will not get involved with shipping, but I hope that doesn't mean that they won't at least be there when a shipper shows up to take it away. This looks like a car that you could jump in and drive home no matter where you live, but most of us can't afford that amount of time.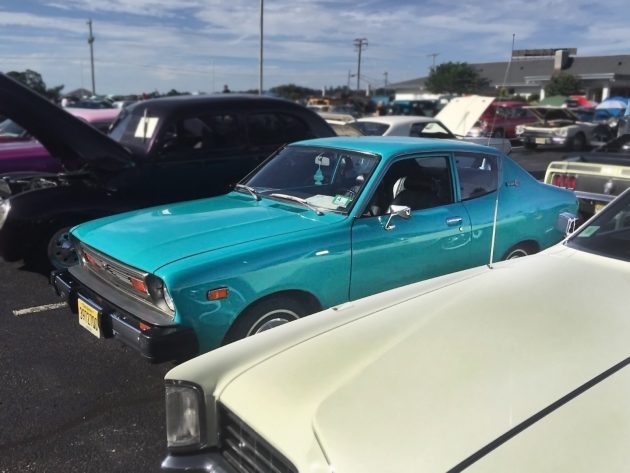 I know, for a $14,000 car the photos aren't plentiful and most of the ones that are included aren't the best, but what're ya gonna do. More on that a bit later.. This honey of a non-honey bee is a 38,000-mile, one-owner, all-original car. Pretty amazing! And, it really is as nice as it looks here, all of that original paint appears to really be that nice. But, they say that there are a few small dings in the body from it being in the garage for so long, bummer. Paintless dent remover, here we come!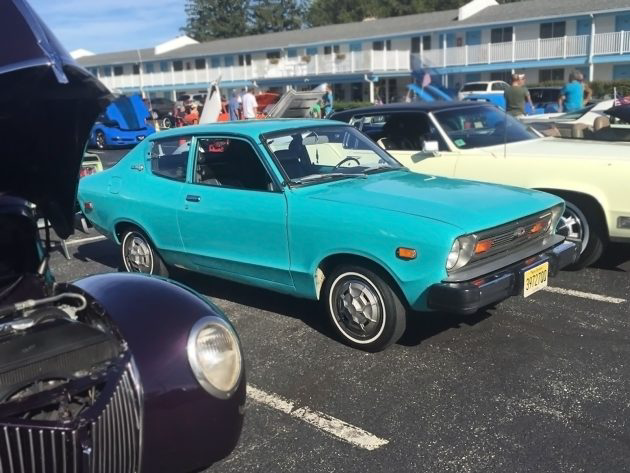 This is the sedan body style as opposed to the famous hatchback that most of us have seen. The Honey Bee was based on the sedan body. I have seen nice B210s, but none this nice. This is almost on par with the totally restored and very pricey Mitsubishi Lancer from a couple of days ago. Unfortunately with this car, there are no interior photos or detail photos at all other than the one of the tireless spare tire well in the trunk.
Pro tip for sellers: photos are king when it comes to getting the highest possible price for your vehicle, especially if it's as nice as you say it is. Why would you skimp on photos to sell a car for $14,000 if it's as nice as it sounds like it is in the text portion of the ad? Overwhelm us with great photos, go overboard with photos, and horizontal ones if at all possible. People buying vehicles online want photos, good ones, and lots of them. It's a gamble to buy any vehicle online, do all that you can to make sure that folks know what your car looks like inside and out, top to bottom. I would have trouble shelling out multi-thousands of dollars for a vehicle without personally inspecting it first if there were just four photos in an ad and then I'd be spending another $250 for that inspection that'd I'd most likely try to negotiate back out of the price. Ok, I'll get off the soap box now, let's look at that engine!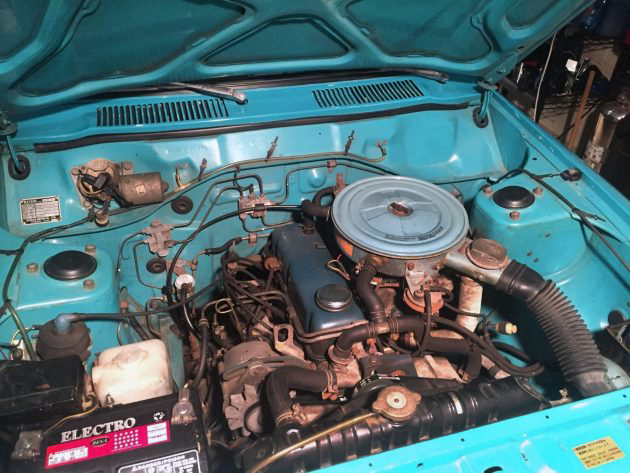 This is Datsun's A14 engine, a 1.4L, 1,397 CC inline-four with around 70 hp. It looks pretty clean but it looks like there is some surface corrosion on a few of the parts and pieces, but that could just be grime after four decades. The choke needs adjusting, apparently it's a bit hard to start when it's cold, bummer. Also, the "safety switch on the transmission" needs adjustment? And, yes, unfortunately this car has an automatic transmission; the price just dropped precipitously. This is no doubt a fantastic Datsun B210, maybe one of the nicest original ones left. But that price! And an automatic. What do you think about this little blue beauty? What's it worth?