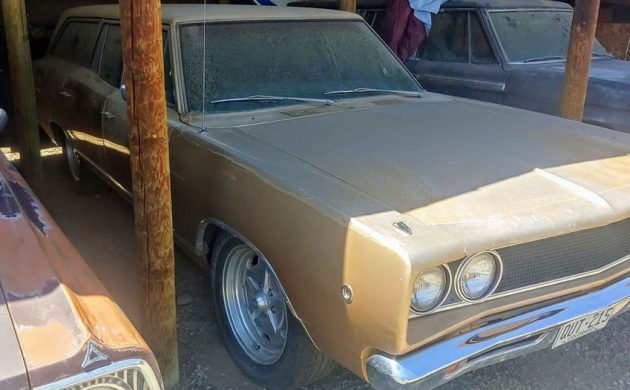 OK, no full-size Chevrolet station wagons, at least for a while. Instead, let's turn our sights towards Dodge, specifically a 1968 Coronet model 440. This example is listed as a 20K mile barn find and that claim alone makes it worthy of further investigation. So here we go, located in Montrose, Colorado is this 1968 Coronet 440 station wagon and it is available here on Facebook Marketplace for $11,500.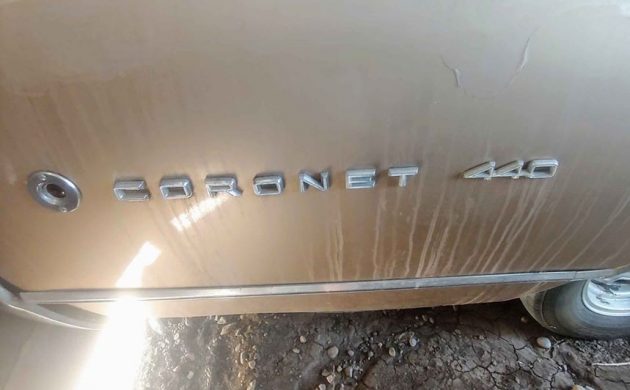 Often, the Coronet 440 moniker leads one to think that the Coronet in question is powered by Mopar's vaunted 440 CI "RB" engine but that's not the case, it's just a model name. In 1968, the Coronet midsize model came in four different flavors starting with the Coronet Deluxe, then moving to the Coronet 440, with the Coronet 500 next in line, and finally, the performance-oriented R/T sitting at the top of the heap.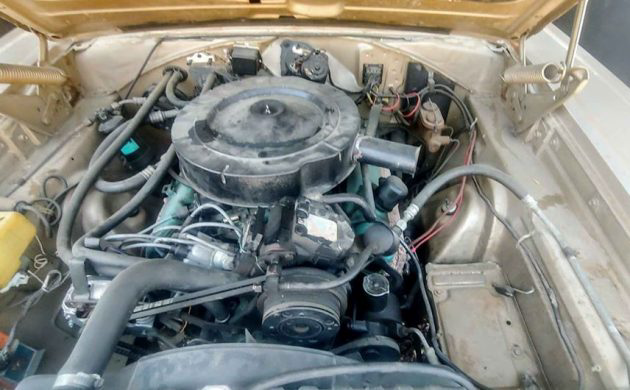 The trim tag for this wagon checks out, not that there was a reason to believe that it wouldn't, it was more a verification to ascertain which 383 CI V8 engine is domiciled under the hood. As it turns out it is a 290 gross HP, two-barrel carburetor equipped motor working through a TorqueFlite three-speed automatic transmission. The seller claims, "RUNS & DRIVES GREAT!!". The underhood compartment is pretty clean, though a bit dusty. Only 20K miles? Hard to tell, talk among yourselves and please advise what you think.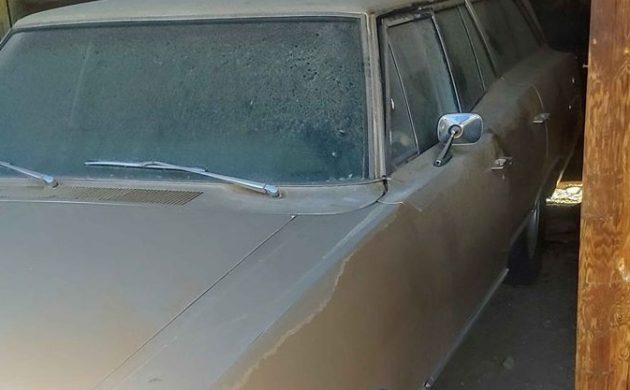 The exterior, what can be seen of it, appears unmolested and unrusted. The seller states, "BODY IS IN GREAT CONDITION". It's hard to verify as there are no comprehensive images included in the listing. The original finish, designated as Medium Tan Metallic, code Y, is sunburned in places and there is a trace of surface rust showing on the tailgate. While it may be a barn find, this Dodge has definitely spent some time in the bright western sunshine. Nevertheless, the chrome is good and the trim seems to be all there. There also appears to be aftermarket wheels at all four corners, they are hard to discern but look like a "Halibrand" style of alloy.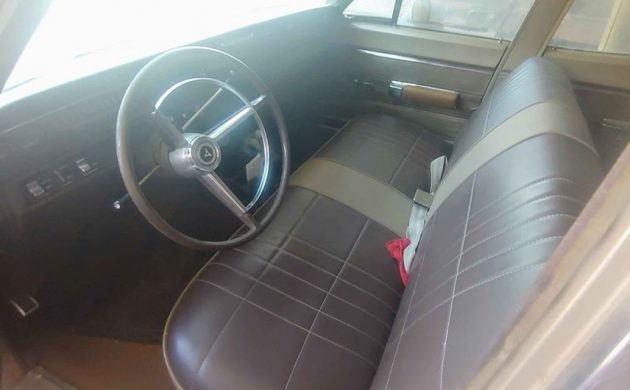 This Coronet is a nine-passenger model, so it will deliver some nice functionality to its next owner. The seller says the "INTERIOR IS SUPERB!" and the few images that are available present an attractive two-tone vinyl upholstery that looks unmarred. The same goes for the headliner and the instrument panel, though the image of the way-back area is fuzzy. It appears to be dusty at the least, hard to tell for sure beyond that if anything is out of sorts. The armrests look discolored but that may be the result of the same climatic conditions that have done their work on the tan exterior. All in all, it shows well, however.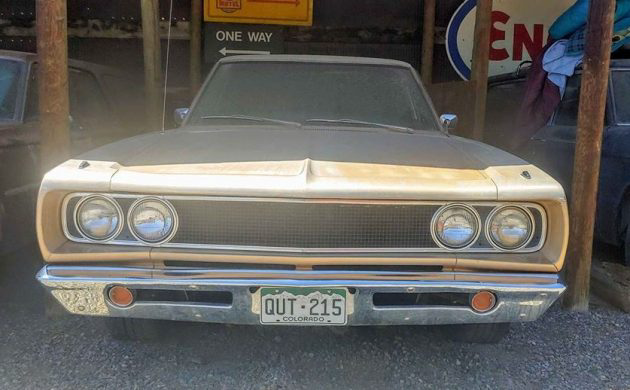 This much is for sure, Dodge station wagons of this era, say compared to the full-size Chevies that we have been featuring here on Barn Finds lately, are not commonly found any longer. Some of that has to do with the sheer number of units produced and other factors are simply that station wagons were not always considered collectible or worth saving. This one gets cred for its general condition, big-block motor, and the fact that it is a survivor Dodge. The price is a bit stiff, not stiff enough to cause a gulp, but it is optimistic. But you have to ask yourself, when and where will you find another?