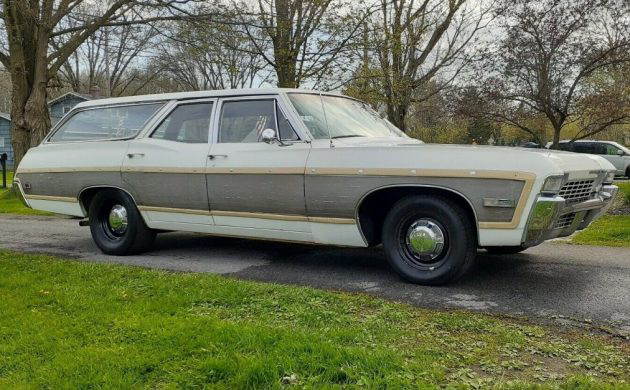 Here's a familiar sight, I spent quite a few of my teenage years in just such a station wagon. Omnipresent at one time and seldomly seen today, are cars like this '68 Chevrolet Caprice station wagon. Interestingly, they have a certain collector cachet as their Impala hardtop siblings too, not quite the same level mind you, but they definitely have their fans. This example is located in Elbridge, New York, and is available here on eBay for a current bid of $6,101, reserve not yet met, or a BIN price of $14,000. Thanks to local_sheriff for this tip!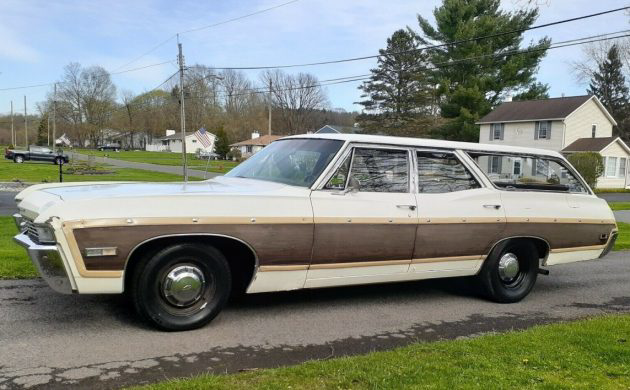 Chevrolet went back and forth with naming conventions for their station wagons, using either unique names like Brookwood, Parkwood, Yeoman, Nomad or just using the same moniker as their passenger model variant, ie Caprice, Impala, BelAir and Biscayne. This year, '68, marked the final year of using the passenger model name for station wagons until 1973 when the standard naming returned. This being a Caprice, puts this wagon at the top of the heap but it's really no different than an Impala, it just has faux wood veneer paneling and the Impala didn't.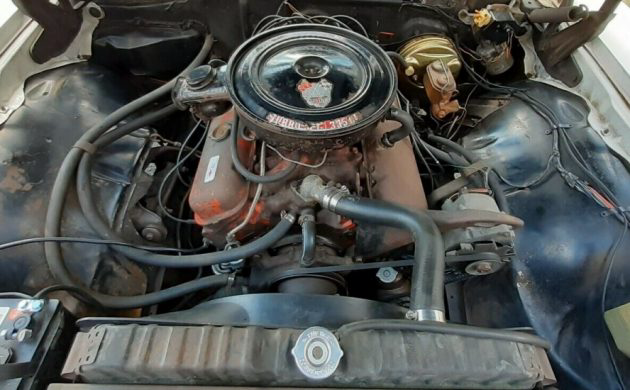 This Caprice's calling card appears to be its 385 gross HP, 427 CI V8 engine which the seller claims is a matching number motor. The seller adds that this wagon is 1 of 191 built but there is no further evidence as to what that claim is based on. If it has to do solely with the engine, that's just not correct, the L36 (385 HP/390 HP in the 'Vette) engine was fairly common. If it's the exact equipment and configuration possessed by this Chevy, that's a possibility but Chevrolet's record keeping from that time frame wasn't too detailed and much of it is now lost to posterity. Whatever the case, it is a 95K mile motor and the seller adds, "Within the last year it's gotten a new battery tray, fuel pump, rubber fuel lines, power brake booster, master cylinder, brake hoses, replacement gas tank and sending unit, rebuilt carb, tune-up and front tires. The car starts stops, runs and drives". Transmission duty is handled by a Turbo-Hydramatic 400, three-speed, automatic unit.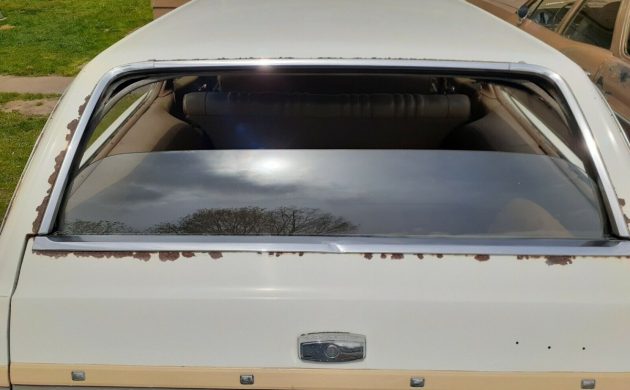 The body, which we are told is one repaint in the original shade, is starting to fail where '68 Chevy bodies usually fail, the lower fenders, lower doors, and lower quarters. It's all fixable if it isn't too excessive but you won't know that until you start chipping away at what is evident. In spite of the repaint, the finish is pretty flat and the "wood" veneer is bubbling and fading away. Beyond that, there is chipped paint and surface rust in places, especially around the rear window, and there's a bump in the driver's side fender where sheet metal screws have been employed to reattach the trim.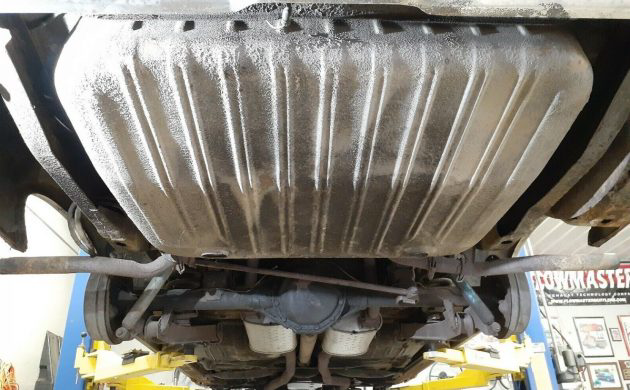 The underside, however, appears to be pretty firm. The floors look sound, as does the frame. The large steel gas tank-like looking thing perched behind the twelve-bolt differential is actually the storage compartment well, or the fold-in well for the third seat which this Caprice does not have. The fuel tank on station wagons of this era is located in the driver's side quarter panel. Speaking of the third seat, Chevrolet used two different model numbers to delineate between the two and three-seaters, 6635 (this example) references a two-seat model and 6645 is a three-seat version.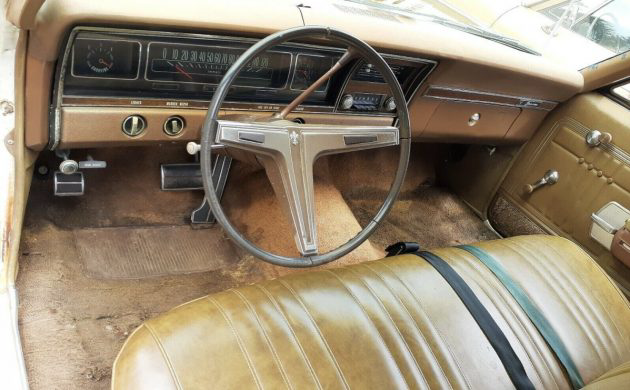 The interior is about what you would expect, it's worn but passable. The front seat actually looks like it has been reupholstered and the black seatbelts are correct – you had to pay for optional color-coded ones if that's the way you wanted to roll. The carpet is typically shot and the dash pad is split but the instrument panel looks pretty good still. The steering wheel is cracked too and I'm yet to find one on a '68 Chevy, of any model, that isn't. Note the fuel gauge, it looks like the ground wire has come off. Miraculously, the headliner is still intact, it's a big one to replace!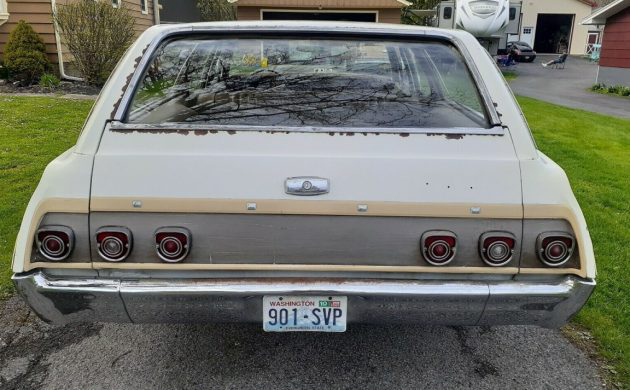 This Caprice is a bit unusual with its 7.0-liter engine, no A/C, and no third seat but that was the standard approach to building a Chevy, and a lot of other cars as well, back in the '60s; you could mix and match as you so desired. You would think this wagon was equipped for towing but there's no sign of a hitch so maybe the original owner just wanted to be able to get wherever he was going in a hurry, while fully loaded. As stated at the outset, station wagons have garnered some collectability these days and one like this will be a draw, but at this price? The BIN option gives you an idea of the reserve and it seems a might bit rich, don't you think?