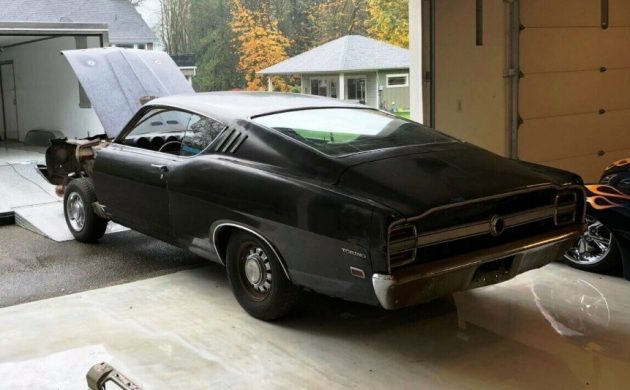 If you get dreamy-eyed after hearing the phrase "428 CobraJet," and if you furthermore appreciate sellers who (justifiably) geek out over production casting numbers, boy do we have a car for you! In fact, the listing for this 1969 Ford Torino in Olympia, Washington includes almost nothing other than pictures of parts, casting numbers, and documentation. The listing here on eBay asks $10,000 to Buy It Now, and includes the Make Offer button. When new, this powerful Torino came with the desirable 428 CJ motor, four-speed gearbox, and other interesting features.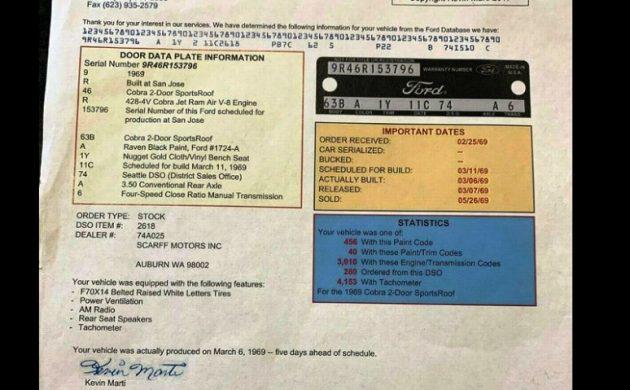 Since we've run out of current pictures of the car after one, how about a Marti Report? The Raven Black paint and gold interior makes it perfect for a Pittsburgh Steelers fan. While the combination of a bench seat and a close-ratio four-speed is less rare than you might think, the non-locking 3.50 rear axle is a bit of a puzzler in a Cobra Jet car. The lack of a Traction Loc (limited slip) differential stands out as either an oversight or the choice of someone more interested in Show than Go.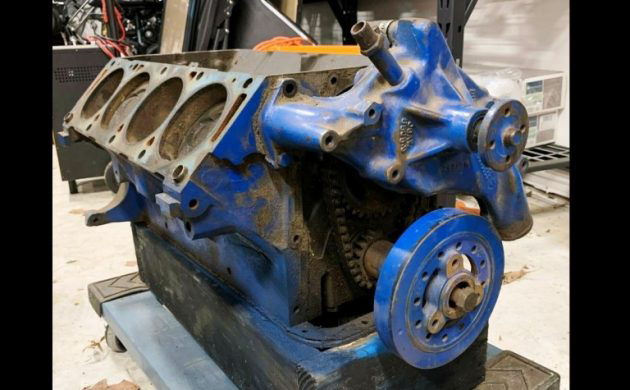 I'm no casting number guru, but generally speaking the number after the first letter indicates the year of manufacture, making this C7ME unit a 1967 block, still stated as a 428 CJ unit. The seller lists a host of other parts dating from between 1967 and 1968. Of course many 1969 cars were produced during 1968 or with parts that were manufactured in 1968 so further research would be necessary to determine what might be original. Our Ford experts can chime in with comments, but it's my understanding that during this time frame, Ford engine blocks did not include a partial VIN so "numbers matching" really comes down to whether the parts were manufactured at such a time that they might have been used in building the car.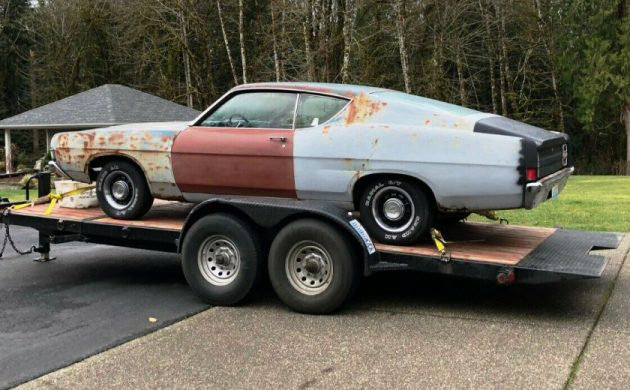 This earlier picture shows the car before it was "dipped" in "a protective coating." That crease in the left rear quarter will take some work, but nothing horrible. The seller reports rust in the left A pillar and rear deck lid. We never see the right side of the car so it could be crushed or gone or gouged out by a log skidder. Likewise the interior, underside, engine compartment, and front end could be perfect or perfectly miserable. That might be a Ram Air hood, but the Ram Air parts from the top of the engine can run $2000 or more on some cars. If this one checks out, for $10,000 you're getting a genuine Torino Cobra Jet and a bunch of late '60s 428 parts. Not a bad start compared to some cars we've seen. Is this mixed-bag Torino pulling at your heart strings?