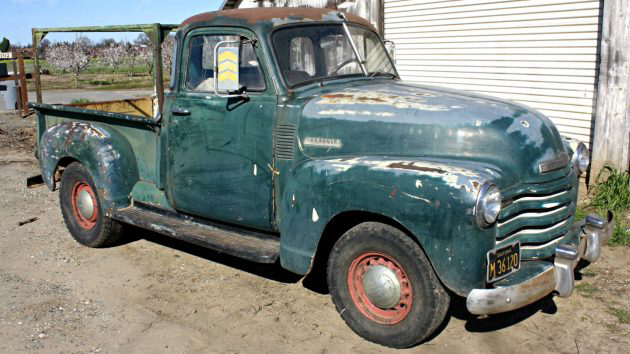 After an honest life as a farm truck, this 5 window pickup has survived rather well. With an obvious patina, this truck is very solid and is ready to drive. This unmolested beauty has 13 bids with 6 days remaining, and a current bid price of $3,050. Check it out here on ebay out of Yuba City, California.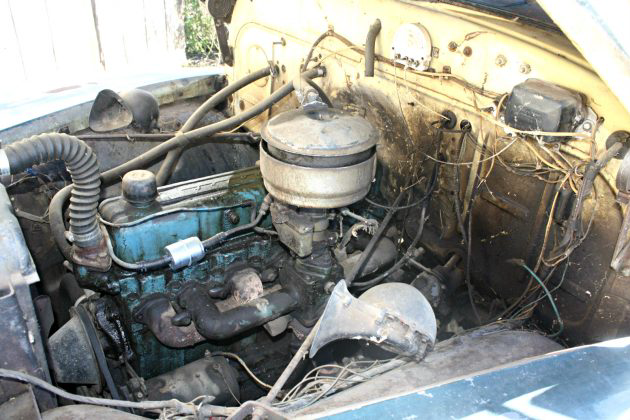 Although unrestored and "original" this truck is currently powered by a 235 cubic inch inline 6 instead of its original 216. The engine wears a light blue paint that completely covers the engine, where no rust is visible. A valve cover gasket looks to be in order as there is plenty of oil to be seen all over this engine as well. Described as starting up easily and rowing through the gears smoothly, this old Chevy likely needs a fair looking over of its mechanicals before hitting the streets once more. Also a set of tires are in order as for street use as well.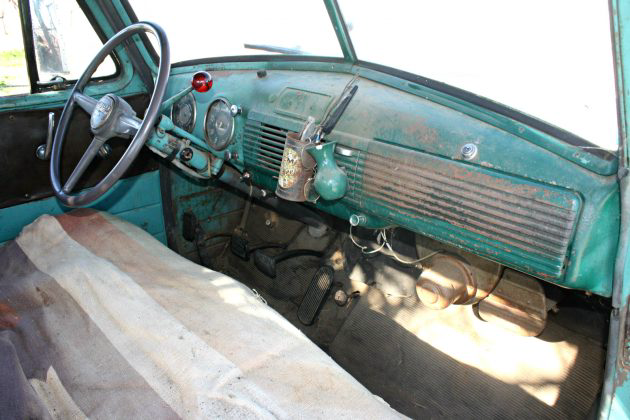 Simplistic and partially sea foam green, the interior of this Chevy isn't too shabby. The steering wheel looks surprisingly nice, and there appears to be factory rubber flooring in place. Sprinkled with some surface rust, the dash is nice, but is missing its once installed factory radio. All of the gauges in this truck are functional, but the speedometer will "jump"  sometimes. There appears to be an "Acme" beer can and a small flower vase attached to the dash, with what I assume to be "Farmer John's" glasses hanging. A blanket is in place, so I would imagine the bench seat could use some help, although the driver side door panel looks nice, so who knows. A good cleaning, and an upholstery job would have you on your way.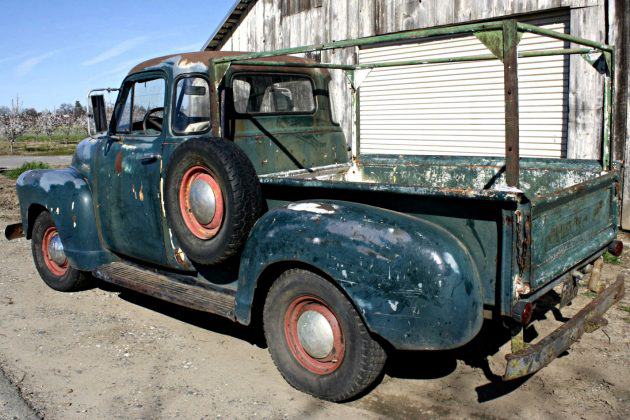 Although farm trucks can live a rough life, this truck looks to have gotten by easily. There is no rot to report other than the old rotted wood planked bed that is still in place. Some surface rust is present, but the bulk of it is on the roof. There are a few minor dents here and there, but the worst of it appears to be on the tail gate, and the passenger rear fender. The driver rear fender has a portion cut out at the bottom rear edge of the wheel arch. Thankfully the cab corners are excellent, as are the rockers.  Solid through and through, this truck would be great to make a driver again and enjoy as is, or perhaps restore it.  You choose, what would you do with this honest old farm hand?