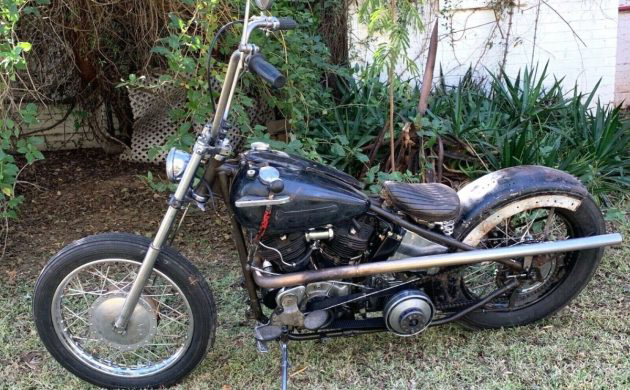 It is believed that this 1947 Harley-Davidson Knucklehead Chopper had spent many years stored away in a barn, but it has now been revived and returned to running order. The next owner can choose whether to undertake some form of cosmetic restoration, or whether they would prefer to find themselves on a classic that seems to scream the word "survivor." The Harley is located in Phoenix, Arizona, and has been listed for sale here on eBay. With bidding sitting at $17,600, the reserve hasn't been met.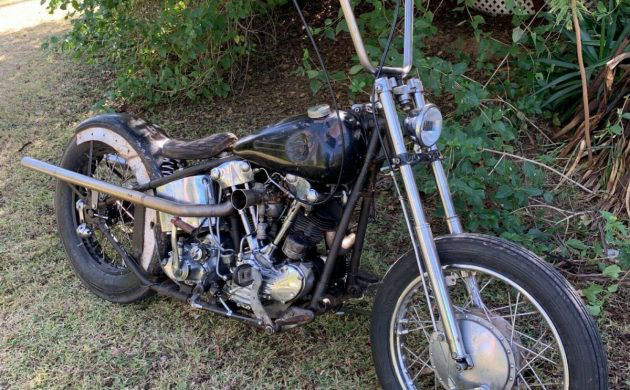 It would seem that the parts for this 1950s Chopper parts have been drawn from many different Harley models. The frame is of 1938 vintage, with all of the markings and casting codes clearly legible. The frame itself is in very nice condition, with no signs of any bends or fatigue in the tubes. The rear fender is also of 1938 vintage and might be original to the frame. The chrome oil tank is a 1939 model, but the vintage of the 3½ gallon fuel tank isn't clear. That tank wears a few dings and dents, but it could certainly be repaired or restored. However, I suspect that more than a few potential owners would choose to leave it as-is, and ride the bike as a true survivor.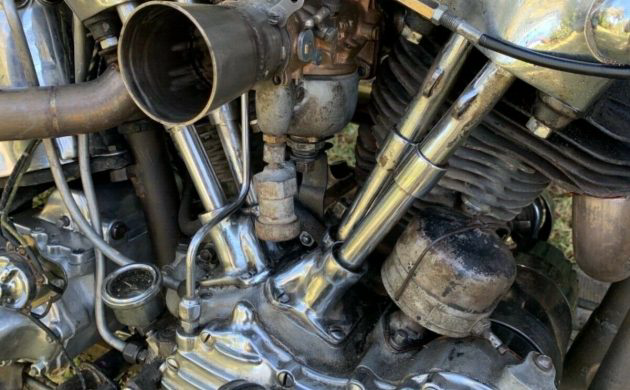 The engine fitted to this Harley marked the final year of new sales for the mighty Knucklehead. This 1947 model engine started life with a capacity of 990cc, but it isn't clear whether the internals of the twin remains original. When it was new, it would have produced 40hp, with that power being sent through a 4-speed transmission to the rear wheel via the iconic belt-drive system. The owner obviously seems to know his way around a Harley, because he says that the gears in the transmission look good, indicating that he has had a bit of a look inside. As part of the revival process, the owner gave the carburetor a rebuild, and also fitted a new 12-volt coil and battery. Given how robust these engines are, I'm not in the least bit surprised to learn that once this work had been completed, the Harley kicked instantly into life. The owner says that the engine feels strong and that the bike rides well. The engine certainly sounds good, as you will be able to confirm via this YouTube video.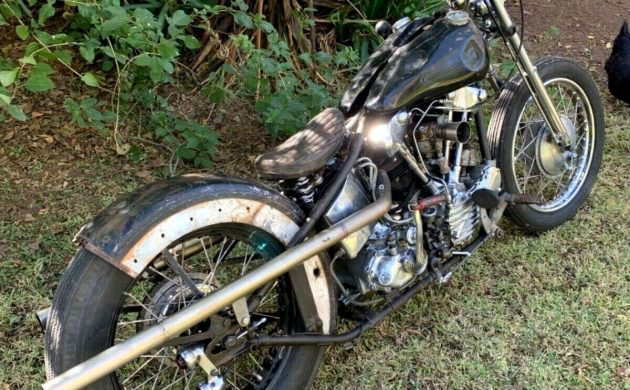 Different classic vehicles experience moments where they go in and out of vogue. Today's "must-have" suddenly becomes tomorrow's discarded item. One classic that has avoided this is the traditional, 1950s-style Harley Chopper. These are probably more popular now than they have ever been, and there are probably plenty of reasons for this. These are a simple vehicle to own and maintain, and getting out on the road on one of these provides the owner with an unrivaled feeling of freedom. In our ever more complex world, that sounds like the sort of option that would appeal to plenty of people.