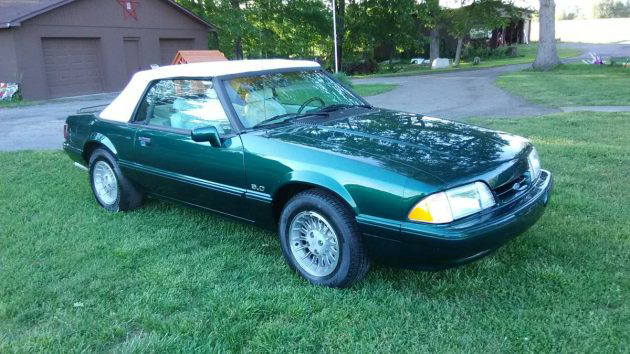 Sometimes things just don't work out at first, but you can turn lemons into citrus flavored drinks if you try hard.  In 1990, Ford worked with the soft drink company that was bottling 7 Up on a promotional deal where 30 special edition Mustangs would be given away. When this deal fell through, Ford ordered more to be produced, and they were sold through Ford dealers.  All of the cars were convertibles painted what could be called 7 Up green.  Of the 4,103 built, 1,360 were equipped with manual transmissions, while the other 2,743 were produced with automatic transmissions.  All of them came equipped with Ford's legendary 5.0 liter V-8.  If you missed your chance in 1990, you can still buy this very clean 7 Up Mustang found on craigslist in Kodak, Tennessee for a reasonable $7900.
Two things are constants in the Fox body Mustang world.  The first is that prices are climbing, especially for clean examples that haven't been beaten to death by speed demons.  The second is that there are very few examples left that have been left stock and are in good condition.  These cars were popular for drag racing because of their light weight and the insane amounts of power that you could get out of the 5.0 liter Ford V-8 engines that many of them came with.  Of the three body styles, the notchback coupes are almost impossible to find in great condition.  They weighed a few hundred pounds less than the hatchbacks, and were cheaper to buy.  Good hatchbacks are tough to find as well, but they were the most popular body style by far so this helps to bring up the number of quality cars still available.  Finally, there are a number of good convertibles left.  Open body cars don't make good drag racing cars, so many of these were left alone to age gracefully.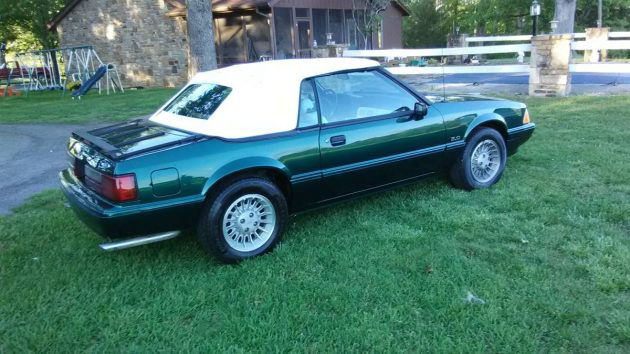 This particular 7 Up Mustang seems to be in spectacularly good shape for its age.  While the owner doesn't tell us the mileage, the exterior condition points to fairly low miles and spending nearly all of its time in a garage.  I cannot find any rips or blemishes in the convertible top in the pictures, and the paint seems to be without blemish.  The 15 inch Mustang GT aluminum wheels look great, and the 7 Up cars were the only LX Mustangs to come from the factory with GT wheels.  In all, the whole package just looks right.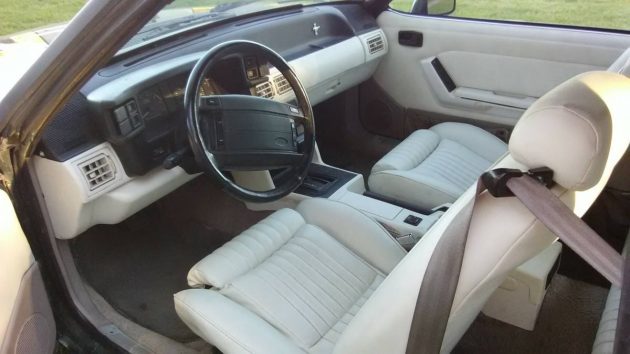 Inside, these cars were all outfitted with white leather.  While white leather looks awesome when a car is new, it is not a covering that will look fresh years later if you use a car as it is intended.  Overall, the owner has done a good job keeping this one clean.  There are some areas that need some more scrubbing or dyeing, but for a 27 year old car it looks great.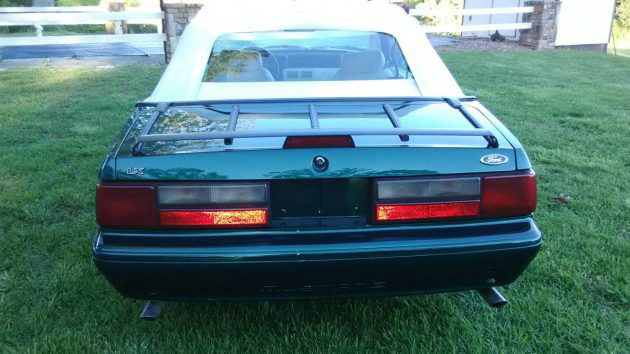 When you look at this car as a whole it is pretty impressive.  These Mustangs have a fairly interesting back story, and the combination of color, body style, interior, and wheels comes off perfectly.  While I would like to see more pictures of the engine, undercarriage, and trunk, my guess is everything is in great condition in those areas as well.  Also, knowing the mileage would sure be nice.  This car seems to be a great way to satisfy your Fox body itch, and would look nice in anyone's garage.
I've got to say, I don't mind the green paint for once!