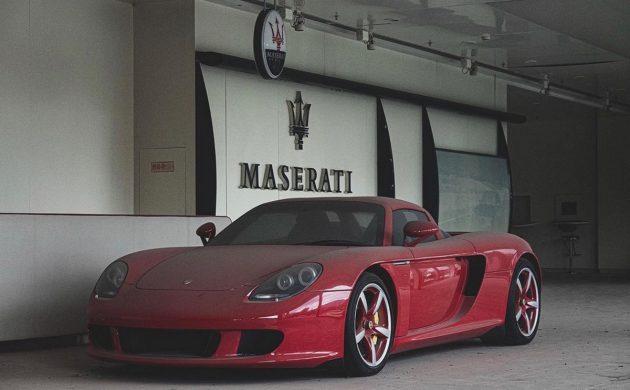 This is certainly a sight you don't see often: an abandoned Porsche Carrera GT, left like any other forgotten paperweight in a former Ferrari and Maserati dealership in southern mainland China. The Porsche is one two supercars left in this otherwise empty dealer, with the other modern-icon an exceedingly rare manual transmission-equipped Ferrari Superamerica. The details are hazy, but the dealership's demise is loosely tied to government mandates that sought to strike down corruption by limiting "excessive consumption," according to the article posted here on the Periodismo Del Motor website.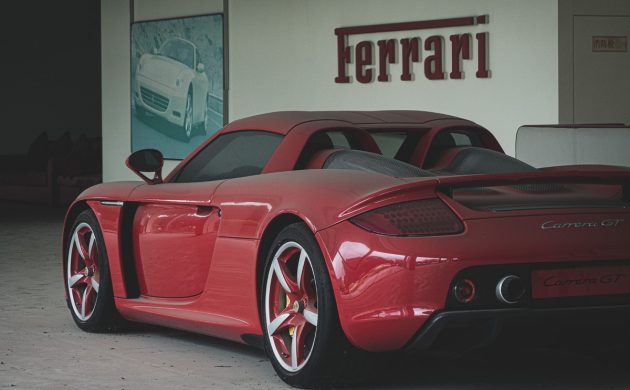 The Carrera GT was evidently a high-end trade in for one of the dealership's Italian purebreads, and is rumored to have just 4,581 kilometers. That's not uncommon for one of Porsche's most significant vehicles made in the last 20 years, as most of them went directly into mothball status given their immediate collectibility. The article notes that relatively few Carrera GTs wore Zanzibar Red Metallic paint, as it is suspected this is one of just three that exists in this color. I seem to recall that the car actor Paul Walker of The Fast & the Furious franchise died in was also a red example, so it may be true that even fewer of these cars remain than the cited figure.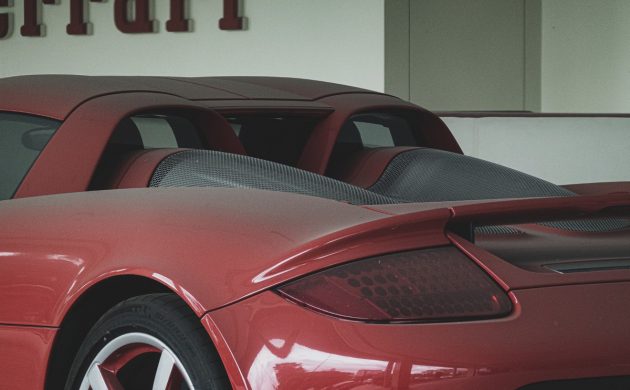 The Porsche is believed to have been sitting since 2012, and the coating of dust certainly validates that claim. Even though this is a modern supercar, sitting for prolonged periods can have the same effect as it does on a vintage model. As a model basically bred for high-speed cruising on a daily basis, long periods of stagnation will leave the next owner with significant reconditioning costs, even though mileage remains quite low. Still, the limited production and high performance hype that surrounded this car when new means it remains a sought-after collectible today, and should it ever be made available for sale, I doubt the rightful owner would have a hard time finding a new owner.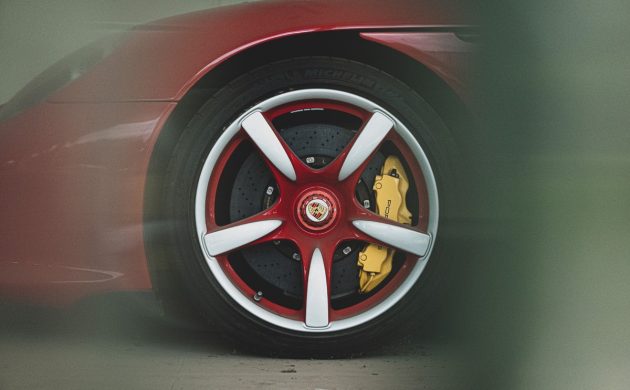 The painted calipers and wheel insets that coordinate with the surface paint are hallmarks of the Carrera GT, and both show next to no signs of pitting or chipping. I doubt this Porsche saw much in the way of regular use before it ended up a static display in a showroom, and it's hard to fathom a car like this simply sitting in plain sight and not finding a billionaire aggressive enough to sway the shuttered dealership to sell it. The article notes that one of the other Ferraris that sat in dusty storage with the Superamerica and Carrera GT has since found a new owner, so it seems possible the cars can be extricated with the right amount of cash and government connections.