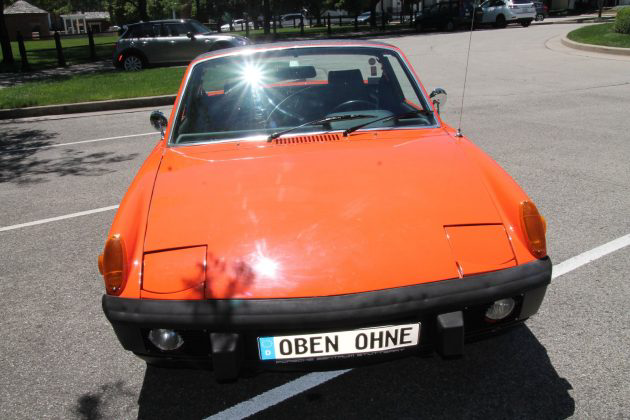 The year was 1989.  I was in high school, and I was totally nuts about sports cars.  While I really wanted a new Corvette, that obviously wasn't going to happen any time soon.  Even if I could afford one, no insurance company on the planet would ever consider insuring a 17 year old with a Corvette.  So, with a little cash saved up, I prowled the back rows of shady used car lots until I found a sports car I could afford.  It was a red 1974 Porsche 914 1.8, much like this example being auctioned on eBay out of Carmel, Indiana.  While I paid $1,800 for mine, this one has not hit the reserve yet, and is at $3,700 as of this writing.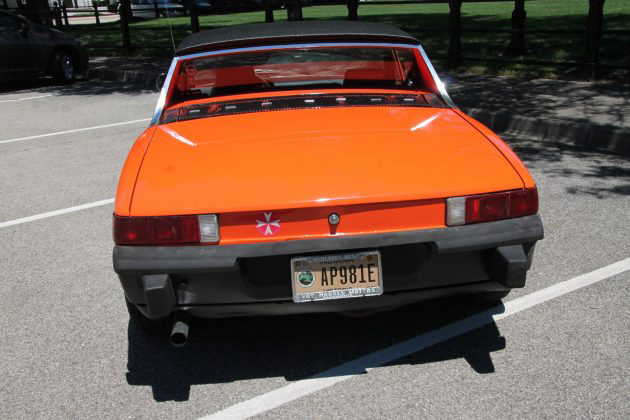 Mine wasn't in the condition of this 914, but it ran and it was a sports car.  The salesman was only too happy to get it off the back row of his lot, and I soon found out why.  It overheated.  Badly.  Castrol 20-50 motor oil flowed like water out of every orifice, and the temp needle sitting in the optional center console was firmly in the red after 30 minutes of driving.  Fortunately, most of my travels could be condensed to 30 minutes if I drove as fast as I could.  Which was, for a teenager, my life's mission anyway.  I kept it until I went off to college, and it got traded in for a year old Ford Ranger.  Air conditioning and reliability was nice, but the little Guards Red Porsche left a hole in my heart that I aim to fill someday.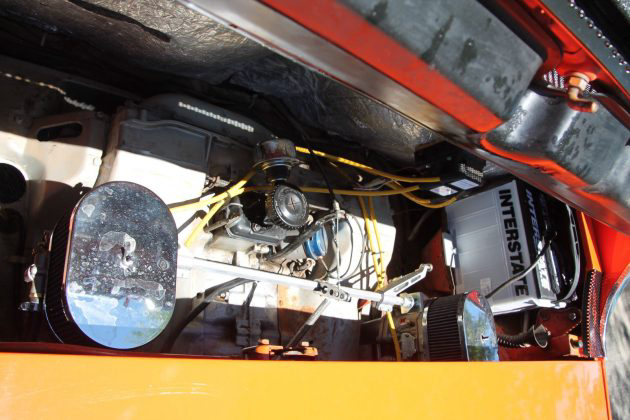 This particular Porsche appears to be in good condition.  The owner states that the car was originally equipped with the fuel injected 1.8 liter flat four, which my old Porsche was as well.  A previous owner replaced the original with a 2.0 liter engine and dual Weber carburetors, which was a very popular upgrade.  Inside the engine compartment, we see that everything is fairly clean and tidy.  I am happy to see that the battery tray seems to be in good shape, as these were a real problem area for 914s.  Often corrosion would eat away at the battery tray, causing the battery to fall into the engine while it was running and spill acid on the fuel lines.  Catastrophic engine fires resulted, and this was a common reason for the early demise of many of these mid engine machines.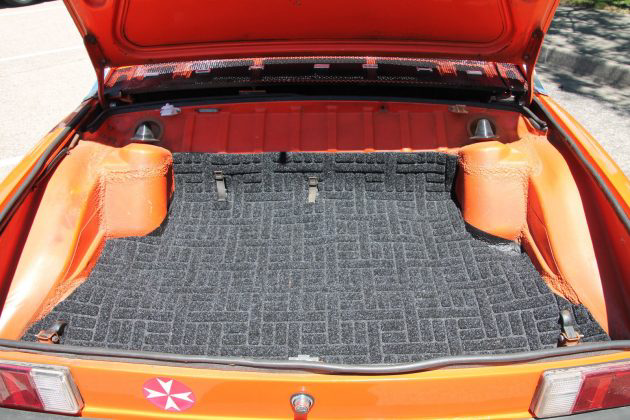 The rear trunk looks to be in good shape, but I would love to see what things look like under this aftermarket mat.  The strut towers appear to be in perfect shape, as does the firewall.  Also good to see are the two plastic clips in the front of the compartment and the rubber tie downs in the rear.  These hold the targa top when it is removed.  Believe it or not, you can store a lot in the front and rear trunk of a 914.  I can testify that the area between the strut towers will hold a couple of cases of Castrol oil.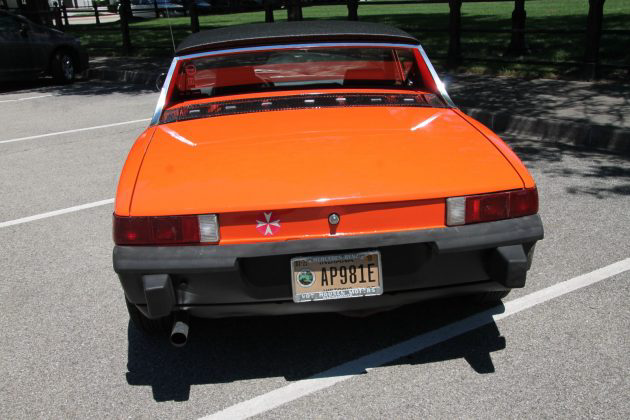 A rear view of the car shows even more positives.  First off, the trunk lid fits well in the hinge area.  This area can rust out and cause the trunk to sit up high in the passenger side corner, letting in even more water to help the oxidation process.  Ask me how I know.  Also evident is the rear valence panel.  This panel often met its demise in northern climates in the winter due to its magical ability to scoop up snow at high speeds.  Often, they would just get ripped off if the process was violent enough.  This one appears wavy on the passenger side, but it probably could be straightened.
The front trunk looks to be in good shape, and the what appears to be the factory paint shows no sign of accidents.  If you don't know, you have to open the front trunk to fill up the gas tank, which you can see in front of the cowl.  The spare tire rests under the carpeted panel, and it would be nice once again to have a picture of what things look like under the spare.  Rust can be a problem here, and any sane 914 buyer would poke his head into that area before buying.  I, of course, did not.  Later, I found accident damage and an old New York license plate in this area on my 914.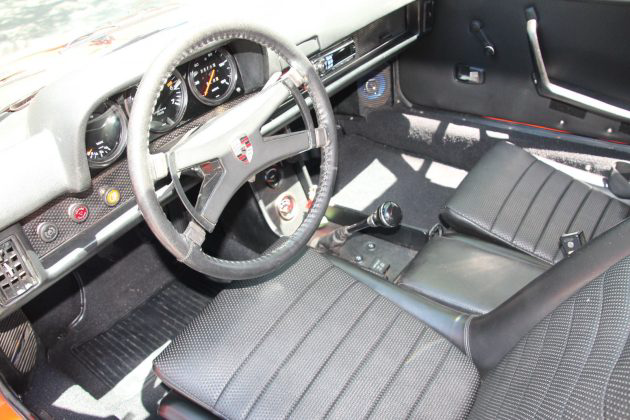 The cockpit is in very good shape.  This car has the optional center console, which usually was part of the Appearance Group Package.  This package also included vinyl overlays for the roll bar area and chrome bumpers (which this car curiously lacks).  The console held a clock, a voltmeter, and a temperature gauge.  I often wonder if 914 owners with overheating cars that didn't have this package knew that the car was overheating, or if their first clue was the sight of molten metal oozing down from the engine compartment reminiscent of what the bottom end of the Chernobyl reactor looks like now.  At any rate, these cars are surprisingly roomy inside, and the driving position and gauge layout is all business.  914s give you a great cockpit to go fast in.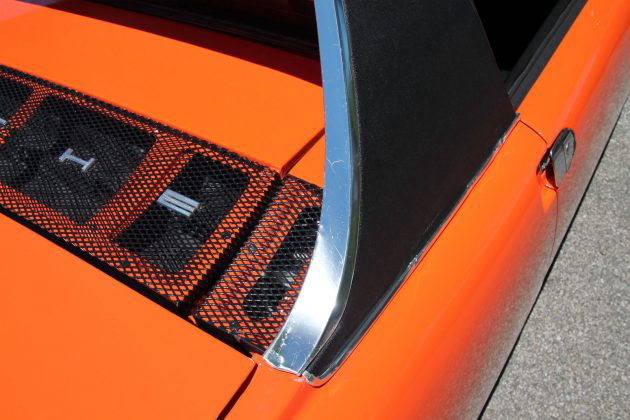 Outside, you can see the vinyl overlay for the roll bar that was mentioned previously.  This is an area that rusts heavily on 914s, but on this car appears to be in great shape.  There are a few dents and scratches in the chrome trim though, but the repaint the seller said took place in 2016 still looks pretty good.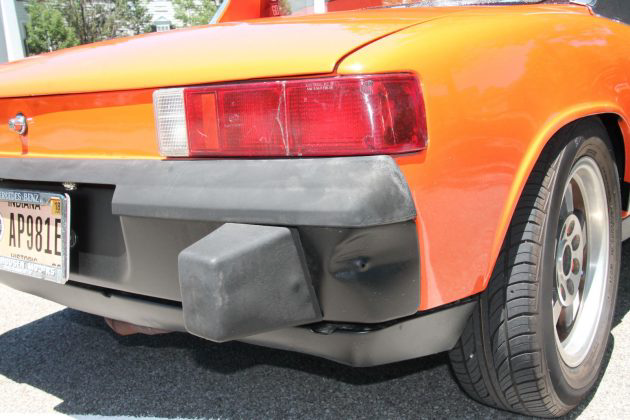 There are some dings evident in the rear bumper, and the taillight appears to be cracked.  Add this up with some of the other small problems here and there, factor in the overall good shape of the exterior panels and interior upholstery, and you essentially you have a really good driver level 914.  The owner states that it has been used as a daily driver three seasons out of the year, and the condition and price reflects this.  While I would love to take the sill panels off and look for rust there, and I wouldn't purchase a 914 without inspecting the floor pans, the overall condition of this car makes me think these areas are fine.  Trust, but verify would be the order of the day.
All and all, I think this would be a great car for someone who wants to enjoy driving a 914 for a few years before going into a full restoration.  You could have a lot of fun with this car, and it looks like a solid car to invest in.  The rising costs of early 911s has really helped move the prices up on these as well.  If you bought this 914 and just stored it for a few years, you'd probably gain a lot of equity.  I really want to buy one soon before these little road burners soar out of my price range.