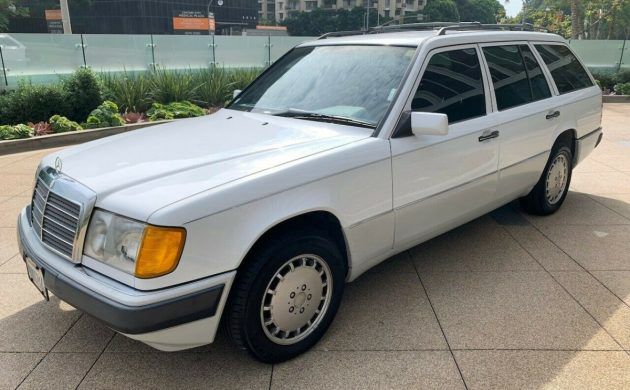 Among the short list of vintage cars I've considered for daily use is the classic Mercedes-Benz 300TE, like this example shown here. The W124 chassis is already near and dear to my heart, and they've aged incredibly well. Because of this, many owners have continued maintaining these now-well used cars at a surprisingly high level, and few automobiles that are now decades old still look as good idling in traffic as a W124 Mercedes. This wagon model is listed here on eBay with just under 117,000 original miles and is a life-long California car with not even a spec of rust, according to the seller, and bidding is at $6,300 with the reserve unmet.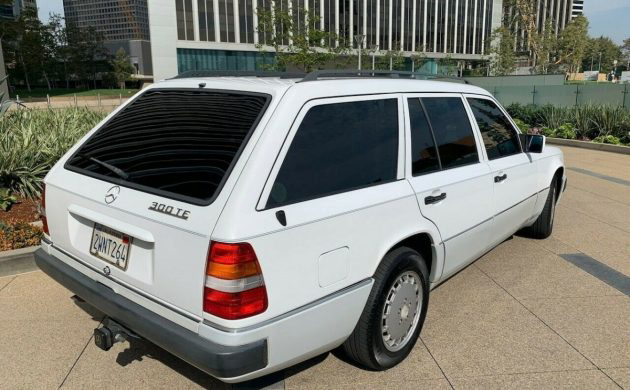 The TE looks laser straight up and down the sides, and the heavy window tint may seem slightly cheap but has also helped keep the Mercedes looking quite fresh inside (it's a necessity in sun-intense climates like Los Angeles.) The seller notes it's had just two owners, one of them the overseer of a local Mercedes dealership and the other a 96-year-old man – so it seems likely the Mercedes has been well-loved and gently used. The W124s are conservative in appearance, but that's also why they still look surprisingly modern despite its design being originally hatched in the middle 80s. The seller notes the self-leveling suspension and power antenna both work.
The engine bay is super clean and this is the where the magic happens in W124 land: non-interference engine with the non-biodegradable engine harness. The M103 inline-six will likely outlive you with annual maintenance, and it avoids the pitfalls of the later models with the infamous engine harness that needs complete replacement. The seller notes a sizable amount of recent maintenance that's been performed, including new radiator, motor mounts, valve cover gasket, hatch struts, tires, and more. The Mercedes shouldn't ask too much of the next owner, other than keeping up with its most basis of needs. My father's 1990 300E ate through engine mounts, so it's good to see that job has been done here.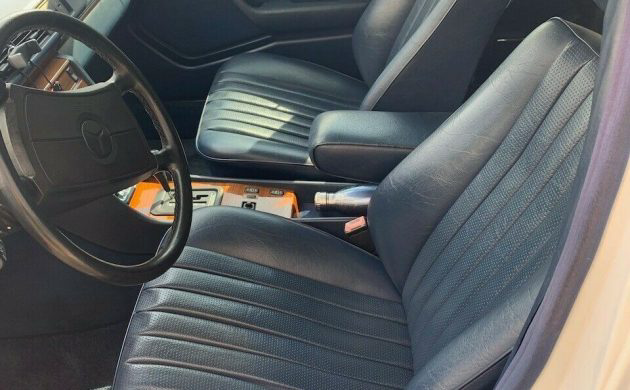 The blue MB Tex interior is in mint condition, and it'd likely look this nice even if the car had been completely neglected. The only thing that's missing here is a period car phone, but you can always retrofit one of those purely for effect later. The listing lists numerous desirable spares and extras that will come with the car, including OEM roof racks, thick pile floor mats, full-size trailer hitch with wiring, custom car cover, and more. The W124 may seem like a eminently attainable car given the scale of production they reached at their peaks, but finding a well-loved wagon like this isn't nearly as easy as you might expect. The seller is right to have a reserve on a car like this, and I think $10K and above is a fair price if it's as nice as presented.