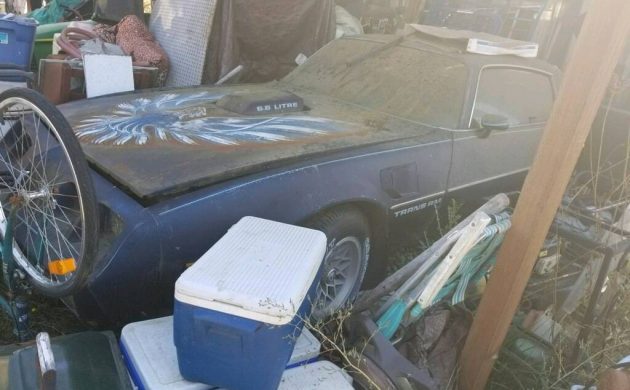 This 1979 Pontiac Trans Am is a matching numbers barn find that has recently been exhumed and brought back to running condition. The Pontiac retains its original 403 V8 and TH350 automatic transmission, along with the cool period graphics on the hood and down the body. The seller notes it resided in this barn for 20 years, but thankfully, it's located in Oregon where classics like these survive at an impressive rate. The seller has since gotten the car home, cleaned it up, and gotten it running. The listing notes that the Trans Am could likely present even better with a weekend spent detailing it, inside and out. Find it here on craigslist in Eugene, Oregon with an asking price of $9,500. Thanks to Barn Finds reader Ikey H. for the find.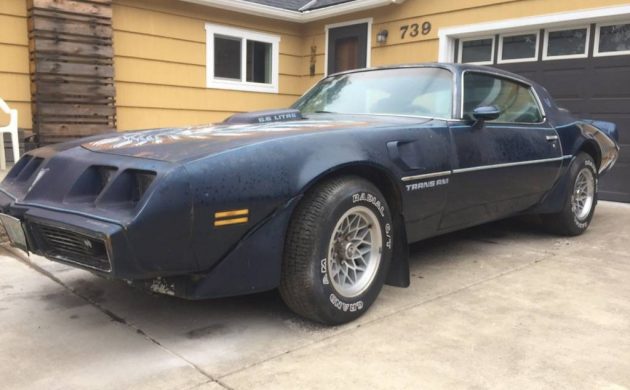 The Trans Am wears great colors, too, avoiding the usual combo of black-bodied Trans Ams with the yellow thunder chicken on the hood. This one is navy with the same aforementioned graphics, and although the paint is faded, the seller did a decent job at trying to refresh the long-neglected finish. While it's pretty evident from the outside that the body is in good order, the seller confirms that the structural integrity of the Trans Am is without question, as there's zero evidence of rot-through in the floors, frame, or even the vulnerable trunk floor. There are some small dents in the rear quarters and isolated patches of surface rust.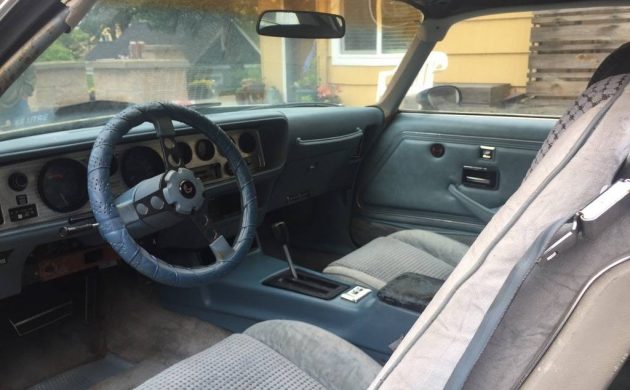 The interior likewise cleaned up well once the seller got his hands on it. In my opinion, despite the manner in which it was stored, someone had to have loved this Trans Am at some point for the cabin to survive in such decent condition. The seller notes the need for a few items inside the car, including a new headliner and replacing damaged plastic pieces. The original steering wheel has one of those ugly wraps people put on to cover up blemishes or increase "grip"; hopefully, it's a case of the latter and you can remove the cover to reveal a pristine stock steering wheel. The backseat looks fair, although there's some stains on the bench.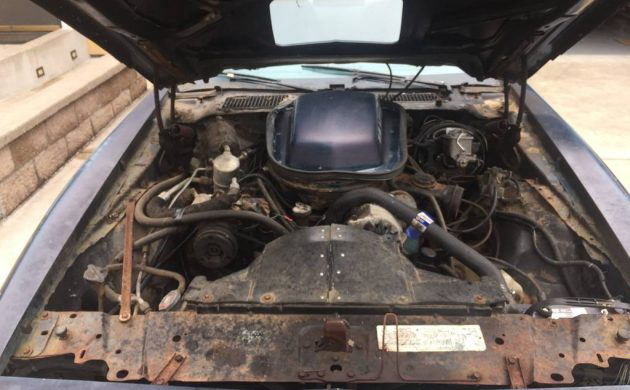 Under hood, the massive 6.6L V8 looks completely standard, with no modifications made by the seller or previous owner. The 403 was the standard engine, good for 185 b.h.p., but certainly not the preferred engine if you were looking for higher performance; that title belonged to the Pontiac-built 400. Although this example isn't the hot ticket model, it still looks like a great foundation for restoring or simply enjoying as-is and making some cosmetic touch-ups along the way. How would you bring this Trans Am back to life if it found its way into your garage?