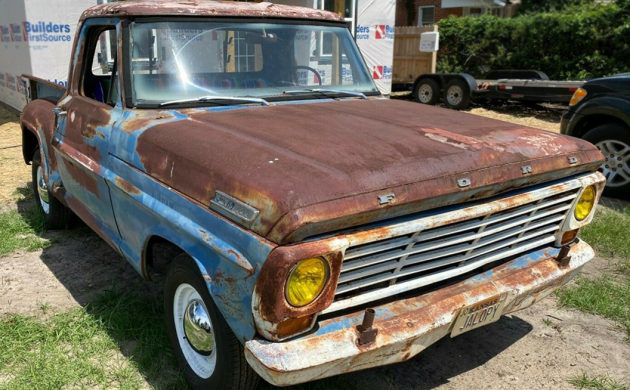 This 1971 Ford F-100 Stepside, or Flareside, vacillates between trendy patina, old school surface rust, and just plain ol' rust. It's a barn find that the seller just cleaned up, refinished the wheels and that's about it. This shortbox stepside can be found here on eBay in Panama City Beach, Florida and the current bid price is just under $1,500 and there is no reserve.
The fifth-generation Ford F-Series pickups were made for the model years 1967 through 1972, at least for North America, and dare I say that they're currently the most popular generation of Ford pickup? The ol' bump side design, although in this case a lot of the bump is missing because it's a stepside, or Flareside in Ford speak. I really like the look of stepside pickups but I know that the majority of people prefer the look and extra capacity of the regular bed on a pickup.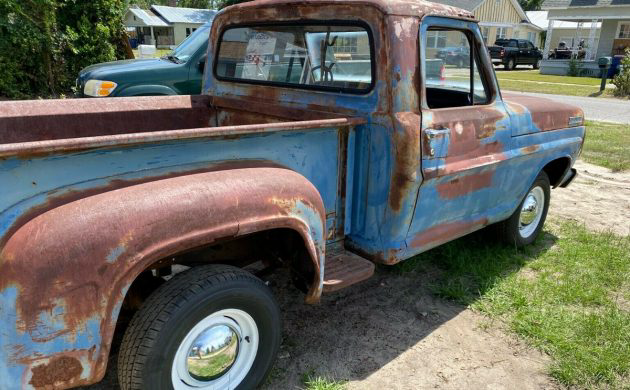 This truck has an interesting look for sure, it's probably more surface rust than Harbor Blue paint, and then there are those jarringly-new, clean, and tiny but probably correctly-sized wheels. There is more than innocent and trendy "patina" on this truck, however. There is some serious rust-through that will require some serious work. The roof and "gutters" will need help and then there's the underside. Ouch. A few folks are battling it out for this truck, though, and they can see the work that's required. Hagerty is at $6,500 for a #4 fair condition truck but there's a lot of work to do to bring it up to that point.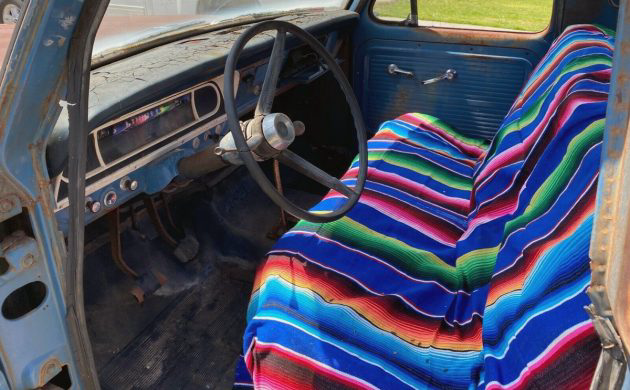 The seat cover is a bummer, I always like to see the condition of everything, but it instantly tells us that it'll "need replaced", as they say in 2020. The dash looks fried and the whole interior may need a kit from any number of aftermarket suppliers. Speaking of which, the next owner should be able to sit in a leather wingback chair by their fireplace with a snifter of brandy and a cigar and order part after part from multiple catalogs for this truck, unlike for the vehicles that really turn my crank where parts are pretty much nonexistent.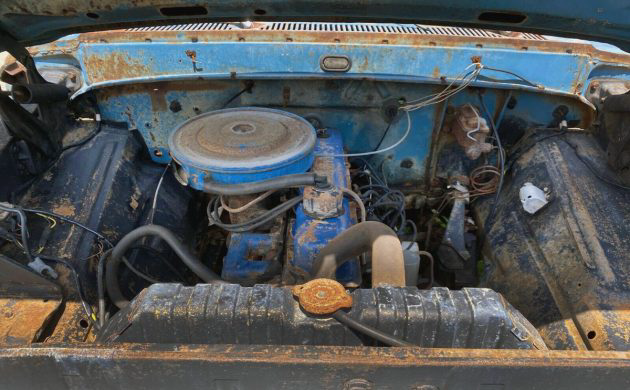 There is no photo showing the inside of the box and I'm guessing that it isn't pretty back there, given the amount of rust everywhere else. But, there is an engine photo! They don't say what it is but in decoding the VIN from a photo that they thankfully supplied, it's Ford's 240 cubic-inch inline-six. Of course, it isn't currently running but hopefully it'll be running again. How would you bring this one back? Full body and paint with a V8 or keep the "patina" and 240-six?
Have something to sell? List it here on Barn Finds!