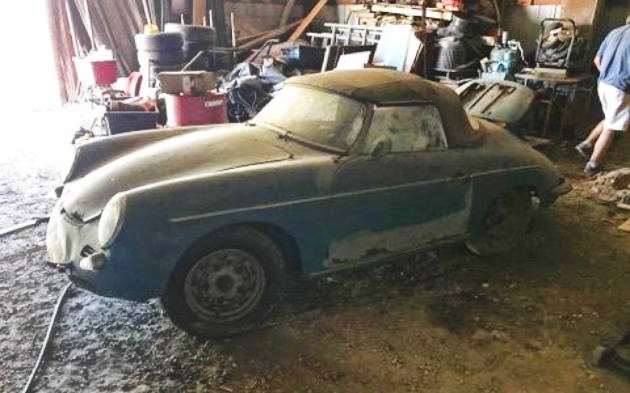 Though I'm an American car guy, there are certain foreign cars that catch my fancy. One of those cars is the Porsche 356; I remember reading an article on a black 356 Speedster in Car and Driver titled "Ode to a Bathtub", and after reading the article I was smitten on Porsche 356s and pre-1973 911s. This 356 is not only a roadster, it's also a rare D'leteren Roadster. Find it here on eBay in Chesterton, Indiana with reserve not met.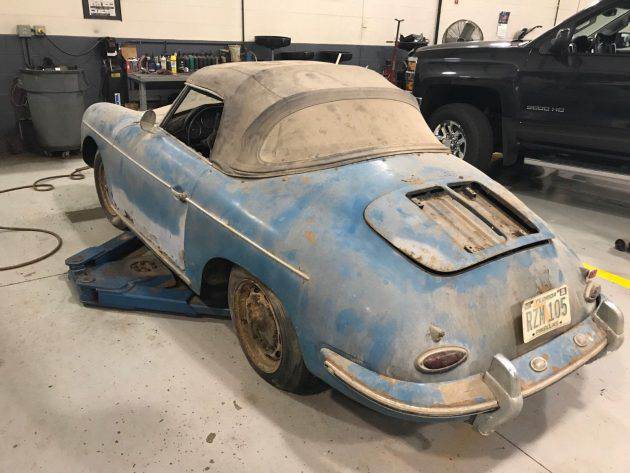 I really don't know a whole lot about Porsches, but I do know that the 356 bodies were steel, so it does not surprise me that the doors are rusted. Hopefully they can be repaired, as the rest of the car appears to be in good condition. What intrigues me is that the car was built in Belgium, and is one of 249 roadsters built in 1962. Tucked away in a barn since 1986, the car is also a twin-grille roadster, featuring two tiny grilles flanking its turn signal lights. The Porsche is painted Oslo Blue, and with a black convertible top looks pretty cool. I'm guessing that this roadster originally came with hubcaps, but the wheels look cooler without them, so I would personally leave them off.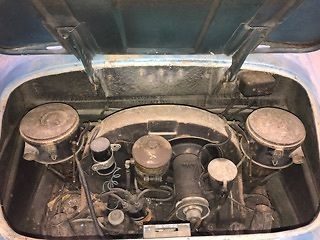 The engine and the engine compartment look fairly clean, but the seller makes no mention of its displacement. Most likely it's a 1.6L four cylinder, but there were so many versions of that motor, so if you happen to know, let me know in the comments section. The seller does mention that the engine currently does not run, but since it and the transaxle are original, and considering its visual condition and low mileage, should be fairly easy to get running again. Since this is a rare car, I would leave the engine fairly stock.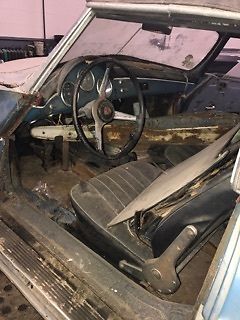 Can someone identify that large object straddling the seats? I have no idea what it is. Inside, the interior looks pretty decent, but I would remove everything on the seats and inspect their condition. The black seats with the blue dash complement each other very well, and if everything is solid should clean up nicely. I love the gauges and big black steering wheel this car has. Overall, this car is going to need some attention, but I would address the rust, get the drivetrain up to snuff, and clean up this car, leaving the rest of the cosmetics alone. Yes, the price is high (and the picture quality could be way better, but I digress), but this is a true barn-find 356, and this car adds a whole new level of excitement due to its rarity. What would you do with this rare Porsche 356 Roadster?