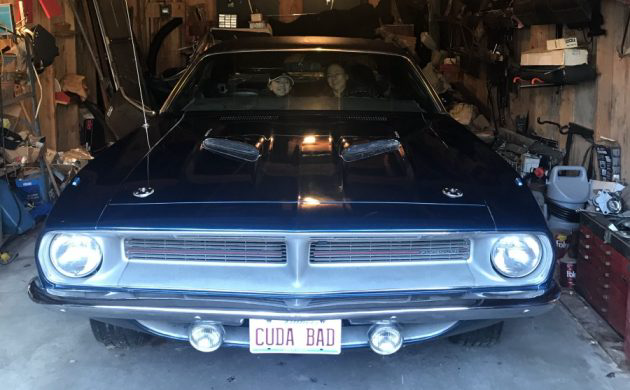 UPDATE – We just wanted to remind everyone that this auction will be ending Monday morning at 10 a.m. MST!
We are excited to announce that BF Auctions are back! And we have the perfect car to kick things off. Sue C submitted her late husband's Cuda a while back, but she told me at the time that she just wasn't sure what to ask for it and she wondered if there was some way we could help her get fair market value for it. I instantly knew that this car needed to be offered as a BF Auction! Her husband loved this Mopar and did his best to keep it looking great, with it spending much of the past 20 years safely parked in the garage. It's taken us a bit of time to get this auction ready as Sue wanted to make sure she had all the documentation ready to go for the auction, plus she really wanted to take it for one last spin before listing it. It's now ready to go, so take a closer look, leave any questions in the comments below and be sure to register as a bidder!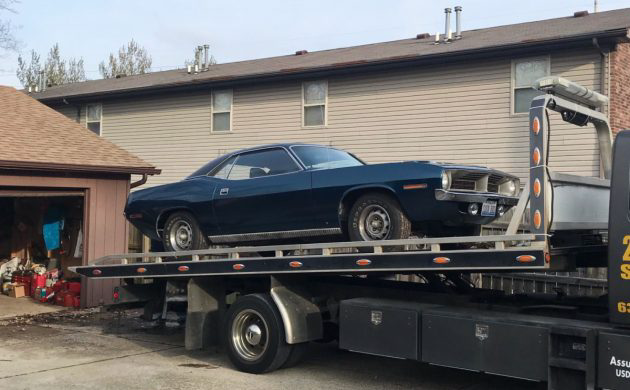 What Makes It Special? My husband was the second owner of this numbers matching car. I have documentation from 1980 to the present. The car has been garaged for the last 20 years and is in nice condition. He started it about once a week until he passed away in October of 2018.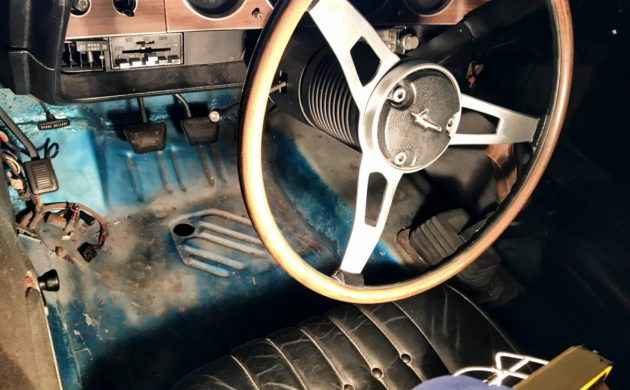 Body Condition: Minor surface rust in the engine compartment. No dents, all molding around windows, etc are in very nice condition. The bumpers have minimal pitting. There is rust in the trunk and underneath the car – my mechanic saw a poorly done repair on a quarter panel when it was on the lift.  The exterior looks good but I want to advertise it fairly.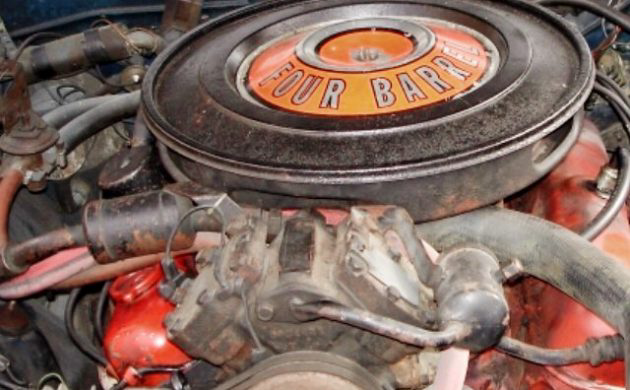 Mechanical Condition: Needs a little work – the car will start with a little coaxing. Engine runs smooth and I'm not aware of any transmission issues. The power steering hose has been replaced and the brakes have just been sorted. The garage said everything is pretty good as far as engine transmission clutch.  The parts collection is pretty extensive but I would like everything taken with the car. I wanted to fulfill a promise to my husband and drive it to his resting place in Jefferson Barracks Cemetery, so I had the work it needed performed to make sure it was safe to drive there and back. I have a storage bin and half the garage full of parts he brought over the years.  He wouldn't use anything that wasn't original or correct for his car but kept everything. He would forget what he had and order 3 or more of the same things-like jacks, radios, gauges, etc. A true Mopar lovers dream I would guess.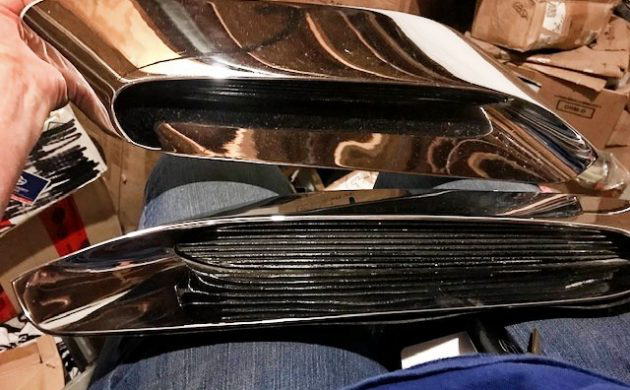 Over the past month or two, Sue has had a mechanic go over the car and it's now running and driving great. She also was able to get photos of all the important numbers and has sent me copies so that I can verify that everything looks good. The car also includes a stash of Mopar parts, with lots of spares that will help get this car up to top-level condition. She honestly, isn't sure what all is here, as there are lots of small parts so she took photos of everything and they can be seen below. There are lots of spares here including new interior bits and even brand new chrome trim pieces for the hood scoops!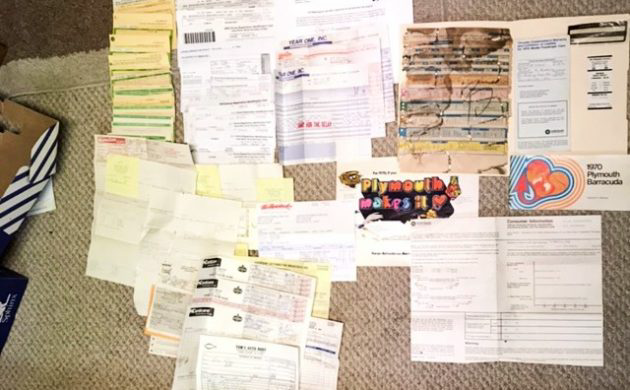 Decoding the car's VIN, shows that this is a genuine Cuda and is equipped with the H-Code 340 V8. It's paired to a 4-speed manual, making for a fun and desirable combination. She sent over photos of the Trim tag, the build sheet, the engine numbers, and the transmission numbers. Everything appears to be correct except for the transmission, which has been upgraded from a 3-speed. I managed to decode a fair amount of the Broadcast sheet and fender tag, which revealed that this was a very well optioned car. It received the Sport Hood, dual exhaust with bright tips, the Sure Grip Axle, the lamp package, vinyl roof, Music Master radio and a number of other options.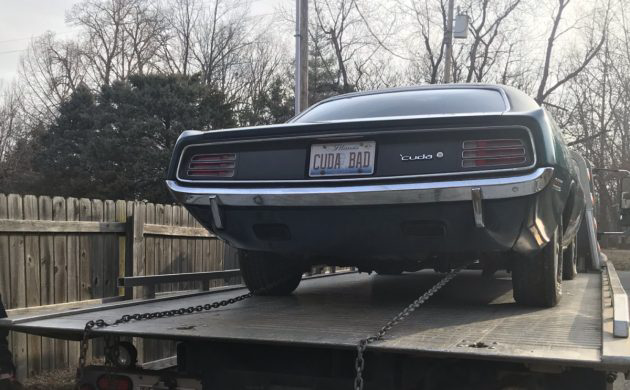 We want to see this Cuda go to a good home! It looks like an amazing find and should be a blast for its next owner. And with all the spare parts, you should be able to bring it up to top condition without having to buy much, if anything. So, be sure to take a closer look at it and don't forget to bid!
Location: Belleville IL
Mileage: 88,000
Title Status: Clean
Do you have a muscle car that needs to go? Please consider auctioning it off here on Barn Finds!
Bid On This Vehicle
High Bid: $22,500 (Reserve Not Met)
Make An Offer
Ended:
May 6, 2019 4:00am MDT
Top Bidder: Roger
Buyer Premium: 5%
Roger bid

$22,500.00

May 6, 2019 4:37am

George bid

$21,000.00

May 4, 2019 6:03pm

putiki1 bid

$20,148.00

May 4, 2019 4:35pm

Roger bid

$18,000.00

May 4, 2019 5:28am

putiki1 bid

$17,648.00

May 1, 2019 6:22pm

Michael bid

$17,000.00

May 1, 2019 5:14pm

George bid

$15,700.00

May 1, 2019 3:47pm

Michael bid

$15,000.00

May 1, 2019 10:13am

Martin bid

$14,500.00

Apr 30, 2019 5:25pm

putiki1 bid

$12,568.00

Apr 30, 2019 3:57pm

Chris bid

$10,000.00

Apr 30, 2019 1:58pm

funnycar bid

$8,000.00

Apr 30, 2019 2:53am

robbie1948 bid

$7,000.00

Apr 29, 2019 10:34pm

Sco3racyn bid

$6,288.00

Apr 29, 2019 10:32pm

rod bid

$6,000.00

Apr 29, 2019 6:38pm

Darryl bid

$5,250.00

Apr 29, 2019 5:29pm

Tom bid

$5,000.00

Apr 29, 2019 11:02am