Though I am a dyed-in-the-wool GM and Mopar guy, I've always had a soft spot for Rancheros, especially 1970 and 1971 models. With Mustang prices reaching record prices (especially in big-block form) and Ford Torinos, Mercury Cougars and Mercury muscle cars skyrocketing in value, the Ranchero can be a smart and affordable collector-automotive buy. This 1970 Ranchero is not only a GT model, it also features a big-block 429. Find it here on eBay in Wells, Nevada, with a Buy-It-Now price of $10,500.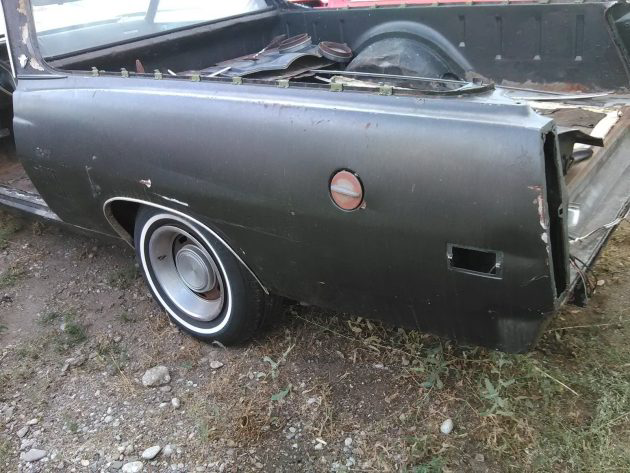 Like the intermediate Torino it was based off of, the Ranchero was redesigned for 1970, gaining a boxy body style and a new, shallow-pointed grille and front end with smooth, somewhat more curvaceous lines influenced by coke bottle styling. According to the included Marti Report, this Ranchero is optioned with the GT option package, and is one of 3,905 built as such; of those 3,905 GTs, 362 came with the 429 4-V big-block; 296 of those were backed by the C6 three-speed automatic; 19 of them were painted Dark Ivy Green Metallic; 7 of those had black vinyl bench seats; 4 of them had a black vinyl top; 2 of them had hidden headlamps; of the two, one came with power front disc brakes: this Ranchero GT presented here. Originally bought new in Sonora, California, the original owner bought the Ranchero GT to haul show horses to shows; eventually, the Ranchero was relegated to farm work. The seller does not mention when he bought the Ranchero, but does mention that he had stored it for several years. Other than the rotted-out bed, the rest of the Ranchero is in good shape, albeit missing a few parts and in need of total restoration. I think the Ranchero would look sharp restored with a yellow GT laser stripe and rolling on a set of 15X7 Magnum 500 wheels with Ford center caps and lug nuts wrapped in either a set of Goodyear Polyglas F70-15 tires or a set of Firestone Wide Oval FR70-15 raised-white-letter bias-look radial tires.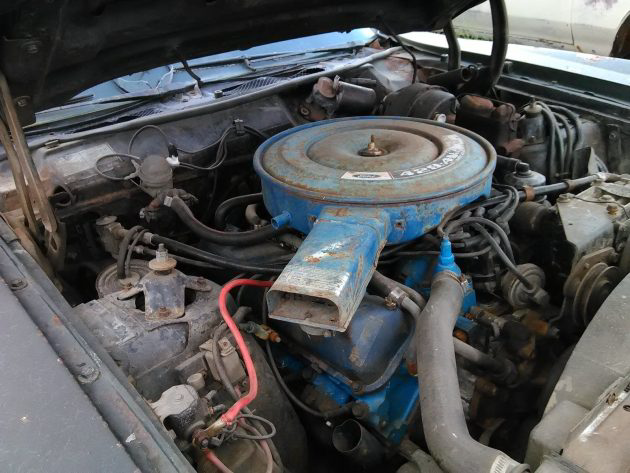 Though a 220 horsepower two-barrel 302 Windsor V8 was standard, as previously mentioned this Ranchero GT is fitted with the optional N-Code 429 4-V Thunder-Jet V8. Rated at 360 horsepower and 480 lb-ft of torque, the 429 Thunder-Jet features 10.5:1 compression (compared to the 429 CJ and SCJ's 11.3:1 compression) and is topped by an Autolite 605 CFM four-barrel carburetor. As previously mentioned, the 429 Thunder-Jet in this Ranchero GT is backed by the C6 three-speed automatic the engine is said to have previously run, but the transmission was inoperable according to the seller and the engine is believed to missing its oil pump. I would fix the transmission, source a correct oil pump, get the engine running again, and detail the engine and drivetrain, leaving it unrestored.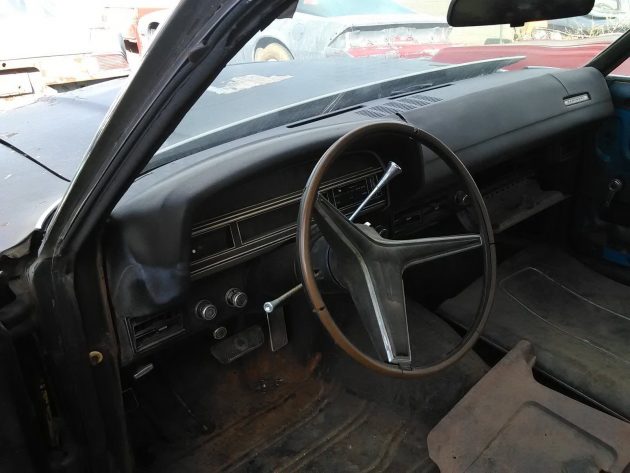 Looking over the interior of this car, the vinyl bench seat appears to have been removed, as does the gauges and door panels, though one of the door panels is inside the car currently. The owner mentions some rust where the seats are supposed to be mounted, but does not see any rust in the torque boxes. I dig the manual windows and three-spoke Rim Blow wheel, but I would remove and store the Philco AM radio and swap in a 1970 Ford AM/FM radio. Overall, this Ranchero GT will need a full-blown restoration, but considering that it is a one-of-one, I would take the risk and restore it to the concours condition it deserves. The seller also has a 1971 Ranchero in orange if this Ranchero is too rough or too expensive. What are your thoughts on this one-of-one Ford Ranchero GT?