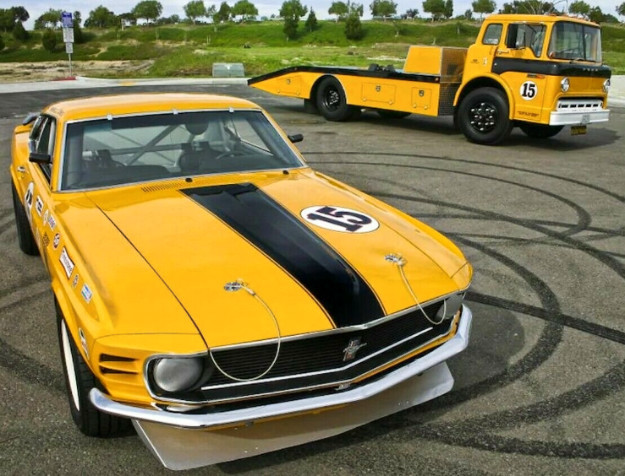 Nearly every BarnFinds.com reader has played with MatchBox cars or similar die-cast metal miniatures. Manufacturers of the tiny tribute cars offered numerous combinations of racers with matching transporter trucks. Few of us collect real cars like Matchboxes, but if you do, first off, you have my eternal jealousy, and second, this might be you lucky day! This 1970 Ford Boss 302 Mustang and C8000 Cab-Over Transport Truck in Winfield, Kansas come to market here on eBay, where bidding has eased past $50,000 without meeting the reserve. While not an authentic Parnelli Jones-driven race-car, the genuine Boss 302's tribute goes far beyond paint stripes. Built in consultation with Bud Moore, the Boss Mustang and its engine follow race preparations of the day including an engine rebuilt by Smokey Yunick's California machine shop. Les Werling participated in the build as well.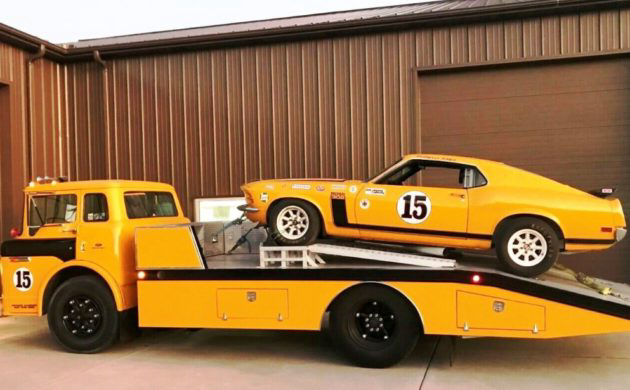 While a stock Boss 302 Mustang would more-than-satisfy the average gear-head, a fully race-ready version brings a tremendous capability to those with the skills to utilize it. Anyone who thinks you can't corner fast without O-ring tires and a turbo has never followed a vintage Boss 302 around Laguna Seca.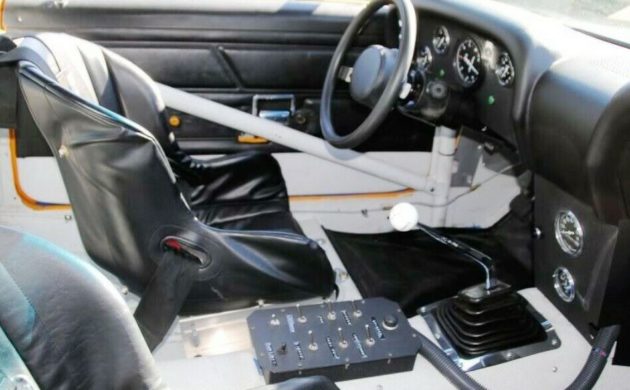 Air conditioning comes courtesy of missing side windows. Both airflow and heated seats can be controlled with the pedal on the right. The beefy Hurst shifter with cue-ball knob rows through four speeds, all accomplished without the use of billet aluminum. The home-made control box on the tunnel controls… well I'm not sure, but mine would have labels like "Oil Slick," and "Ejector Seat."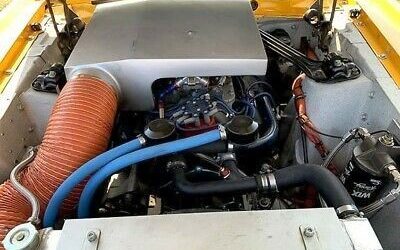 Ground-dwelling mammals are forewarned not to get Hoovered into the mammoth air intake. The '70 Trans-Am spec race motor no-doubt makes beyond the 370 or more HP recorded in dynamometer tests of stock Boss 302 motors, which were sold as making 290 HP. Don't launch from idle on this high-strung beast, or you'll fall flat on your face. While engine and suspension utilize 1970 tweaks, the brakes have been upgraded with more modern four-wheel discs from Wilwood. With 4.33 gears, you'll need those racing slicks and Ninja-like reflexes to put the power down without taking an abrupt 90-degree turn.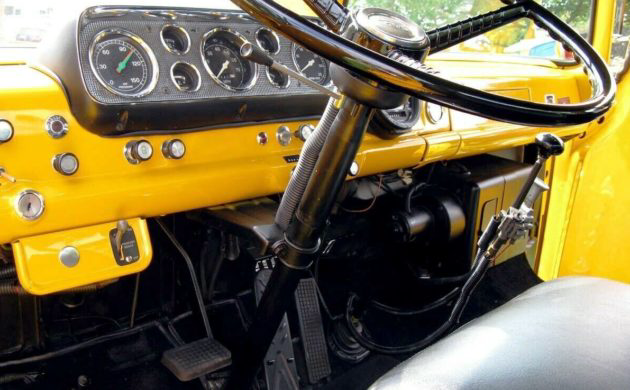 The Transporter is equally authentic, and the 636 cid CAT diesel makes over 500 ft-lb of torque. That low-end grunt, with the 10-speed gearbox, should make for easy hauling of a single Mustang. Are you hauling out your piggy bank to meet the reserve?