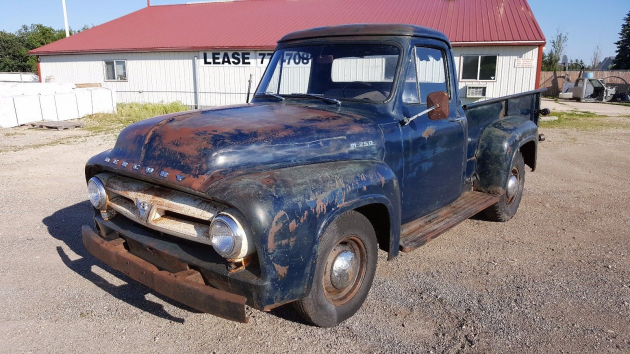 Everybody loves an old truck.  Long before we needed trucks with heated seats, moon roofs, and the towing power of the Kill Dozer, trucks were basic transportation and work horses.  They lacked all but the basic amenities, rode rough, and were geared for low speed torque.  Following World War II, the pickup market belonged to Ford, GM, and Chrysler, with the Ford and Chevrolet divisions taking a lion's share of the market for themselves. Everyone is familiar with Ford's F series trucks, which are still the sales leaders today.  However, Ford also sold trucks under the Mercury name in Canada from 1946 through 1968.  Being sold out of Cavalier, North Dakota here on eBay, this 1953 Mercury M250 pickup is a pretty solid and original example of a pretty rare breed.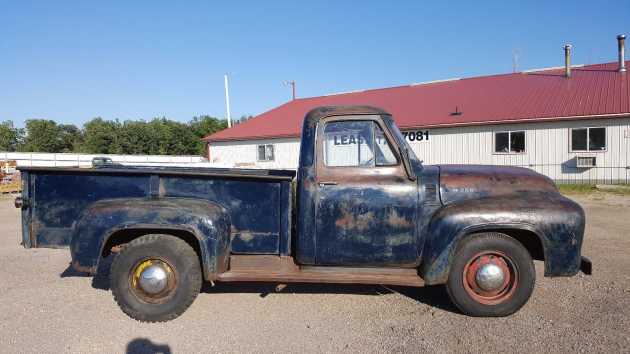 Before we go any further, an explanation of how Mercury pickups came to be is in order.  In 1946, Ford was eager to sell trucks to its Canadian market, especially after production of vehicles not related to the war effort basically stopped in early 1942.  The problem they had was that many of the communities in Canada handled Mercury and Lincoln, but did not sell Ford branded trucks.  Undaunted, Ford began badging some of their F series trucks as Mercury trucks.  To sweeten the deal for our round bacon loving friends, these trucks often received a different grill and some minor trim differences.  Unfortunately, these trucks are rarely seen south of the Canadian border today.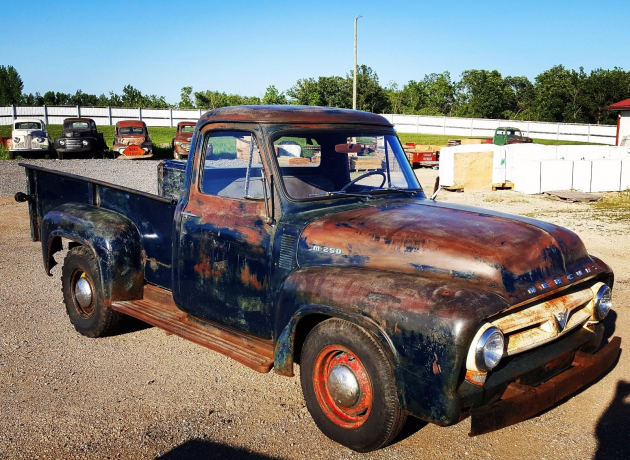 This rarity is compounded by the simple fact that most of these ended up being worked into the ground on farms across Canada.  Add to that constant exposure to the frozen white stuff that seems to visit Canadians a lot, and you have a recipe for increased rarity compared to their American cousins.  American Flathead Ford aficionados especially love these trucks, because they were still available with this iconic engine for a few years after Ford stopped offering them in F100s in 1953.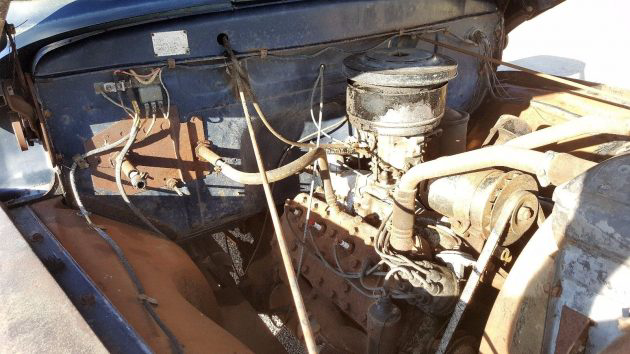 If you look under the hood of this particular Mercury, a Flathead Ford is exactly what you find for a power plant.  Looking at the picture above, everything looks original and well used. With a little work cleaning out the fuel system, filing points, and flushing the cooling system, it may fire right up.  Flatheads are temperamental to the uninitiated, but they are rugged and reliable engines that Ford used for a long time with a lot of success.  On this one, you would probably have to start by finding out what is going on with the line to the heater that has no way for the water to return.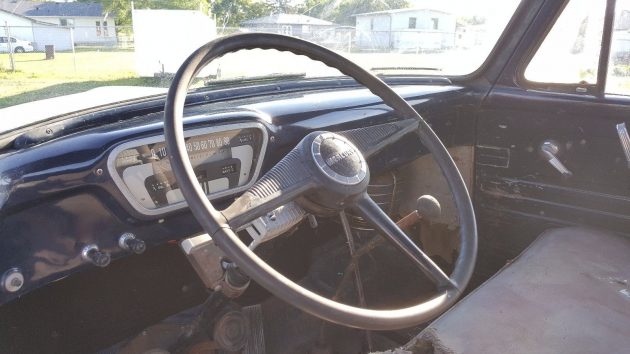 The interior looks pretty good considering the condition of the exterior.  There is still a shine in the royal blue paint on the dash, and the instrument cluster looks great.  Under the dash is a very nice heater with chrome trim, and an aftermarket turn signal is attached to the steering column.  The seats will, as usual, need a new set of seat covers.  All the knobs and handles look to be in great shape, as is the plastic steering wheel.  Often, in trucks I've inspected in the American South, plastic pieces have long since split and discolored due to relentless exposure to the sun.   I guess that isn't a Canadian problem.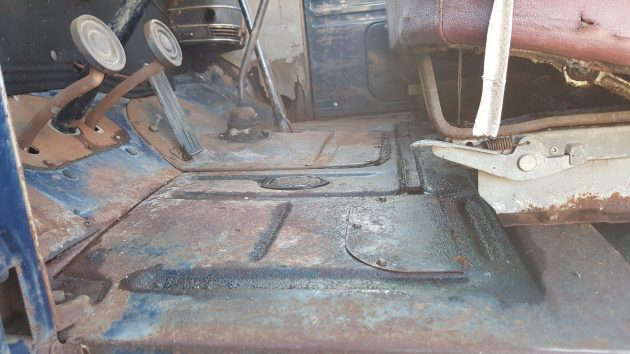 When you look at unrestored examples of trucks of this era, the biggest problem is rust.  For some reason, many of these trucks are more holes than metal, and many of the body panels must be replaced.  This truck, through some strange, unknown quirk of fate, doesn't really suffer from many rust problems.  The floors look useable in the picture above, and the surface rust you see likely hasn't eaten into the metal beyond what you could cover with a high build primer and some time playing with a sander.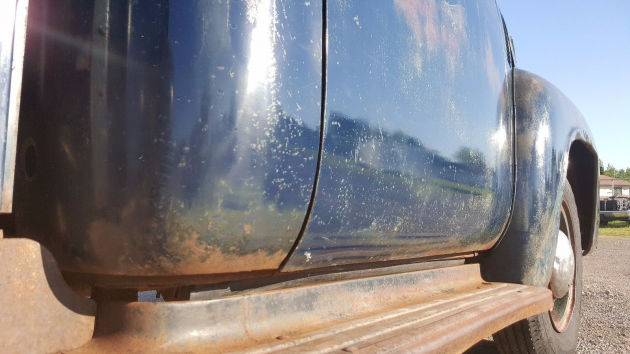 Another surprise is the cab corners.  Usually the rust out is so extensive that you can put your fist through without touching anything.  Not so here.  While we cannot see what it looks like from the inside, the outside seems to be suffering from surface rust only.  This would save a buyer a lot of time and cash, as replacing cab corners is not easy to do for the average restorer.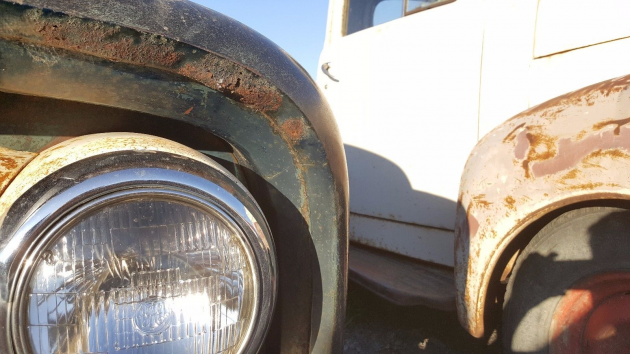 Sad to say, there is some rust through on the fenders by the headlights and in a few places here and there.  While it is a pain to deal with properly, I don't see any areas on this truck that a competent body man couldn't repair.  It is pretty solid throughout.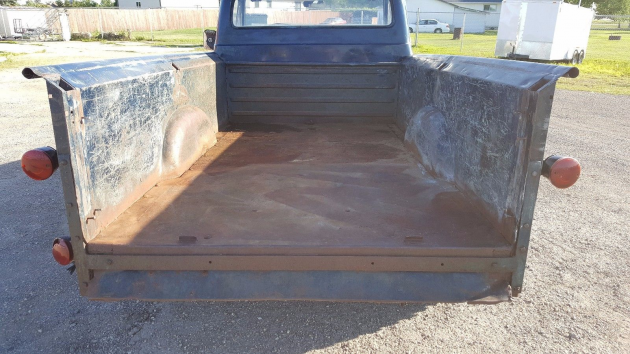 All and all, this is a pretty tempting truck.  The downsides are that it would need a tailgate, some rust work, and I would want to go through the whole drivetrain and wiring harness before trusting it for any trips beyond walking distance from the house.  It is also a 250 series with a heavy duty suspension, thus making the ride choppier than a standard truck (which is no pillow on wheels).  The positives are the remarkably good condition and the rarity of having a Mercury branded truck.  I'd love to have it, especially since it is being sold for no reserve and the price is still pretty low.  As long as you aren't roaming the interstates, and your wife doesn't cry about it not having air conditioning and a 1,000 watt sound system, you could still use it as a daily driver.  This is what a real truck was back in the day, and probably should be today.