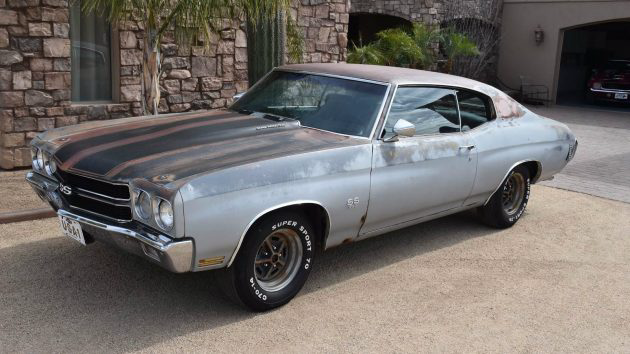 After appearing on the cover of the November 2016 Car Craft, this 1970 Chevrolet Chevelle SS 396 barn find has been listed for sale here on eBay. It was apparently called "The Most Amazing 1970 Chevelle SS396 Barn Find Ever" according to the seller, and while I'm not too sure about that, the car is certainly interesting. It's located in Phoenix, Arizona.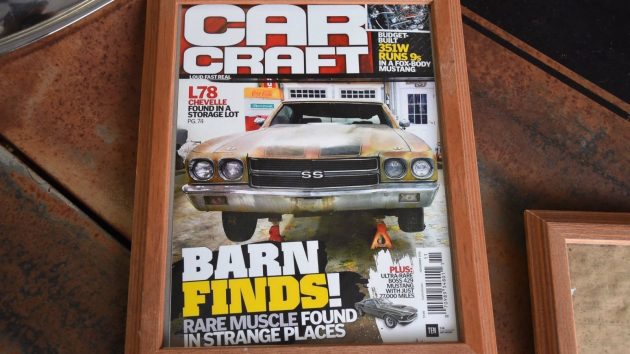 As you can see, the seller wasn't kidding – it was on the cover of the magazine. Apparently this car languished in a storage lot in California for many, many years. Why someone would let a car like this sit is beyond me, but I'm glad someone rescued it!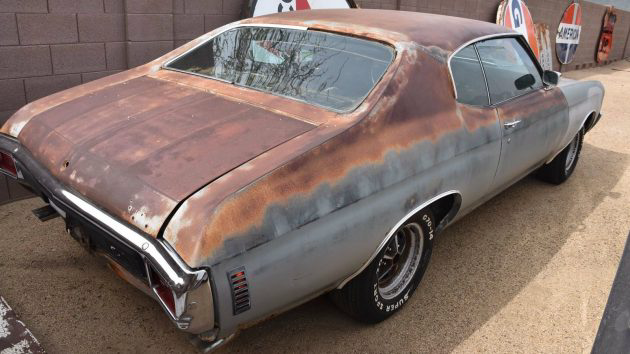 The car looks very sun-baked, but it is possible that this is what's left of the original Cortez Silver paint. You can see some corrosion beyond the surface as well in spots. I love the bias-ply tires with the letter designation; I haven't seen those in a long, long time! I like the rallye wheels as well.
I wonder if the seller would throw in a few of the signs? And I also wonder whether it makes sense from a value standpoint to restore this car or not. And that's one of the reasons (the price tag is certainly another one) that I'll leave this car for someone else. This is just a little too shabby looking for me to leave it alone and be happy.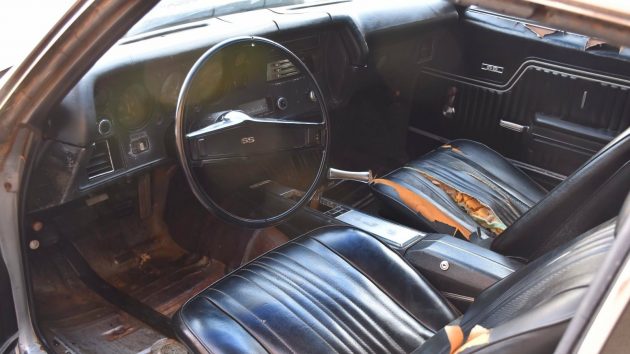 The interior fits the same mold as the exterior. Tatty but complete and original. Here's a list of the options on this car per the build sheet:
RPO-L78 396 cubic inch – 375 horsepower solid lifter V8
RPO-M21 Muncie 4 speed transmission
RPO-G80 positraction 12 bolt rear end with 4.10 gear
RPO-U14 tach and gauges
RPO-ZL2 cowl induction hood
RPO-D88 black stripes
Additionally, we know that the paint was code 14 14 Cortez Silver and the interior reflects code 756, black bucket seats with a console.
And here is that big V8! It doesn't run at the moment and we're not given any additional mechanical information apart that the car will roll onto and off of a trailer. What do you think – is this storage lot discovery the best barn find ever?