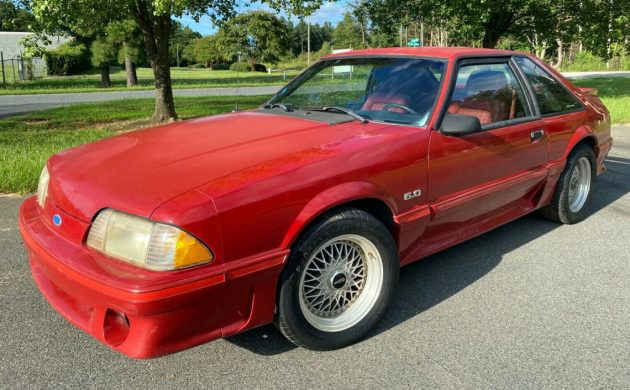 This 1988 Ford Mustang GT is described as a barn find by the seller, but it certainly looks better than most cars we see dragged out into the daylight for the first time in decades. It's a desirable manual transmission example and wears some period modifications, like the BBS-style wheels on Cooper Cobra tires and Flowmaster exhausts. The Fox body hatch comes with the preferred manual transmission and the "Medium Scarlet" paint and Scarlet cloth interior are both in better-than-expected condition. You can find it listed here on eBay with no reserve and bidding at $6,700.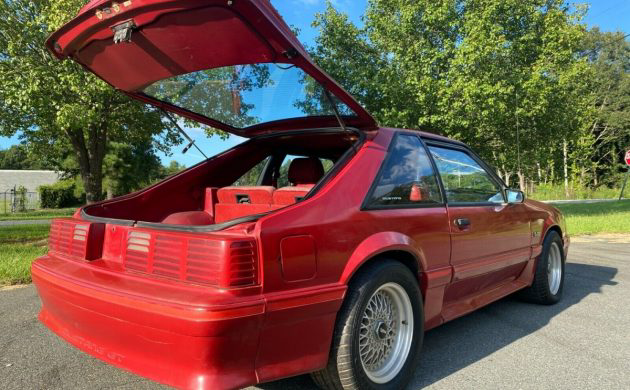 The Mustang looks great in photos, and I dig the cross-lace wheels on here. For a wheel design that normally looks much more at home on a European sports sedan, it's a bit surprising to see them work this well on an 80s muscle car. The bodywork looks tidy up and down the sides, and it's great to see the hatch struts still work. The seller notes the mileage as being 118,000, and the car certainly presents like it has a far lower number on the odometer. Despite looking good in photos, the seller still claims it will need a paint job. There is certainly some clear-coat fade, but I wouldn't panic about a respray in the short term.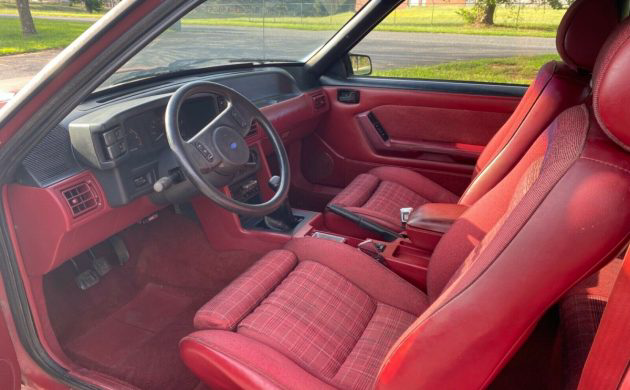 The interior really looks spectacular considering the long-term storage and recorded mileage. The seats don't show any of the typical wear-and-tear you'd associate with a used car, and whatever the storage arrangement was didn't result in any rodents taking up residence in the seat cloth. The dash doesn't appear to have any cracks, and the carpeted areas in the cabin and trunk compartment are all in very clean condition. Worst thing I see is some wear on the clutch pedal pad, but that's an extremely minor nit to pick. Perhaps the best detail in the listing is the seller noting there was still a "….Conway Twitty cassette in the deck."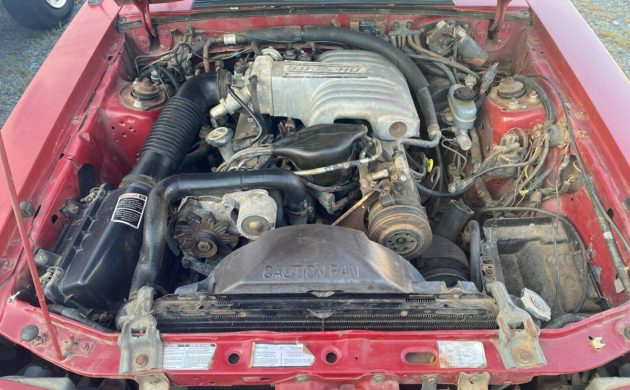 The engine bay could do with a cleaning, but that's a few hours on a Saturday afternoon and it's done. The seller has performed the basic first-time startup tasks, from cleaning out the fuel system to replacing the fuel pump and injectors. Once that work was done, the Mustang is said to have run quite well, but the seller still cautions that you will need to find time to do all the other basic R&R a barn find needs, like replacing rubber components that have perished and changing out the belts and tires. Still, this is a nice find with some tasteful period modifications that will transform you back to 1988 the second it lands in your driveway.