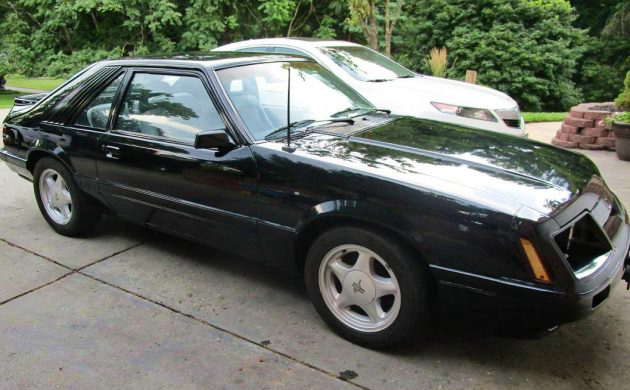 Four-eyed Mustangs aren't exactly common these days, especially in nicely preserved condition with the preferred manual transmission. This 1986 model presents well with fresh paint and Pony wheels that thankfully haven't been chromed. The seller lists some mild modifications in the description, but nothing that's impossible to swap out if you crave a 100% stock example. The mods, however, seem well thought out and likely make this 5.0L-equipped Mustang even more fun to drive. The Mustang presents better than its mileage would suggest, which clocks in at just over 118K. Find it here on craigslist with an asking price of $6,800.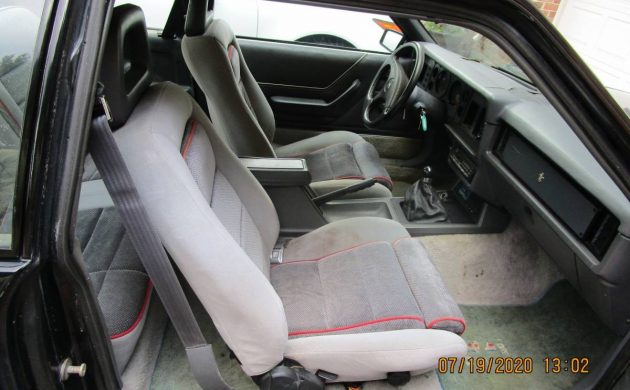 The interior remains in fair condition; it's not perfect but it's good for a car made in 1986 with over 100,000 miles on the clock. The Mustang bucket seats in GT spec were nicely bolstered from the factory, and appear to be in great shape on this example. Carpets look slightly tired, but that could more be an effect of the faded floormats against the carpet pad that creates an image of being worn out. The dash looks to have one crack in it, which is to be expected on cars of this vintage but it's still a bummer nonetheless. The air conditioning is said to work well but no word on whether it was previously converted to R134A.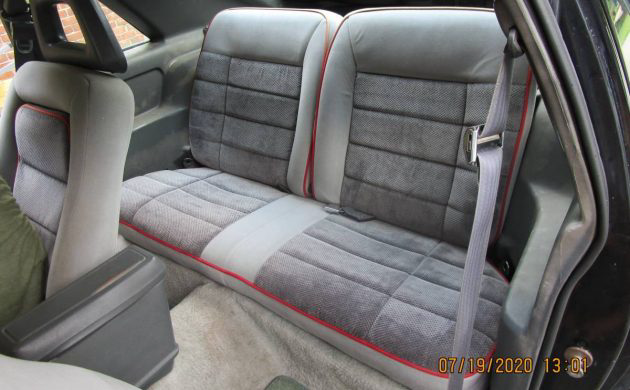 The backseat looks like it was never used, which wouldn't be entirely surprising on a car like this. It's not that you can't use the backseat, or that two friends couldn't ride back there for hours, but it seems most owners don't buy such a car for the purpose of ferrying friends. The grey cloth with red pinstriping was a staple of GTs from the Fox body era, and this scheme meshes nicely with the black exterior. Speaking of which, the repaint may be a bummer to some, but given how poor most black cars present with this kind of mileage, it's probably a blessing in retrospect that the 'Stang wears fresh paint. It'll be up to an in-person viewing to determine if it's to a high level.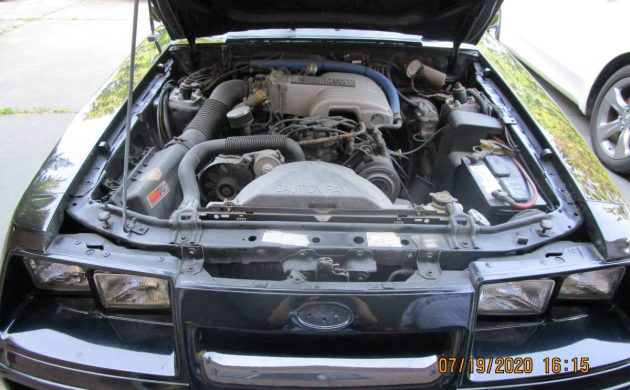 The missing Ford emblem on the nose is a disappointment, and one of those small details you can easily fix before listing a car for sale. The engine bay appears to be in stock condition, but there are some upgrades lurking underneath. The seller mentions it has '88 heads and a mild cam, so definitely some performance you can feel, but nothing so obvious that the car screams that it's been modified. Struts and shocks are new, and an extra H pipe and another set of wheels and tires are included with the sale. Four eyed pride is a very real thing, but plenty of enthusiasts prefer the more streamlined appearance of the later models. Which do you prefer?