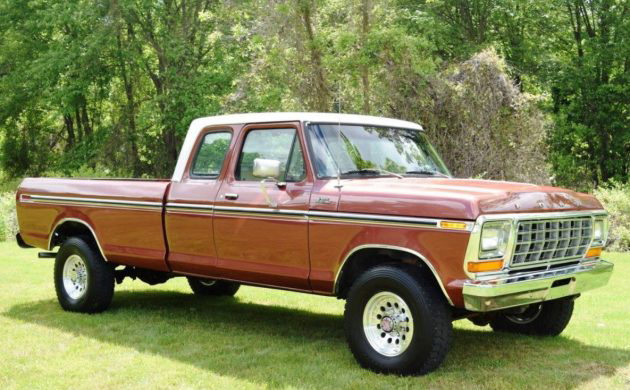 As the owner of a (what I consider very) clean 12th generation F-150, I like to see earlier clean examples of the F-Series. This 1979 Ford F-350 SuperCab 4×4 fits that well. It was found by a Barn Finds reader here on Bring a Trailer in Katonah, New York. The high bid is currently $6,000 after 5 bids have been tendered.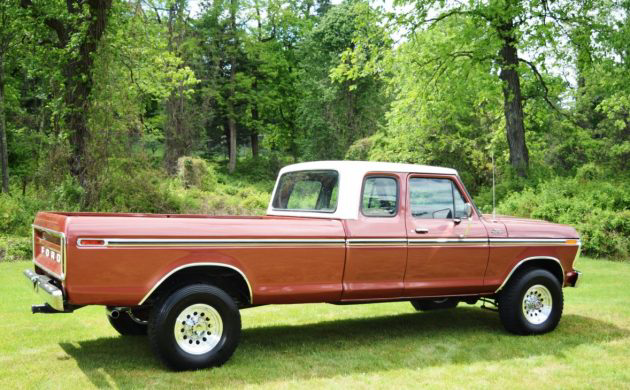 The Ford F-Series has been the best selling truck in America since 1977 and the best selling vehicle, period, since 1981. The 14th generation was unveiled just this week, but these 6th (and their closely related 5th) generation trucks are still very popular. This SuperCab F-350 4×4 was one of just 1,682 trucks built in that configuration for 1979.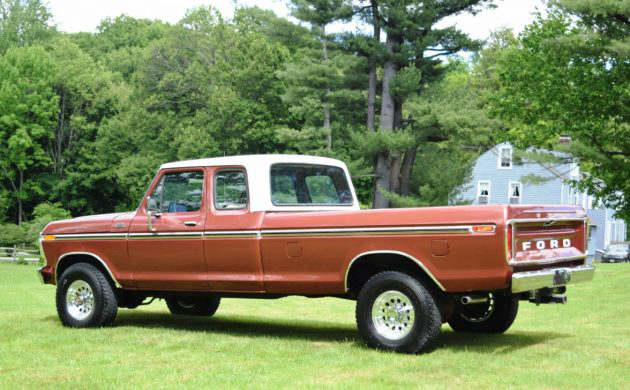 Vintage trucks this nice seem to be more of the exception than the rule, so my interest is piqued when one is listed for sale. This F-350 was repainted in its original Medium Vaquero Glow color under previous ownership and was one of just 31 F-350 SuperCab 4x4s that left the factory in that color in 1979. The white roof offers a nice bit of contrast and all chrome appears to be bright. There's no mention of rust and I don't see any in the 230+ photos. I'm generally a purist – or simpleminded, perhaps – so I'd like to see white steelies in place of these polished aluminum wheels, but they do work well here.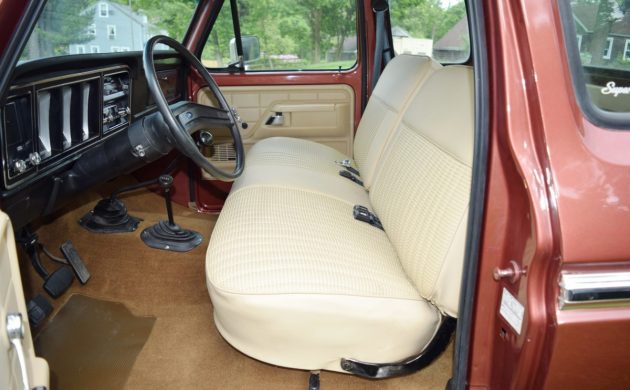 Stunning seems like such a strong word to use when describing an interior, but this one really is. On that list of vintage truck exceptions, I'd put clean interior near the top. Just like on the exterior, the sand colored vinyl bench seat and soft surfaces provide a welcome contrast to the painted surfaces. The carpet has been replaced, but there's no mention if the upholstery is original. Manual transmission and 4×4 shifters are atop the transmission tunnel. Perhaps there's some factory options that aren't listed on the Marti Report, but even though this is a Custom model, it appears to have received a few Ranger XLT upgrades along the way.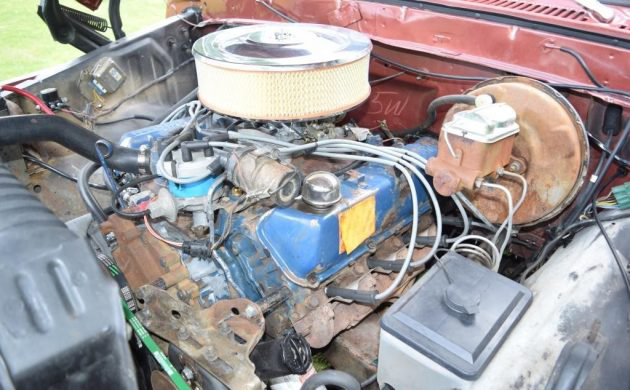 Under the hood is a replacement 460 cubic-inch V8. It's said to have been replaced about 3-years ago and has covered just 8,000 miles since then. Power is sent to the 4.10:1 rear axle by a 4-speed manual transmission. A two-speed transfer case engages all 4-wheels if you have the need.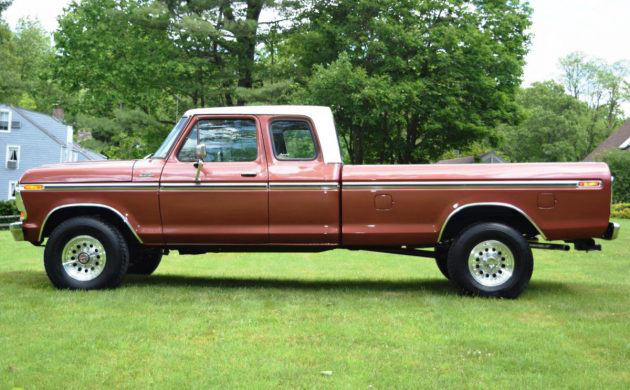 For those family-minded vintage automobile buyers (like me), I'm sure trucks have appeal, but their utility is limited with just one row of seating. This SuperCab model eliminates that concern as there's a second row of seating. If you're one of those family-minded buyers, is this the kind of truck you've been waiting for?
Have something to sell? List it here on Barn Finds!