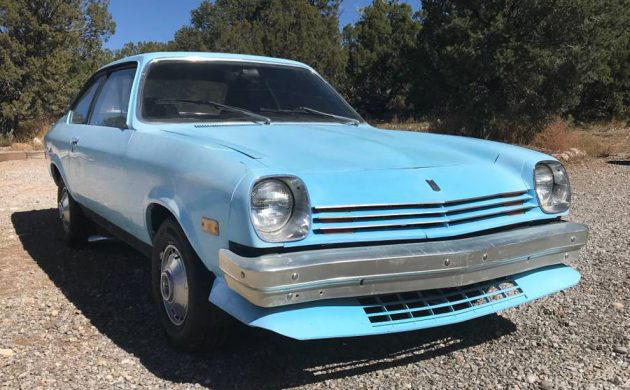 $1,200 or best offer is cheap entry to the classic or collector market. Or, just for an old car that appears to be in pretty good condition, albeit modified to suit someone's personal tastes. This 1977 Chevrolet Vega custom can be found here on Craigslist in Edgewood, New Mexico just east of Albuquerque. Thanks to Pat L. for sending in this tip!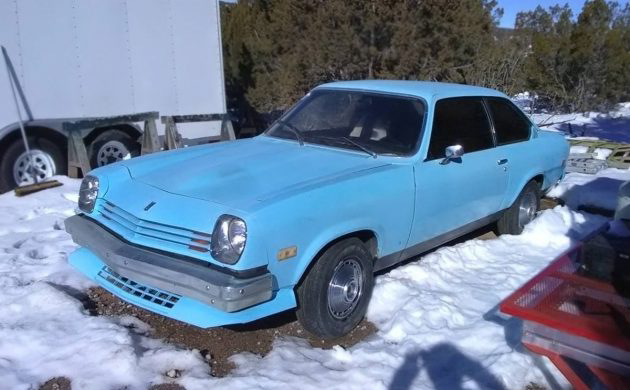 Never seen snow! I'm kidding, of course, the seller never said that. Frankly, I'm surprised at how good this car looks for $1,200 or best offer. I automatically assume, which is rarely a good idea, that when I see a car with the rocker panel areas painted black that it has had bodywork at one point. I could be wrong and there isn't any mention of the body at all. But, it's hard to miss that crazy cow-catcher on the front! Someone had an idea and they ran with it.
Whoa, now that isn't stock! I'm not sure what the twin cutouts are on each side of the bumper, or whatever that panel is. Unfortunately, this is the only photo showing the rear of the car which is different, but thankfully there is at least the one above showing the custom work on the rear of this Vega. I know that I'm weird, but I like it! The front scoop/foil/air dam/cow catcher, not so much, but the back looks pretty good to me.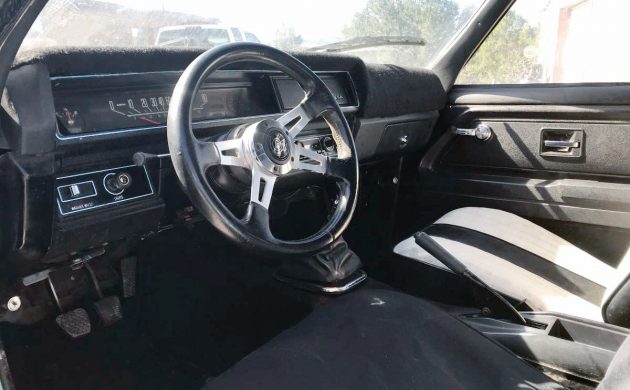 Yes, a third pedal! I expected to see an automatic in this car. 1977 was the last year for the Vega and it's hard to believe that such a well-known car, both good and bad, has been gone for over four decades now. The seller says that the interior "is complete and original. Headliner and Door panels in great shape. Needs seat covers and carpet. All gauges work. Stereo works." This car has new struts, new tires, and new brakes. $1,200 or best offer?! That's a steal so far.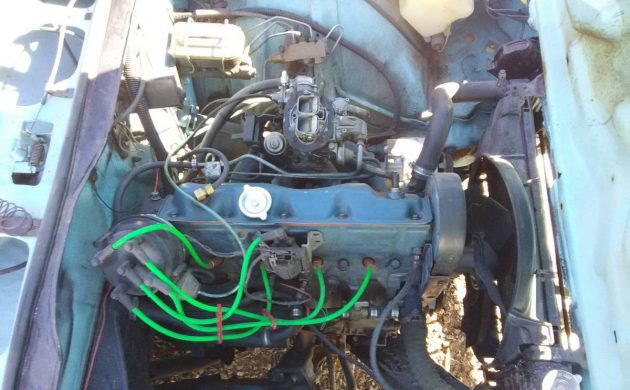 Here's where the bulk of the time may be spent on this car, this 84-hp, 140 cubic-inch inline-four has a blown head gasket. Now we see why this car is so cheap. Our friends at RockAuto have a head gasket for $11 so that's hard to complain about. And, don't fret, the air cleaner housing is there and this car has had a lot of work done on it, including "New fan belt and hoses. New timing belt. New spark plugs, distributer [sic] cap and spark plug wires." Even with needing a head gasket, $1,200 or best offer seems like a steal for this car. I'd lose the front air dam thingy, fix the head gasket, redo the seats and drive it.
Have something to sell? List it here on Barn Finds!