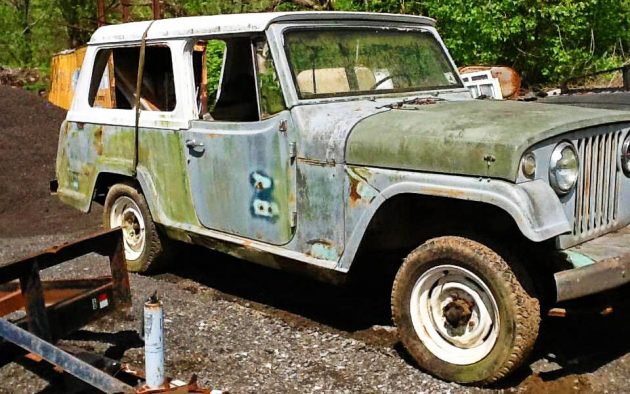 To be honest, I'm not much of a Jeep guy, but I've always had a soft spot for Jeepsters, especially the rare Hurst version. This particular Jeepster is a 1967 model, and though it is a bit rough, I think it is still solid enough to restore. Find it here on craigslist in West Chester, PA, with an asking price of $800 cash.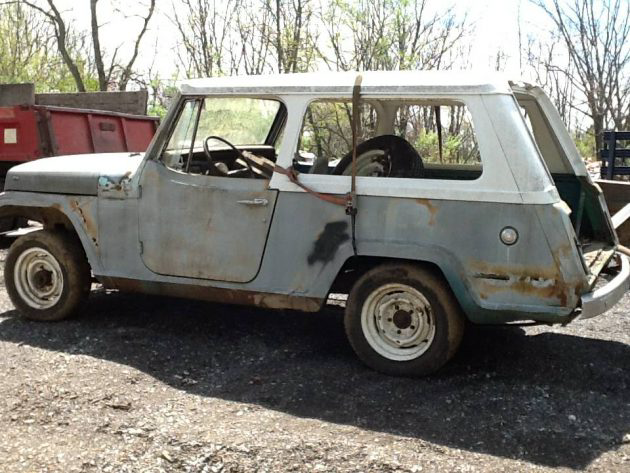 After a 16 year hiatus (the original Jeepster was built from 1948-1950), the Jeepster returned in 1966 as the Jeepster Commando to compete against the new (for 1966) Ford Bronco and International Scout (which had been on the market since 1961). The Jeepster Commando came in four body styles: station wagon, convertible, pickup and roadster (similar to its competition). This 1967 model was built by the Kaiser Corporation (who would later be purchased by AMC) and is one of 12,621 built for 1967. At first glance, this particular Jeepster is missing its tailgate, its driver-side headlight, its taillights, and its convertible top. There also appears to be rust on its rocker panels and leaves in the back cargo area (which should be removed immediately to prevent rust). On the positive side, the rest of the body appears to be solid, with only minor surface rust on certain spots. Additionally, the door glass and outside mirrors are included and are currently inside the car.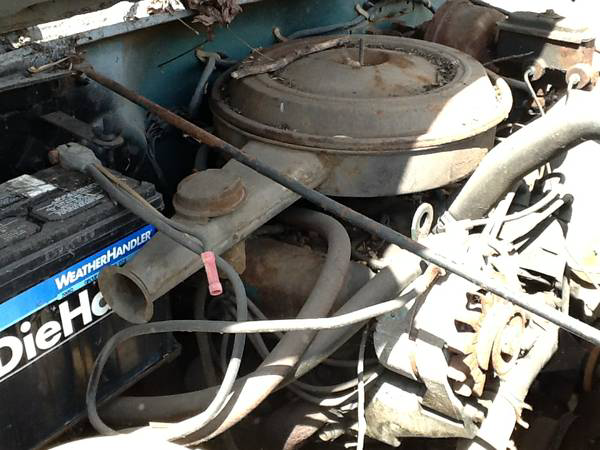 A huge bonus for this Jeepster is that it is powered by the optional "Dauntless" 225 V6. Originally a Buick design, the Dauntless V6 is a 90-degree V6 that was essentially a shortened V8 and had an odd-fire design (which was due to the unevenly spaced (at 90-150-90-etc.) firing impulses of this engine). Initially used by Willys (then owned by Kaiser) in 1965, the V6 tooling was bought by Kaiser in 1967 and used in Jeepsters and other models until Kaiser was bought by AMC. Topped by a Rochester 2-barrel carburetor, the "Dauntless" V6 was rated at 160 horsepower and 235lb-ft of torque and, with more twice the horsepower of the standard Hurricane four-cylinder, was a substantial power upgrade. This particular model is backed by the Turbo-400 three-speed automatic, which is a stout and essentially bulletproof transmission. The seller (whose name is Richard) makes no mention of whether or not the engine runs or how many miles are on it, but it shouldn't take too much to get running again.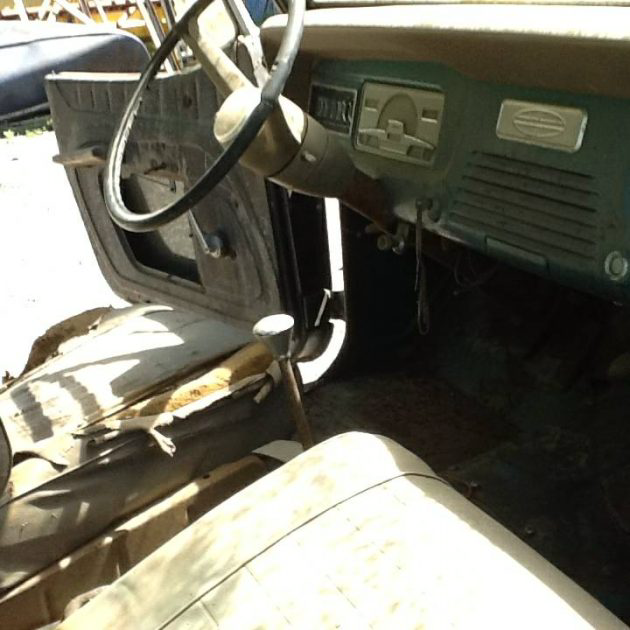 Much like the rest of the vehicle, the interior is a bit rough and needs addressing. The floors appear to have surface rust, while the transmission hump on the floor appears to have been patched at some point. As previously mentioned, the door glass is out, but is included in the purchase, as well as its door panels. The driver's seat and back seat are in rough shape and will need to be replaced, but the passenger seat appears to be in okay condition. Overall, this is going to be a lengthy and costly restoration, but at the very least this Jeepster can be used for parts or brought back to life through a restoration. Personally, I would either build up the V6 or swap in a Chrysler or AMC V8 and build it up as a capable off-roader much like this Jeepster featured on Petrolicious. What would you do with this Jeepster?