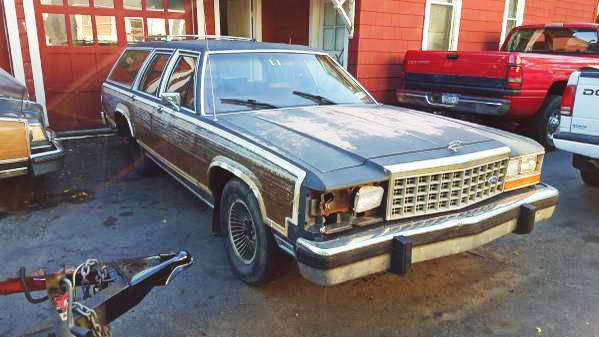 What a forlorn looking Ford this wagon is! It almost looks angry, and to be fair, I would be too. It seems this Country Squire's owner bought it to restore, but abandoned the project when a nicer car of the same ilk came along. Thus, this car became the parts vehicle and its owner has decided to clean out the garage! Missing parts and damage aside, this old Ford could be a good candidate for a late-model restoration, or for a quick fix to be made a daily driver. Find it here on eBay in New York with an asking price of $1,000, from a seller who won't sell it for use in a derby (way to go!).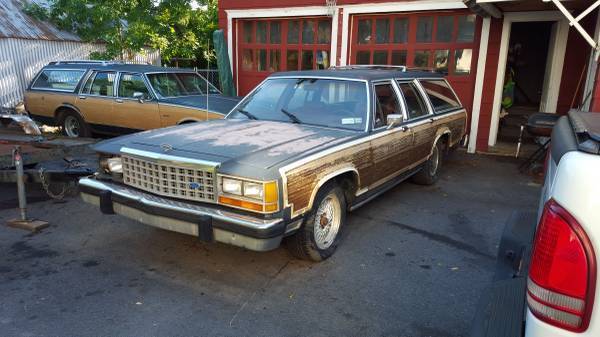 Based on this photo, the seller really likes station wagons with pseudo-woodgrain. I do too, so I cannot fault him there. I wish there were better pictures, but most of them were uploaded to the ad as thumbnails. Thus, I have to work off of the three that were a normal size, and based on these three, this Country Squire looks to have little rust and all of the panels look straight. Having covered 175,000 miles in the last 31 years, I would say this old girl is doing pretty well. Stylistically, its not much to look at, however from a utility standpoint the possibilities for a vehicle like this are nearly endless! There's just something about that generic station wagon look that appeals to me.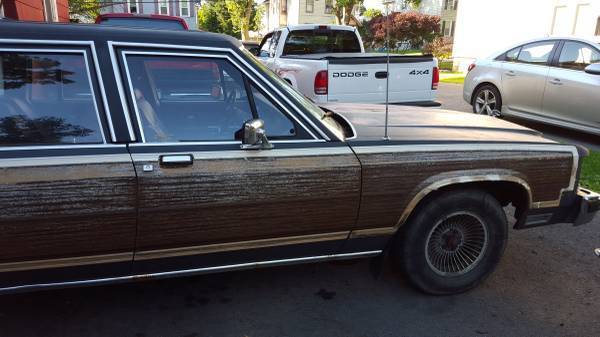 Although it looks a little rough around the edges, I suspect this car has had a life of service, as in it has been maintained and used. Thus, it is a little worn out and needs some love. The seller states that this wagon "was a Barn Find in Pittsburgh, PA. I did a lot of work to it. Drove her about a year , put about 5 k miles on her a few years ago," which suggests to me that this car could be made roadworthy again! Furthermore this Country Squire is full of powertrain options, including the 302 with multi-port fuel injection, the AOD trans, and the 8.8 rear end. For 1986, this was a fairly advanced piece of equipment! I have always loved the look of these old Ford station wagons, and I would own one if the opportunity presented itself. Do you think "once a parts car, always a parts car?" Or would you fix this car up and ride off to Wally World?