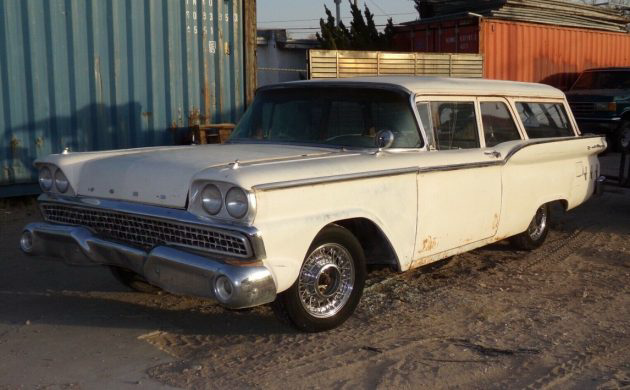 The Ranch Wagon was Ford's first all-steel-bodied wagon in 1952 after the "Woodie" phase of wagon production had come to an end. Simpler in trim and amenities compared to the Country Squire, the Ranch Wagon would remain a Ford staple through 1974. This example from 1959 has been sitting for years and isn't in running condition. It will require both mechanical and cosmetic attention before it can start transporting people and goods once again. Located in El Paso, Texas, this wagon is available here on eBay for the Buy It Now price of $3,900 OBO. Another great tip from Larry D!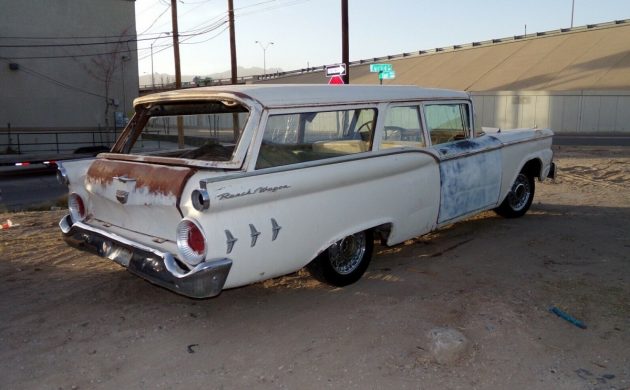 Ford redesigned their line-up for 1952 and the wood-based wagon was gone. For buyers who still wanted the look, the Country Squire wore simulated exterior wood decals which were framed in genuine wood for the first couple of years. If you didn't care about wood, you could have bought either the Country Sedan or Ranch Wagon, with either four or two doors, respectively. While the name of the 4-door version would change over the year, the Ranch Wagon stuck with as few doors as possible and was the price leader among Ford wagons.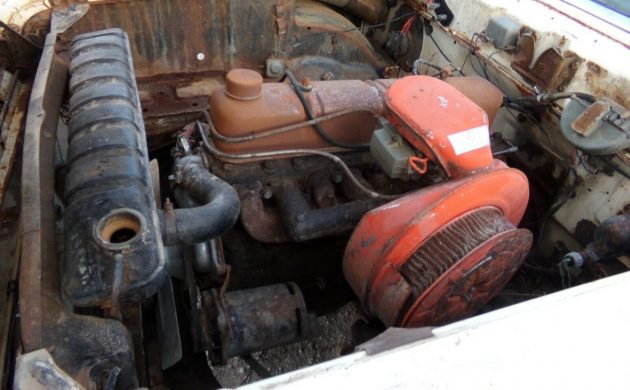 Six-passenger Ranch Wagon production for 1959 was more than 45,000 units, including the seller's edition which has spent much of its life in the deserts of New Mexico. It has a non-functioning inline-six under the hood, which should be a 223 cubic inch engine good for 145 hp when running properly. As your basic wagon, the shifting of gears is handled by the trusty 3-on-the-tree manual transmission set up. There is no mention of what it might take to get the old girl going again other than adding coolant and a radiator cap.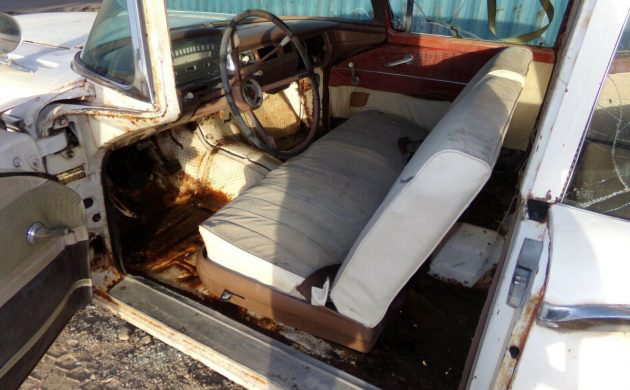 Even though this wagon is more than 60 years old, it's still wearing most of its original paint. The right-side door has been replaced, explaining the differences in color and the seller thinks the right front fender also might not be original to the car either. There is rust brewing in the driver's side rocker panel and door bottom and a few dents and dings are present in the sheet metal and chrome pieces. Rust is also present on the floor pans and it may go deeper than surface corrosion. If you try to raise the window in the tailgate, you'll find that it's missing (the glass, that is, not the gate).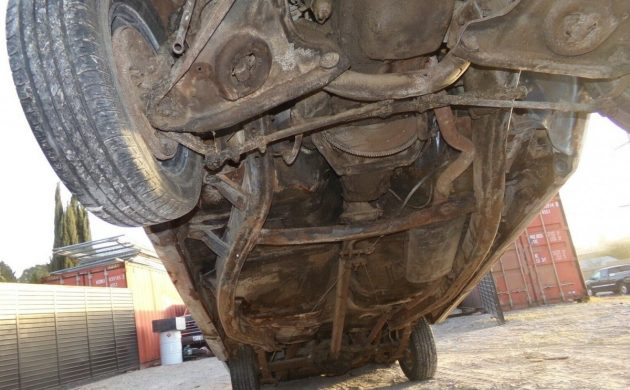 Hagerty pegs the resale value of a '59 Ranch Wagon at $7,700 in Fair condition and the nicest one on the planet might fetch in the mid-$20,000s. If you're looking for a 1950s wagon to restore and don't have the funds to go after a Ford Parklane or Chevy Nomad, why not fix this one up instead?