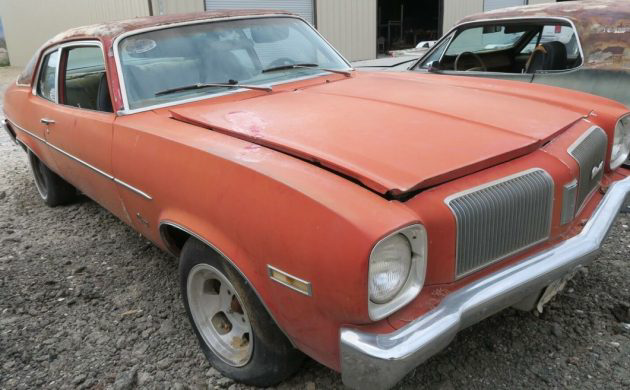 The Oldsmobile Omega is not generally thought of as a collector car, having a comparatively short production run from 1973-1984 with very little in the way of performance editions. Here is a relatively solid 1973 coupe located in Lucerne Valley, California. It is advertised as like a Nova and found here on eBay, with a purchase price of $2995.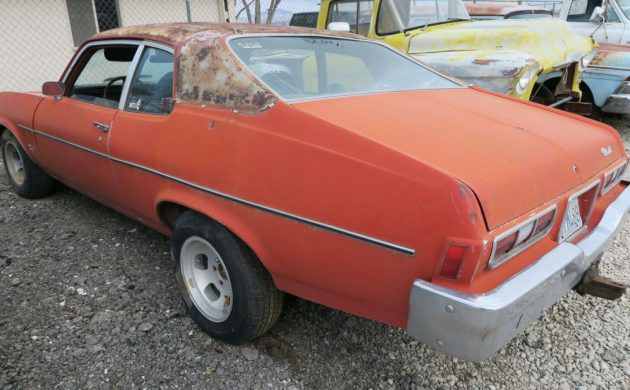 This could be a reasonable entry-level car as long as some expectations are limited. Not a car quite ready to hit the road, it is advertised as a V8 car but frustratingly no engine pictures are included. The engine would be Olds 350 as opposed to the more universal Chevrolet small block. One of the heads is located on the passenger floorboard. It may be a spare but this doesn't look good for the condition of the engine. The hood looks to have haphazardly placed back, leading me to believe it was removed for major engine work. However, it seems to have a normal stance, looking to still be bearing the weight of an engine.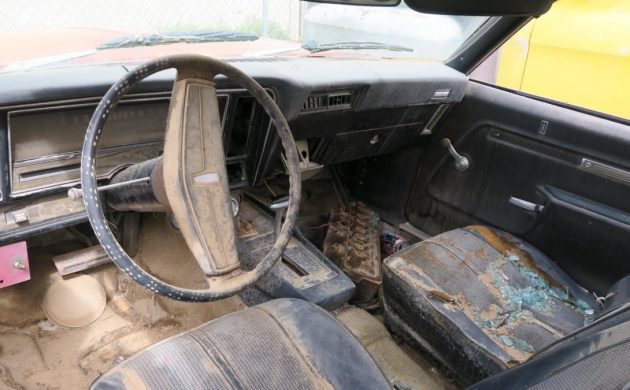 What the seller does provide is numerous underneath pictures showing a straight and solid car, revealing a minor spot on the bottom of the door. There is a bucket above one of the mufflers? The car originally had a vinyl roof, and the California sun seems to have gotten the best of it, with the owner removing the rest. There is a spot on the roof above the rear window which looks like rust through but is hard to tell. This may be a problem. Vinyl roofs can be evil,  holding moisture against non-painted metal. The roof should be painted or treated as soon as possible to avoid further damage.  Overall the exterior paint looks quite usable as is.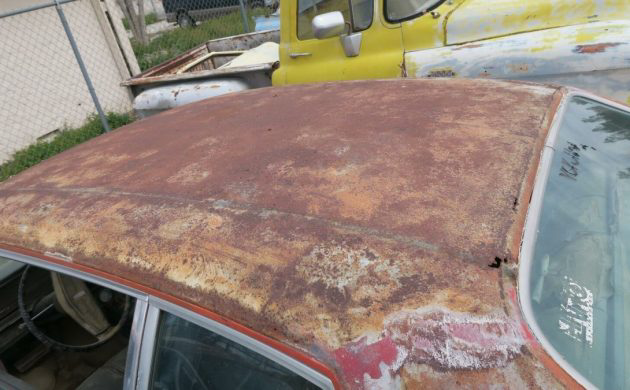 Originally equipped with buckets and a console, the interior now needs refurbishment. Not likely the original upholstery with imitation buckles could be sourced, but perhaps more common Nova parts could be used. Hopefully the same could be said about the door panels. The headliner has sagged down and requires replacement. The aftermarket has stepped up and provided a one-piece unit for the Nova, original type of material utilizing the bows is also available. The trunk area is filled with all sorts of rubbish, obscuring the view of the trunk floor.
I like this car; it would make a great father-son project. Regardless of the era, it represents how many of us could have been introduced to cars, slowly fixing up a non-descriptive 2 door, all the while having big dreams. If this car were in the northeast, the rust-free body would make it a reasonable buy regardless of the engine. In sunny California, there may be more driveable or popular models available from this era, however. It is my hope this one gets saved, preferably introducing a young person to the car hobby.