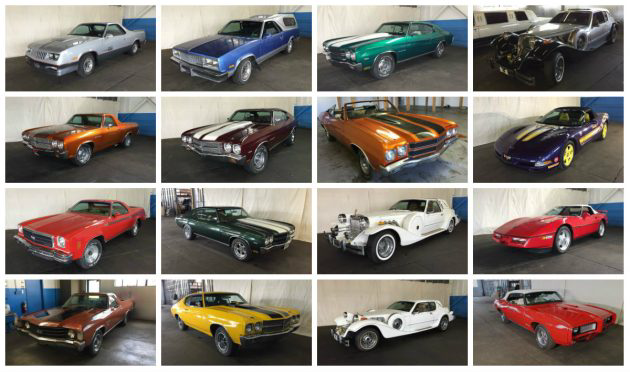 Above you'll see just some of the low mileage and generally great condition treasures that will be offered at auction April 23, 2017 in Allentown, Pennsylvania. You can preview the cars here and there are some real beauties! This is an estate sale, and the collector definitely had particular tastes, with the cars being grouped into some very specific categories. I'll explore some of those below, but be sure and check out the complete listing for more details. Thanks ever so much to commenter and reader LD71 who sent in this great set of finds!
1970 Malibus
These five 1970 Malibus all seem to be in pretty nice shape! The orange one is a convertible, V8 with a four speed and shows 24,499 miles. The yellow one is modified, with a four speed, cowl induction and some speed parts under the hood. It's showing 60,102 miles. The dark green car has a small block V8 and an automatic, and is showing 79,493 miles. The lighter green car is showing only 20,447 miles and is another small block V8/automatic car. Finally, the maroon car is showing 11,962 miles (!) and is yet another V8/automatic car. What a set of Malibus!
El Caminos
There are five El Caminos as well, although they are from a range of years. They have a range of mileage showing as well, from 7,217 to 82,095. Highlights include a rare 1987 SS model with less than 13,000 miles and the 1974 showing 7,217 miles. You don't see many El Caminos with camper tops, either.
Neoclassics
If you are into Neoclassics–those cars that are relatively modern cars modifed to look like older ones, there are two Tiffanys and a Zimmer, with the Zimmer having less than 4,000 miles and 1986 Mustang underpinnings. I can definitely believe these odometer readings because this type of car is rarely used as a daily driver.
Other GM Special Cars
Here we have a 1987 Corvette convertible, notable that it has a Paxton supercharger and less than 20,000 miles, a 1969 Pontiac GTO with a Tri-Power V8, less than 69,000 miles but it needs some interior work, a 1998 Corvette Indy Pace Car (unclear whether replica or real) with under 14,000 miles, and a 1997 Camaro with a custom interior.
Transport Help
Finally, it wouldn't do to win some of these auctions without a way to get the cars home, would it? Both trucks seem well capable of towing, with the 1977 having a 454 V8 and the 1994 having many custom features. The box van is a 1972, and the 40′ racing trailer could hold at least two of the cars! Thanks again to LD71 for sharing these great finds, and please let us know if any of you can attend the auction–we'd love an "on the scene" report, especially if you end up taking one of these vehicles home!