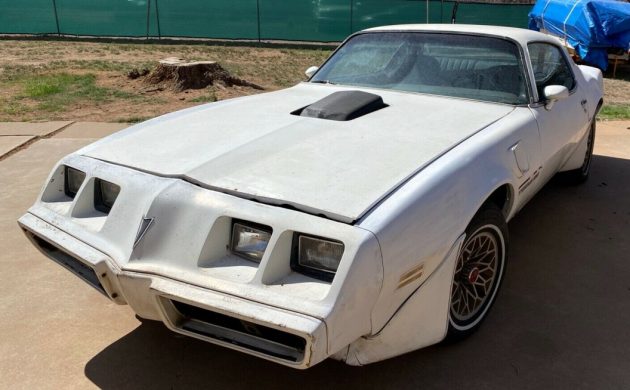 This 1979 Pontiac Trans Am is being sold by the daughter of the owner who passed away. The car is a little rough and will needs some work to get it back on the road but it is running. Pontiac sold more Trans Ams in 1979 than any other year that they were produced (117,108 cars). While many enthusiasts don't car for the front end treatment that Pontiac used on the Firebird from 1979-1981, it was a best seller. This car is located in Brownfield, Texas which is near Lubbock in west Texas. The car is listed here on eBay with 3 days remaining in the auction. Currently, the car is bid to $3,540 after 26 bids and the reserve has been met.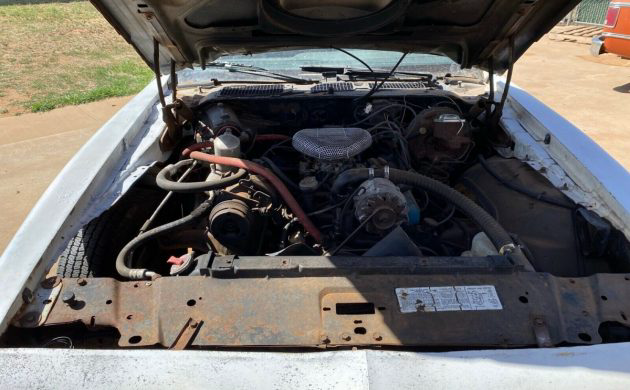 This Pontiac Trans Am came from the factor with the L80 Oldsmobile 403 cubic inch V8 engine that was rated at 185 horsepower and 320 lb ft of torque. The scoop has been affixed to the hood and the carburetor is adorned with a Weiand air cleaner. In 1979, a Trans Am could be ordered with a Pontiac designed 301 cubic inch V8 or 400 cubic inch V8 or an Oldsmobile designed 403 cubic inch V8 engine. The Pontiac 301 cubic inch V8 was rated at 155 horsepower and could be ordered with either a Borg Warner T10 4 speed manual transmission or Turbo 350 3 speed automatic transmission. The Pontiac W72 400 cubic inch V8 engine was rated at 220 horsepower and was only available with a Borg Warner 4 speed transmission. Only 8,326 Trans Ams and 367 Formulas in 1979 came with the Pontiac W72 engine. Most Trans Ams were equipped with the 403 cubic inch engine which could only be ordered with a 3 speed Turbo 350 automatic transmission.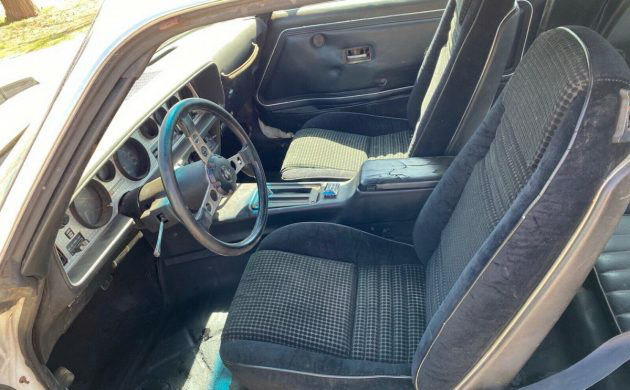 The black hobnail interior looks pretty good considering the condition of the rest of the car. The passenger door panel is missing the arm rest and the console lid is cracking. The car is fairly well optioned with power windows, air conditioning and automatic transmission. The car also appears to be missing the carpet and the rear seats look to be vinyl. A big expense on these cars is replacing cracked dashes. This one appears to be solid.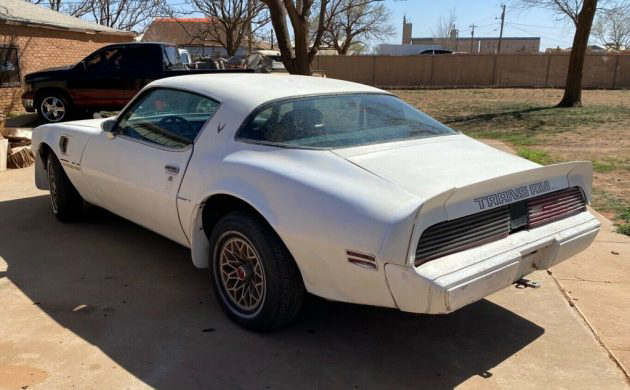 The car is advertised that it is equipped with the famous WS6 suspension which in 1979-1981 came with 4 wheel disc brakes. However, the car is equipped 15 x 7 aluminum snowflake wheels and all 1979 Trans Ams with WS6 suspension came with 15 x 8 wheels. This Trans Am is also sporting a trailer hitch. The seller states that her mechanic got the car running but it needs the fuel tank flushed out and will probably need a brake job to be safe to drive.