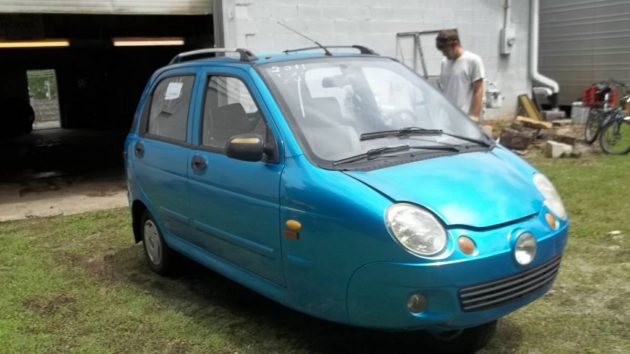 Often, the first response to a strange car is a query as to what it is.  With this car, if it can be called a car, the question is "why is it."  What we have here is perhaps the most bizarre forms of transportation to ever be featured on Barn Finds.  This one makes the Yugo I just wrote about seem like a new S-Class Mercedes in regards to quality, and makes the neighbor kid's BMX bike seem safer than a Volvo 240.  While there is very little information about these on the internet, the stickers on its rump say it is a Snyder ST600-C, and the little beastie is for sale in a tiny town just outside of Oak Ridge, Tennessee called Oliver Springs.  You can find it on Craigslist for the loan officer angering price of $6500.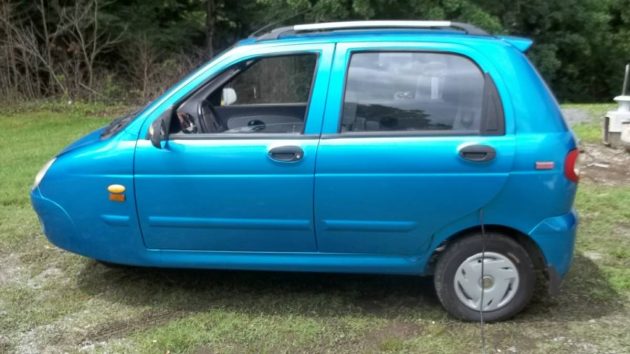 The stickers on the back of the car give it an awesome, manly name, but there is not much information about this dinky monstrosity floating around.  If you want a better look at one of these, I did find a video on YouTube giving us a walk around by what looks like a car dealer trying to sell a similar one.  Once again, the question is why make such a vehicle?  I think the answer is in a loophole in federal law that exempts motorcycles from the myriad of safety and emissions laws that cars have to endure.  Under those laws, anything with less than four wheels is categorized as a motorcycle.  A few three wheeled cars have found success on these shores, such as the British manufactured Morgan and the Canadian made Can-Am Spyder, but they are in a different league than this one.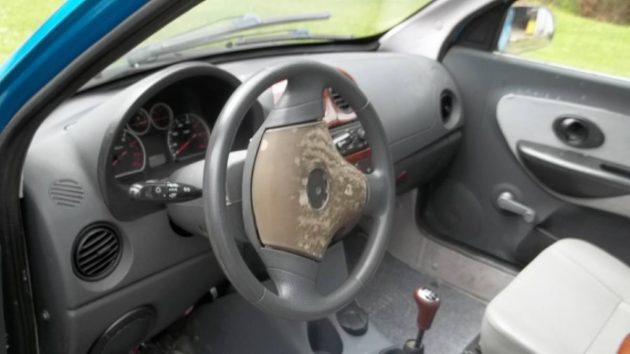 I am guessing that this trike was made in China, and likely exported by the same companies that make those little scooters you see being sold in gas station parking lots in the seediest parts of your town.  It looks like the manufacturer reverse engineered a Geo Metro, and then grafted on a three wheeler nose to cover up the 600 cubic centimeter prime mover hidden under its cyclops nose.  They say it has a motorcycle engine and an automotive type manual transmission.  We have no idea whether or not it is front or rear wheel drive, but my speculation is that the motor drives the donut in the front.  The performance must be exhilarating, as the owner states that it will do an honest 65 miles per hour, and get 70 miles per gallon doing it.  Maybe if a kid is driving it downhill…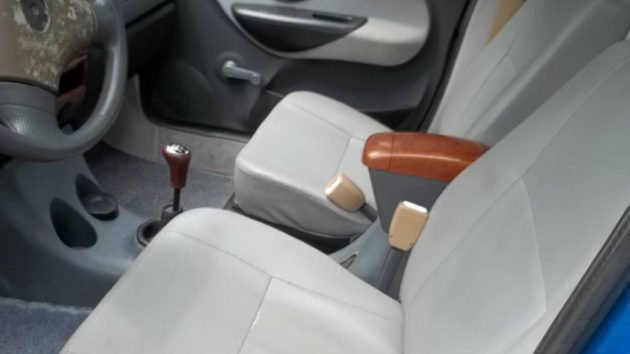 The above two pictures show off the luxurious interior, complete with a wood grained plastic arm rest.  I have no idea what is happening to the horn button on the steering wheel.   Perhaps it was covered with stingray skin, but someone forgot to tan the hide.  From the looks of the cockpit, the company must have gotten help from those guys who made the seat and dash on my riding lawnmower.  Of course, my riding lawnmower is safer.  At least I'll get thrown out of the way if I hit something, rather than be crushed inside a tinny plastic coffin made out of recycled razor blades and disposable water bottles.  We won't even debate the merits and demerits of seatbelt use in a vehicle such as this.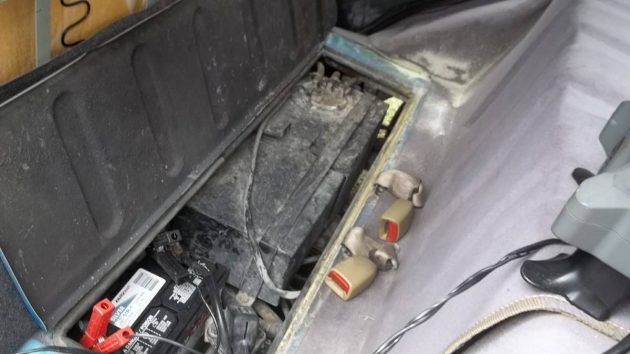 Just in case your death isn't traumatic enough, the manufacturer has kindly placed the gas tank and battery in an easily accessible compartment under the rear seat.  Granted, it doesn't hold much in the way of gasoline in the first place.  I guess it is the thought that counts here.  If I were independently wealthy, I'd buy one and submit it to the Insurance Institute for Highway Safety for crash testing.  Close your eyes and let your thoughts go wild with that mental picture.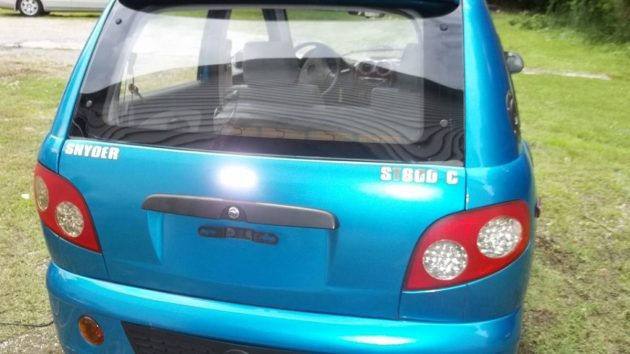 If it is Chinese, then I think this car was a tactical mistake if they want to be taken seriously in the American car market.  Stuff like this might make sense in Shanghai, but in the US it is totally inadequate for our transportation needs.  Taking advantage of the three wheeled loophole makes it easier to sell the car for much less than a traditional automobile.  However, a couple of grisly wrecks and TV news magazine hatchet jobs could set back their chances to break into the market for a generation.  The Japanese struggled for years before their vehicles were accepted and respected, and a lot of their problems stemmed from them not understanding the American marketplace.  It took a fuel crisis to get their products into widespread use, and only then did American buyers come to respect the cars for what they were.  It took further "Americanizing" their products for them to achieve parity in the eyes of consumers.
This is a strange, half hearted attempt that wouldn't even make a good clown car.  I'd bet that none of us have ever seen one of these in person, and that is a good thing for both us and the manufacturer.  They need to try harder to make a car.  A lot harder.