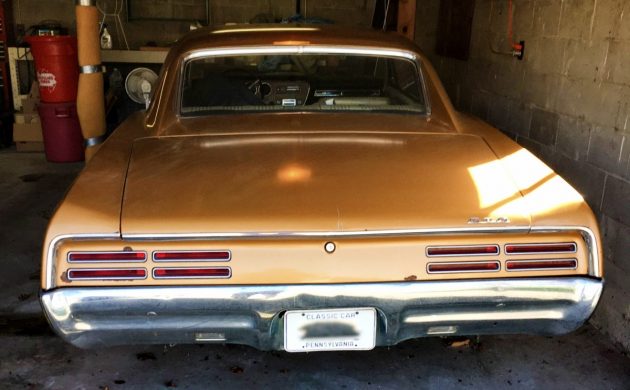 Update 9/17/2018 – Amie has let me know that they have decided to drop the price of her Father's GTO to $30,000!
For many muscle car enthusiasts, the Pontiac GTO is the holy grail of finds. While there are lots of clones and fully restored examples on the market, you don't find many unrestored examples that still run. Well, Holly K was left with her late husband's 1967 GTO Sports Coupe and the time has come to let it go. This 400 cui V8 4-speed car has seen one repaint, but is otherwise original and looks great! It's located in Pittsburgh, Pennsylvania and is ready to head to its next owner. Her daughter Amie is helping her with communications, so if you are interested, be sure to message Amie via the form below.
Price: $30,000
Location: Pittsburgh, Pennsylvania
Mileage: 85,900
Title Status: Clean
VIN: 242177P310338
Seller's Description: My dad was only the 2nd owner. He bought it when he was around 20 years old. His joke was always "I've had that car longer than both my wives!" Haha. It's always been garage kept, didn't get much use. He only took it out a couple times a year in nice weather. Everything is original besides the paint. He got it painted after he bought it. It's a little more gold than the original color. My dad died a few years ago and my mom doesn't want it just sitting. She'd rather have someone enjoy it and take it to car cruises and what not.
Body Condition: The body is excellent and has received one quality repaint in its past. It has minor surface rust around the tail lights but is otherwise rust free.
Mechanical Condition: The 400 cui V8 and 4-speed are the matching numbers originals. It runs fine and has new tires, so it's driveable.
Here's a breakdown of the VIN.
1st digit – Division – 2 = Pontiac
2nd & 3rd digits – Series: 42 = GTO (1966-71)
4th & 5th digits – Body Code: 17 = 2-door coupe
6th digit – Model Year: 7 = 1967
7th digit – Assembly plant P = Pontiac, MI
Last 6 digits – Production sequence starting at 600001
at all plants, except V8 models which started at 100001 = 310338
The body style code of 17 makes this car one of just 7,062 GTO Sport Coupes built. It looks fantastic and could be ready to enjoy with minimal work. If you have any questions or want to make an offer, be sure to message Amie!
And, if you have a classic parked in your garage that needs to go, you can find more information about selling it on Barn Finds here!
List your car here on Barn Finds for only $50!
 
Have something to sell? List it here on Barn Finds!