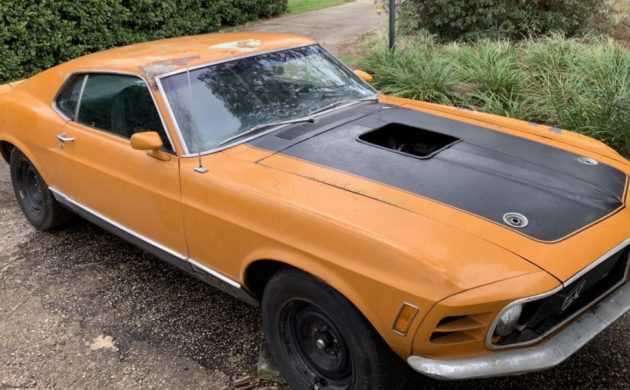 From The Seller: This 1970 Mustang Mach 1 Twister Special is a rare car as there were only 96 manufactured. Of the 96 made, 48 have a 428 Super Cobra Jet engine and 48 have a 351 Cleveland engine. The noted engine combinations were half automatic transmission and half 4 -speed manual transmission. That makes this one very rare – 1 of 24! These cars were not built with luxury in mind. They were built for power and speed!
This Twister Special has the desirable 428 Super Cobra Jet engine with a 4-speed manual transmission. This car has quite a history. It has seen races on the drag strip circuit, cruised around town, and has been the envy of many who have seen her drive by during her prime. She was cared for by a family member, but in time was parked in a barn for many years. She was even stolen from the barn to end up in a scrap yard and fortunately was retrieved after the thief was caught. For the past decade, she has been sitting in the garage while we have been researching and planning for her restoration. It now appears that this dream will have to be fulfilled by the fortunate buyer.
Please view pictures for the condition of the vehicle. The matching serial number engine is not the one pictured under the hood but is the one pictured on the engine stand. The engine is not running now and will require restoration. See the original shaker in the photograph of the passenger floorboard. Aside from a light cleaning, gentle transport, and safe storage, we have left the vehicle in the condition in which we received it from our family member. This car will need extensive restoration, but is solid and has minimal rust (see pictures).
This is your opportunity to purchase a rare 50-year-old Mustang that is a great buy that after being restored will be worth many, many times more than your initial investment. Thank you for viewing our barn find!
What a great car Scott! Thanks for listing it with us. If any of you are interested, please use the form below to contact Scott.
Asking Price: $65,000
Location: Tallahassee, FL
Mileage: 96,065
Title Status: Clean
VIN: 0F05R118857
List your car here on Barn Finds for only $50!