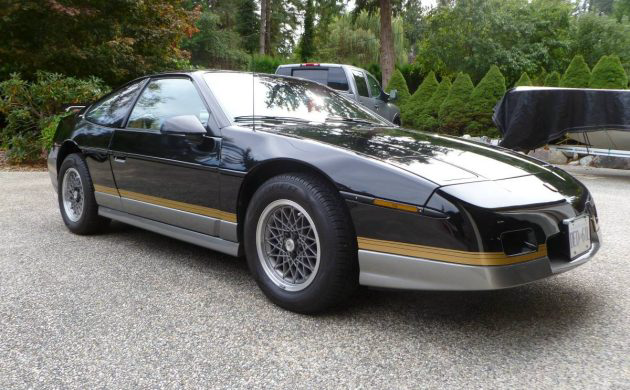 Sometimes craigslist surprises you.  This huge free ad website has its tentacles in basically every nook and cranny of the planet, and neat things can pop up in areas you would never expect them to be.  Our faithful reader Jack M. has discovered this beyond pristine 1986 Pontiac Fiero GT on craigslist in the most unusual of places: just off the Trans-Canada Highway near Vancouver, British Columbia.  With an odometer registering a mere 28,700 kilometers, this trophy gathering sports car is currently is currently on the market for $12,500.  That is likely Canadian dollars.  As of today, this converts to exactly $9,686.69 in American greenbacks!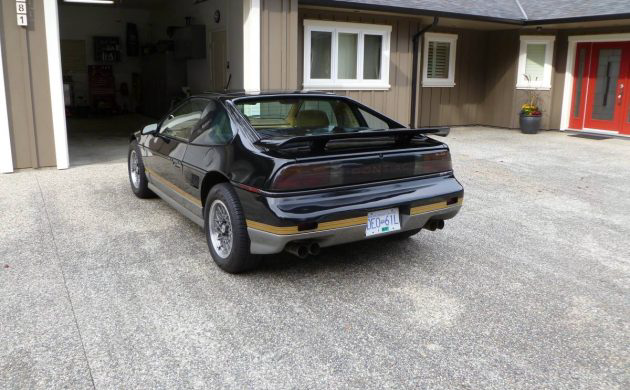 So, what will $12,500 in Canadian dollars, or "loonies" as they call them, buy you?  Well, this 1986 Fiero GT is claimed to be all original.  Looking at the paint, wheels, and interior, that claim is either entirely correct, or a very talented restorer has brought any deficiencies back up to snuff.  The only item that might not be correct is the gold stripe that stretches around the car.  I do not remember seeing any Fieros with such a stripe.  It could be a Canadian market item, added by a dealer as a mark up item, or applied by the owner.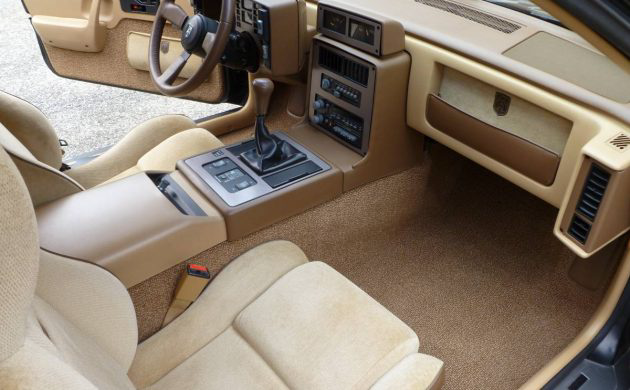 Looking at the picture above, we see that the interior is in equally stunning shape.  Even the old school premium GM radio is still intact.  While sadly discontinued for the 1986 model year, 1984 and 1985 model Fieros boasted speakers in the headrests of the seats!  Seems like that would still be a good idea.  Anyway, we can see that the car is equipped with a five speed transmission and air conditioning.  Power windows, tilt steering, and a leather wrapped steering wheel round out this car's well appointed interior.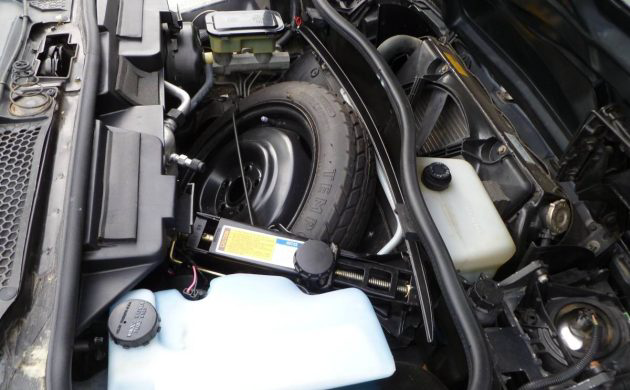 When you reference the hood when discussing the Fiero, you have to think about the question for a bit.  With the engine in the middle section of the car, the front "hood" opens up and reveals a "trunk."  Or, just the opposite.  In fact, I don't think anyone really has a clue what the proper terminology should be.  All we know is that there is precious little room for anything in the front section.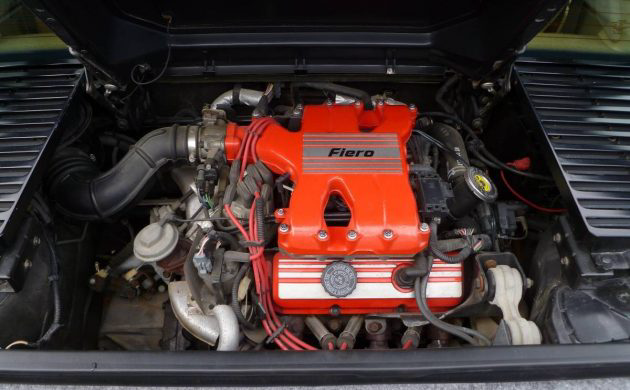 Between the rear bumper and the engine was a small area to put a few grocery bags or some luggage in.  However, the car's size and packaging allowed for little else.  What is interesting is that the engine compartment was designed to be big enough for a small V-8 to be fitted instead of the 2.8 liter V-6 seen here.  Tinkerers and aftermarket firms have crammed all manner of engines into Fieros.  Everything from small block Chevrolet V-8s  to Cadillac NorthStar engines have been successfully transplanted into these cars.  While production sadly stopped in 1988, the same year that Pontiac introduced a fantastic new suspension based on their racing experience with the car, can you imagine an updated Fiero with NorthStar V-8 power?
The mid engine design naturally demands the Fiero be considered a sports car.  However, Pontiac had to sell the car to GM brass as a "commuter car" to gain approval. The Corvette crew at GM, who had been advocating for a mid engine Corvette for decades, must have been beside themselves in fury when Pontiac got the approval to build these cars.  The Fiero slowly developed into a very capable sportscar before GM pulled the plug.  Again,it is hard to not wonder where the Fiero concept would be now had it been allowed to live.
This 1986 Fiero GT from the land of bagged milk may seen a bit high priced, I doubt you will find a Fiero in better condition.  While some might deride the cars for their initial lack of performance and reliability, by 1986 these cars were coming into their own performance wise.  You might pay too much now, but we also may one day look back and say now was the time to buy.