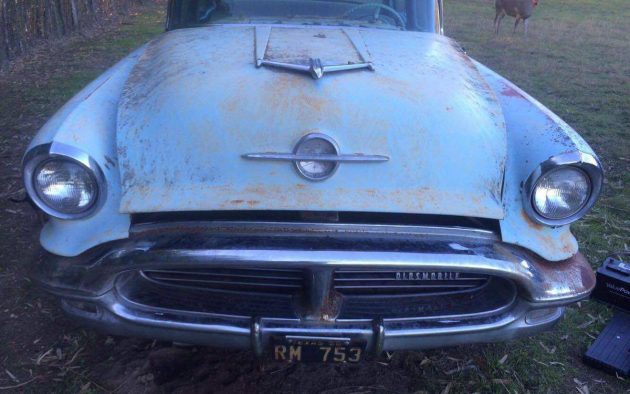 This quite solid and seeming original 1956 Olds 88 four door is for sale on craigslist in Austin, Texas, though the car is actually located on the seller's farm in Kerrville, TX. I think this is the "plain" Olds 88, not the "Super 88" but someone please correct me, if I am wrong. Oldsmobile sold 29,028 of this model in 1956.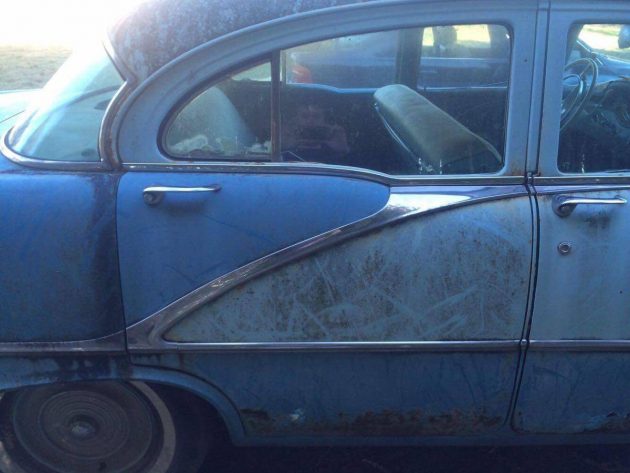 According to the seller, this two tone blue Olds has been on the farm for quite some time and does not run. The engine is free and does turn over, so there is hope it can be a runner again without needing too much work. No doubt the interior is a bit musty from years of storage, and who knows if it can be salvaged or will need to be completely replaced.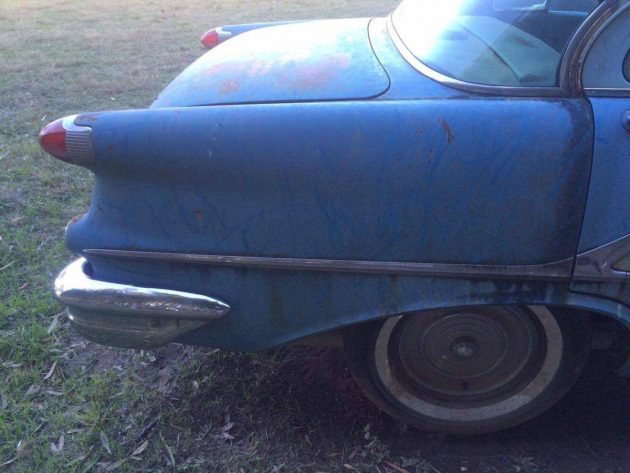 The seller states that all the chrome and trim parts are present and intact. Some buffing ought to clean up the stainless steel pretty well.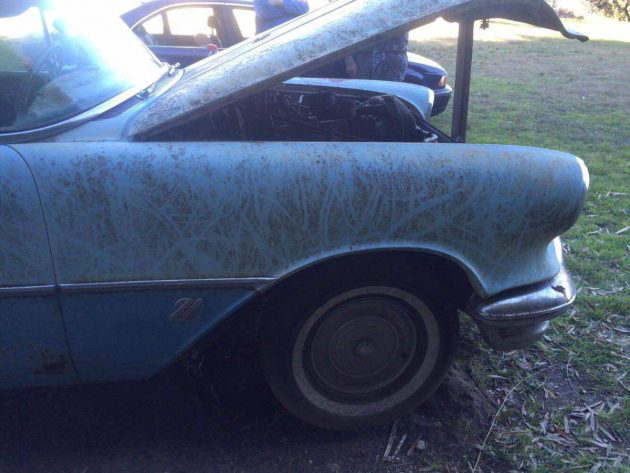 The owners have had it for some time and want it to go to someone that would restore it to its former glory.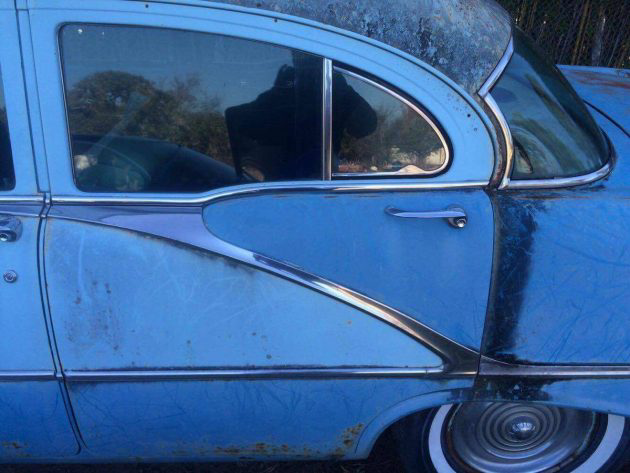 There is some rust present at the bottoms of the driver and passengers doors and the floor board on the driver's side, which, while not illustrated in any photos, probably means there is more rust in the floors and trunk, and that will result in some extra work for the buyer. It does turn over, and the seller believes it would probably run with a little work. That may or may not be true.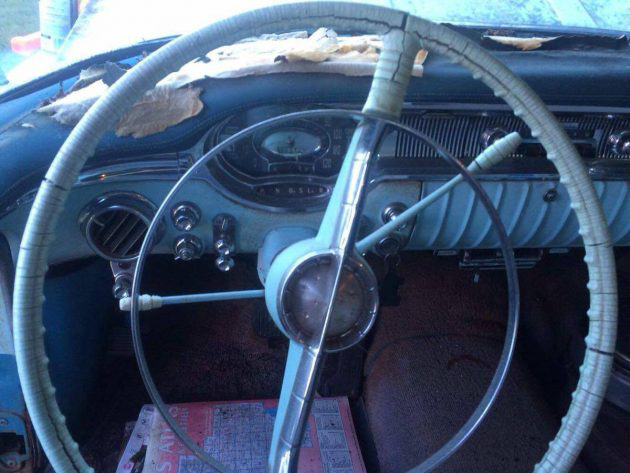 As indicated in the photos, and described in the ad, it looks like all the window glass is good. I particularly like those opening quarter windows in the rear doors and that huge steering wheel is a beautiful thing to see.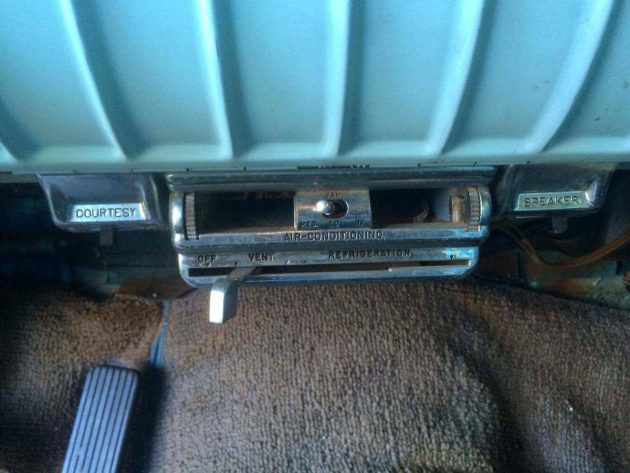 I think what makes this car a bit out of the ordinary and well worth saving is the fact that it is a factory A/C equipped car. I have been unable to find out how many Oldsmobiles were made with air in 1956, but most of us who grew up in that era know that air conditioning was just not commonly ordered by customers in those years. The carpets don't even look that bad in this view.
I am guessing this was a Texas car in the first place, which might explain the fact that it was ordered with air conditioning. The seller does not say, but as you can see in this photo, this car has power brakes and may have power steering as well, so it was an unusually well equipped car for its era.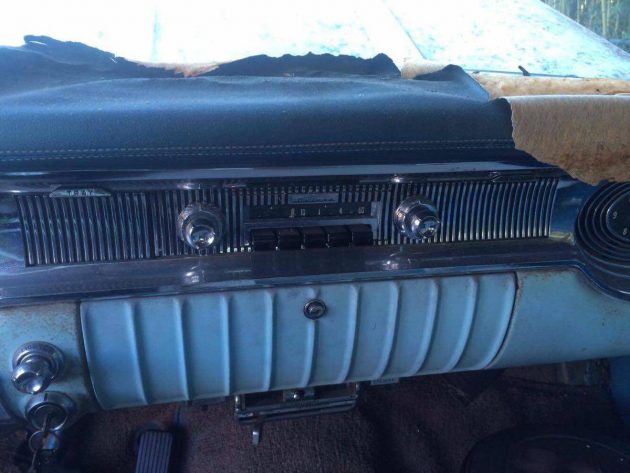 And the original tube radio is present, though likely needs rebuilding also. It will need a new dash pad for sure.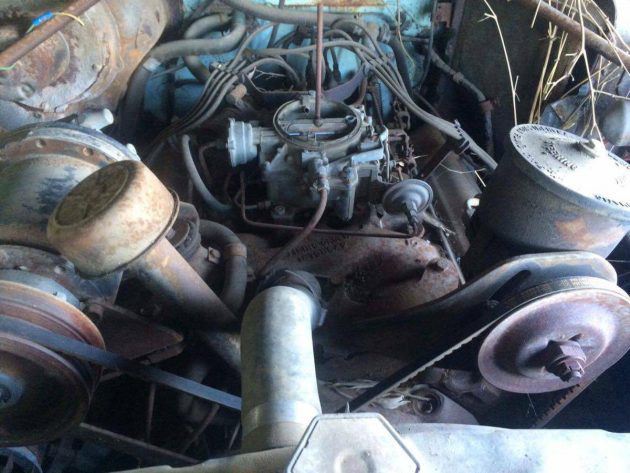 I'd love to see this Oldsmobile back on the road. The Rocket V-8 is a tremendous engine. The asking price of $5,000 for a non-runner, even if the rust is minimal, seems high to me, but the seller says he will consider offers. I hope someone will buy this car, and take on the daunting project of restoring it. Getting that air conditioning to work again is no small task. There are many parts that are simply not available, and quite a bit of home engineering will be required. I found this discussion about mid-fifties air conditioning issues on the AACA forums, and admire the ingenuity of some of our fellow car rebuilders who have figured out how to get their ancient A/C systems running again.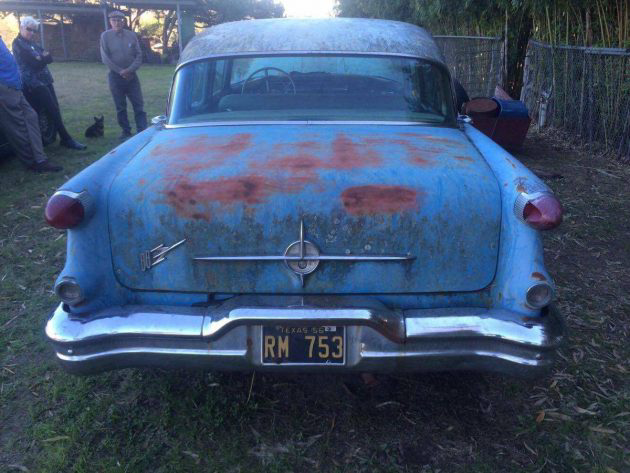 Please someone get down to central Texas and buy this car. Keep the original 1956 license plates with it. Then send us pictures once it's redone. I bet it comes with some great stories, and whomever restores it will have plenty of great stories of their own to tell.