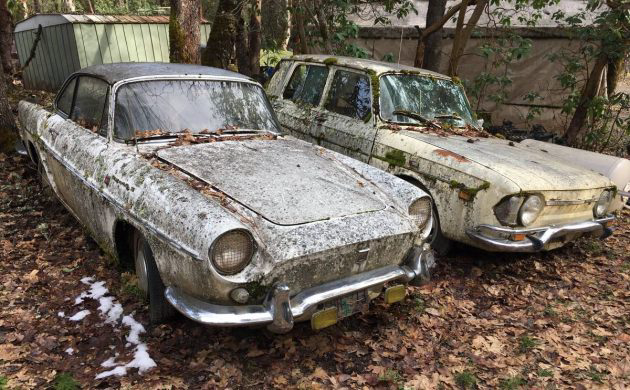 While it may look to be a sad and forlorn sight nestling next to its brother out in the open, this 1963 Renault Caravelle Convertible may well prove to be a diamond in the rough. The general condition of the Renault is a bit unclear, but given the fact that good examples can fetch some pretty respectable prices, then this may be a car where the asking price of $1,000 could be a bargain. I have to thank Barn Finder Dan O for spotting the Renault for us. It is located in Rogue River, Oregon, and you will find it listed for sale here on Craigslist.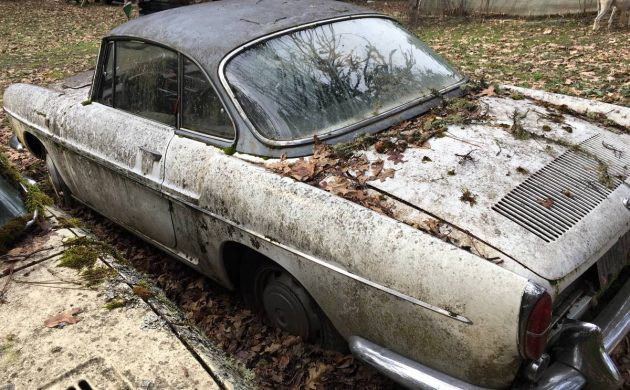 It isn't clear how long the Caravelle has been sitting in its present location, and the owner hasn't been particularly forthcoming with information. However, once you peel back that layer of moss and mold, the physical condition of the body looks quite encouraging. There are no visible rust issues, but I really must emphasize the word "visible." What we can't see is the state of the frame or the floors, and sitting the way that it is can't be doing either of these items any real good. As well as the hard-top that is fitted to the car, there is also an additional hard-top which is included in the sale, and it looks to be in good condition. As an aside, the little R10 that is sitting beside the Caravelle is also for sale, so that's another car for you to consider. Hey, you might even be able to swing a package deal on the two of them.
When I look at the interior I start to feel the pangs of dread. There is some evidence there that it has been wet, and this is an extra worry when it comes to the state of the floors. There's no doubt that the interior will need complete restoration, but the positive is that it at least appears to be complete. We don't get any photos of the engine, but we are told that it had been rebuilt and that it ran when the vehicle was parked…whenever that was. The engine should be the 956cc 4-cylinder engine, and the transmission should be a 4-speed manual. In 1962 the Caravelle received a raft of mechanical upgrades, and this car should benefit from these. With the 956cc engine replacing the original 845cc, the car received a useful, if modest power boost. This moved it from having 37hp on tap to 48hp. The standard transmission was also upgraded from a 3-speed to a 4-speed, while numerous suspension upgrades and 4-wheel disc brakes resulted in massive improvements in both handling and stopping.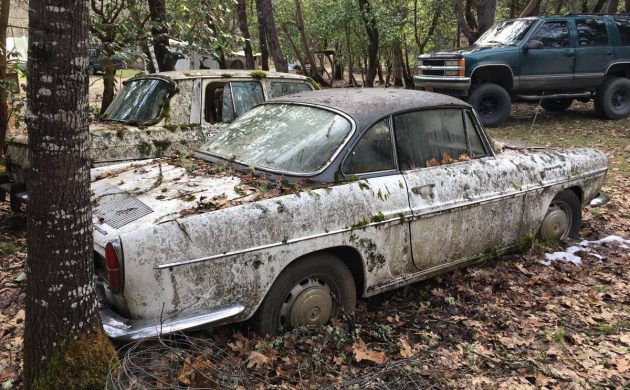 I know that there are a lot of unknowns with this car, and I don't envisage that it is going to represent an easy restoration. However, sometimes a car that has been left sitting like this will pull a rabbit out of the hat, and it will prove to be quite solid. If this Caravelle proves to be such a car, then as I said before, the $1,000 asking price could be one of the bargains of the year. A good Caravelle can easily fetch prices of around $12,000, but with their general rarity today, this price can push to over $23,000 for a pristine example. If this is solid, then it is certainly worth considering.
Have something to sell? List it here on Barn Finds!