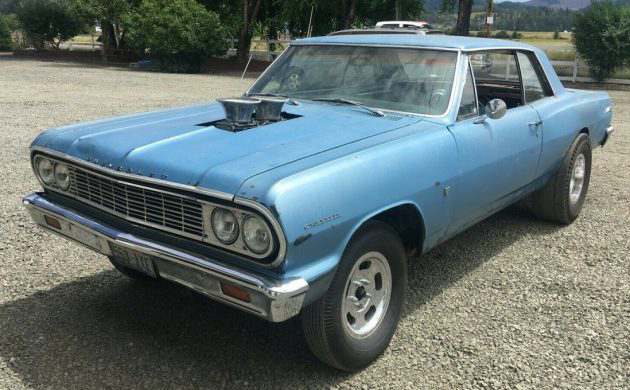 First up, yes, I know this Chevelle looks like a 1964 model. That's because this 1965 Chevrolet Chevelle has a '64 front clip attached. Beyond that, this Chevy has a tres cool, old school, dragster vibe about it. There's quite a bit of good, but also some not so good to consider here, so let's take a deep dive. This '65 Chevelle is located in Oakland, Oregon, and is available here on eBay for a current bid of  $4,050, reserve not yet met.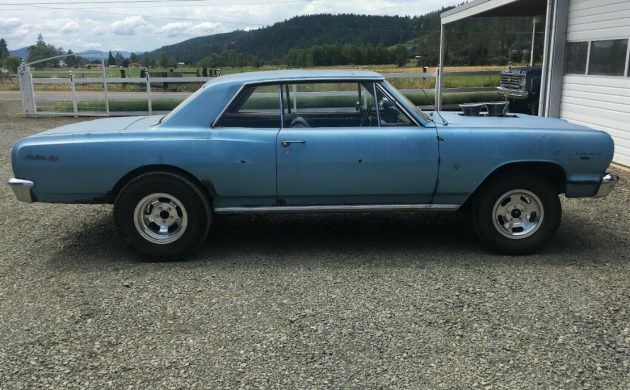 I owned a '65 Chevelle Malibu SS between 1971 and 1973, I wanted to do exactly to mine, what's been done to this example. And that's a challenge as you have to build a streetable racecar that has some reliability, especially when it's the only wheels that you own, a typical situation for a teenager. Mine never got close to this but it was an enjoyable dream just the same.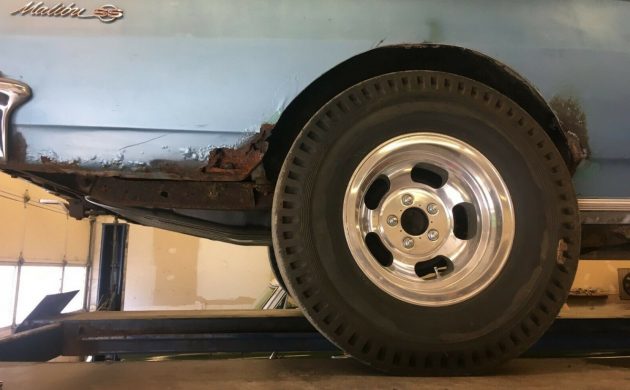 First up are the radiused rear wheel openings. The '64 and '65 Chevelle have only partially opened rear wheel wells so getting out your saw and cutting away was how you made the giant drag slicks fit. The job performed here is pretty well done. And the jacked suspension, front and back, was a necessary part of the execution too. There is rust in this Chevy, actually, rust in a lot of places. The trunk pan is shot and the floors have been fixed with irregular sheet metal patches attached with sheet metal screws. A problem? Well maybe, depends on what you want to do with this Chevelle. If you are looking for a vintage restored racer, you'll have your work cut out (no pun intended) for yourself. If you want to take this beast to the track, you could just keep it as is, less metal equals less dead weight on the strip. As for the mixed-match front end, probably the result of a crash and a '64 clip was available. That said, I do prefer the '65 grille to the '64, it's a subtle difference but a subjectively cleaner look.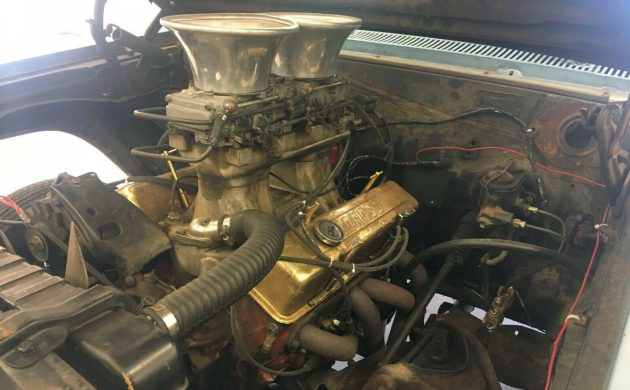 Under the hood is "a large journal 327, 11 to 1 compression, big hyd. cam. with roller rockers, unalite electronic distributor" backed up by a "Shaffer clutch. Transmission is a Doug Nash 5 speed with liberty gears. rear end is a 12 bolt 4-11 with Richmond gears". It's a trip down memory lane! The seller claims that this Chevy "runs and drives" but could use an alignment – not exactly overwhelming praise for something that looks deserving of it. Other improvements include: "New brakes all around including lines, wheel cylinders, shoes, master cylinder, front drilled and slotted disk break (sic) set up. New fuel tank, sending unit, and fuel lines. solid motor mounts, transmission mount. and ladder bars". I love the ladder bars, I haven't seen a pair of those in years!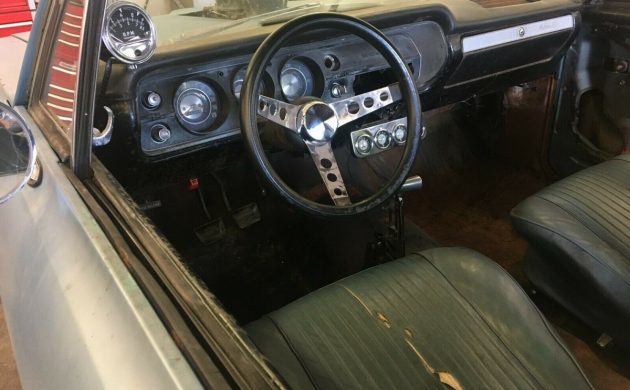 The interior is racecar rough, somewhat gutted with rusty and/or patched floors. The original style bucket seats are in place but they are not in the best of condition. Again, it's a trade-off, restore this Chevelle by repairing or replacing all of the damaged or missing interior components or run with it as is, in complete street/strip brawler mode. Of note is the tachometer, it appears as a period piece to match this Chevelle's era.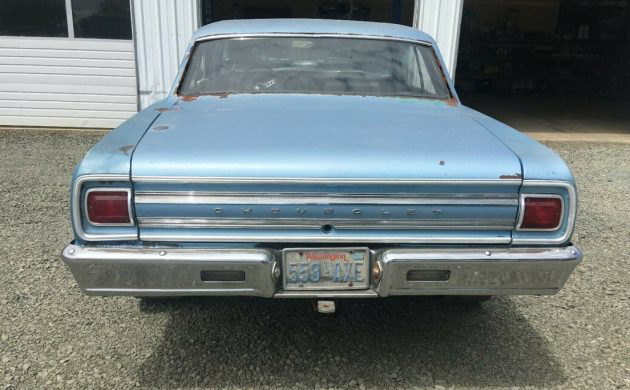 I like the racecar "chi" that this Chevelle throws off and I'd be inclined to keep it as such, but maybe repair some of the body and interior and bring it up a bit to a less deteriorated condition. Since it would be tough to undo all of the significant racecar mods that have been installed, this Chevelle is probably beyond returning to stock form or trying to perform a full restoration, there are better examples available for that task.  How about you, race, restore or something in between?