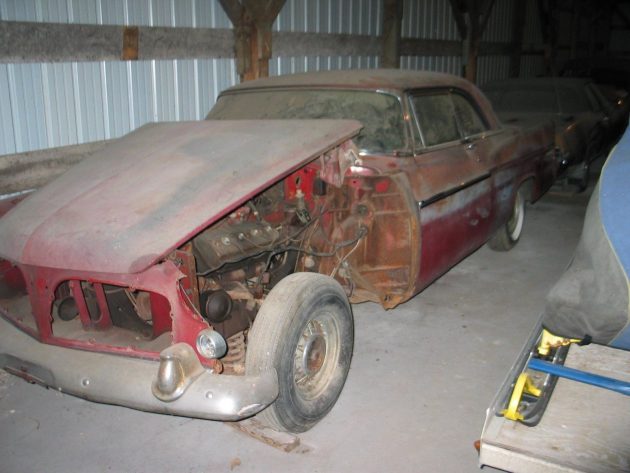 Sometimes, this job just makes me want to cry.  I am always looking through the internet to find a car with some type of interesting aspect about it.  Naturally, I gravitate towards my favorite cars throughout history.  I'd like to take all of them home, but space and my checking account restrict me from doing so.  If I won the lottery, however, I would become a car hoarder of the first order.  In that dream scenario, I am not sure if I'd take this 1956 Chrysler 300B found on eBay for a Buy It Now price of $10,000.  The brutal winters in Saint Paul, Minnesota, where this car is being sold, have really taken a toll on this down on his luck king of the road.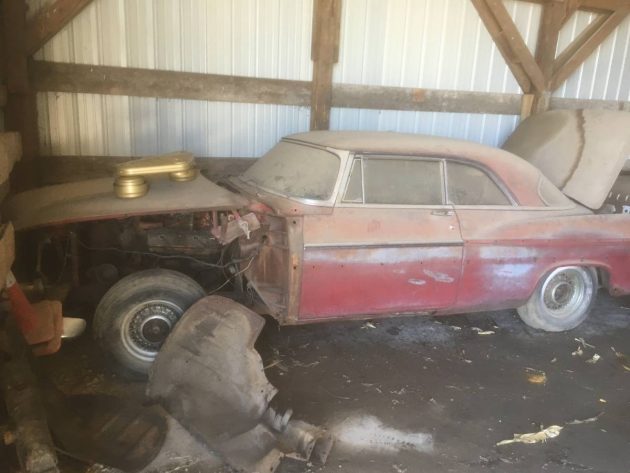 In 1955, Chrysler dropped a bomb on the industry.  While General Motors and Ford were building up their performance images with the Corvette and Thunderbird two seat sports cars, Chrysler took a different approach.  Engineers and designers raided the parts bins to create a very special high performance personal luxury coupe.  Outside, they started with a New Yorker Coupe body shell, and installed an Imperial front clip and Windsor rear quarter panels.  Other styling additions and subtractions were made, and the customer was allowed to pick from just three colors: white, red, and black.  Under the hood, however, was where the magic happened.  Powering this luxurious brute was a 331 cubic inch Fire Power Hemi V-8, which produced 300 horsepower in the original 1955 version.  This, of course, was inspiration for the name of the car, the Chrysler 300.  In 1956, a 354 cubic inch version of this engine produced 355 horsepower.  Chrysler could then lay claim that they were the first domestic manufacturer to offer an engine producing one horsepower per cubic inch, beating the fuel injected Chevrolet small block V-8 by one model year.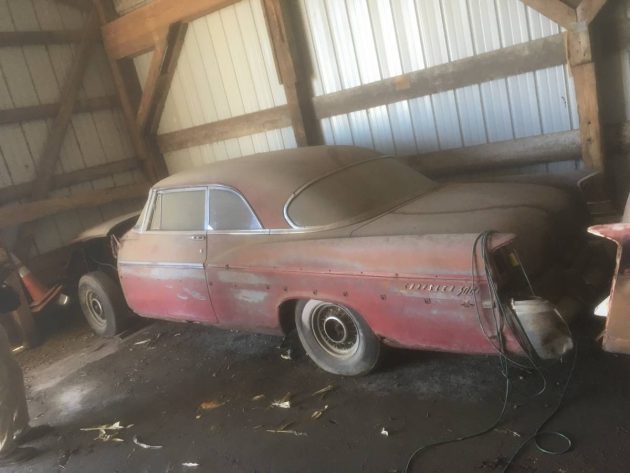 Chrysler wasted no time showing off the incredible performance of these brutes.  These cars dominated both the traditional NASCAR racing circuit and the speed trials that NASCAR used to hold on Daytona Beach.  At stock car tracks around the country, the Chrysler 300 was a winner from the start.  These cars started a winning streak for Chrysler that helped to give the nameplate 55 wins during the 1955 and 1956 seasons combined.  On the beach at the time trials, the Chrysler 300 was first in the flying mile in 1955, laying down a speed of 127.6 mph.  The next year, with Tim Flock at the wheel, the car smashed the previous record with a 139.4 mph run.  Both of these runs were in the strictly stock class.
As you can see, these are special automobiles with an amazing racing pedigree to rest their laurels on.  Despite the racing success and publicity, there were only 1,725 produced in 1955, and 1,102 made it out of the factory in 1956.  The next year brought a whole new body and even more changes, but I have always felt that the first two years of these automobiles were the most appealing.  Evidently, the owner of this red 1956 300B felt the same.  He claims that the has owned the car for a number of years, began restoring it fifteen years ago, and then quit for various reasons.  It has been in dry storage for ten years, and he says it has never sat outside since he has owned it.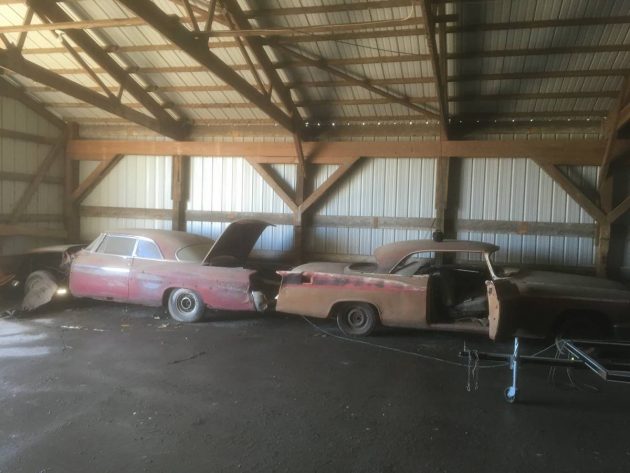 Sadly, it must have seen a lot of outside time before he owned it.  The door sills are mostly non existent on this car, and I can just imagine the condition of the floors.  Of course, the lower edges of the quarter panels have rust and dings in them.  The condition of the front fenders is a mystery, as there wasn't a clear picture of them provided.  The good news is that he is also providing the new owner with a rust free New Yorker parts car to go with the 300.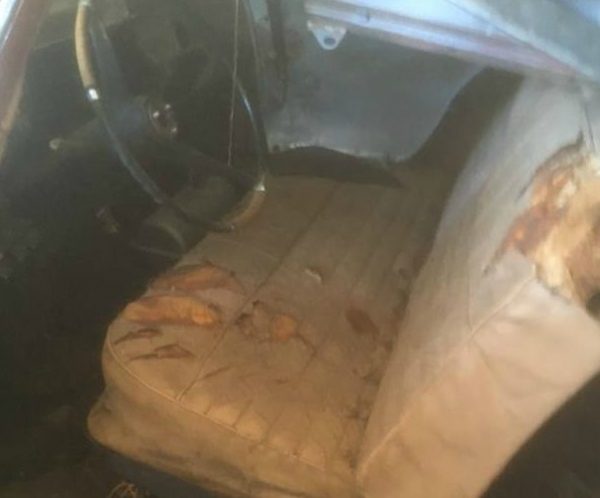 Inside, disorder is the order of the day.  The seat is there, and it looks like there is enough of the original leather to make a pattern for a replacement.  The dash is there, but all of the items that are supposed to be bolted to it are not.  The owner does not mention whether or not he has all of these pieces, and finding all of them if they are missing would be possible, but difficult and expensive.  This is the problem with dealing with a torn apart car.  You have no idea how to put it back together unless you have intimate knowledge of the particular make and model you are working on.  Even if the owner kept all of the parts, time has a way of helping little bits and pieces wander off.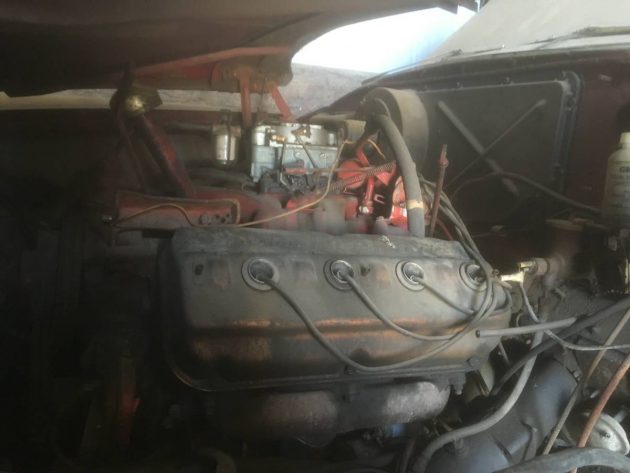 The best part about this deal is the engine.  It appears to be all there, and the owner states that he has both the single carburetor manifold and the rare dual carburetor manifold for this car.  It even has the desirable "bat wing" air cleaner for the dual carburetor setup.  The engine appears to be in good shape, but would certainly need a freshening up both inside and out under the best circumstances.
At $10,000, I am sure this car will sell.  What worries me is that it will go to someone who has no idea the complexity of bringing this beach warrior back to life.  Make no mistake, this would be a very difficult, expensive, and time consuming restoration to pull off.  If this were a standard Chrysler, it would most likely be stripped for parts and sent to the crusher.  Fortunately, it isn't a run of the mill car, and its chances of survival are good.  These are milestone automobiles with a performance history that needs no embellishment, and they set the stage for Mopar performance cars for years to come.  The new owner probably won't save any money over buying one in restored condition, but it certainly would be a worthwhile project.
Just imagine that first ride after finishing this car.  Pressing hard against that gas pedal and hearing those twin carburetors open up would be such sweet, sweet music.