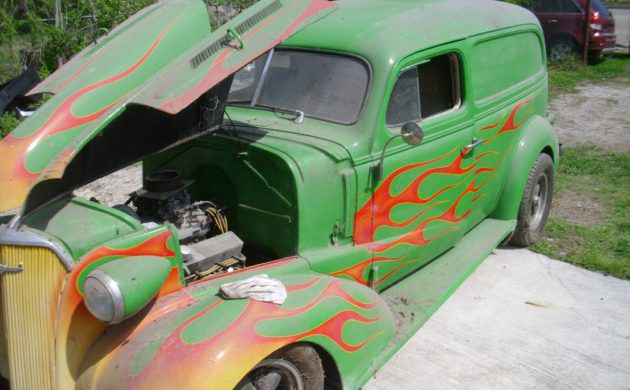 Here's a first, it's a listing with absolutely no description unless you consider, "1937 Chevrolet Other Pickups. Condition is "Used." to be a description of some sort. That being the case, the images, and an interpretation of them, will have to do the talking. This 1937 Chevy hotrod is located in Dickinson, Texas and is available here on eBay for a current bid of  $9,100 with seventeen bids tendered so far.
Chevrolet offered two different panel trucks in '37, a standard with a 112″ inch wheelbase and an extended version at 131.5 but this subject vehicle, based on its hood side trim, appears to be a similar-looking sedan delivery. It has a sort of Kermit the Frog has an accident vibe about it with its flames over an eye-catching green base. Unfortunately, the outside could stand a good washing which would better able us to see all of its detail – the passenger side, in particular, has some sort of dark dreck splattered about. This Chevy isn't described as a barn find but considering its dust quotient, it appears to have spent some amount of time slumbering indoors. That said, the flame application looks to have been well applied as it emanates from its center "hot" source which is supposed to be the grille. The American Racing wheels cap off the exterior, but again, a good cleaning would work wonders for them.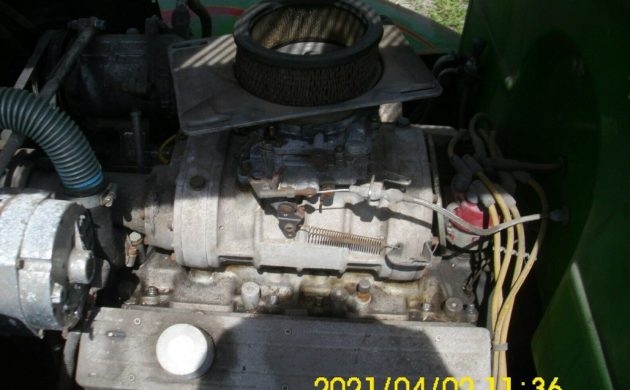 Originally, this sedan delivery would have been powered by an 85 HP, 216 CI, in-line six; it now has a supercharged small-block V8, but which one? Same with the transmission, it's an automatic but which one? We could speculate all day but an inquiry will need to be made. Whatever the case, the motor doesn't appear as if it has run in quite some time.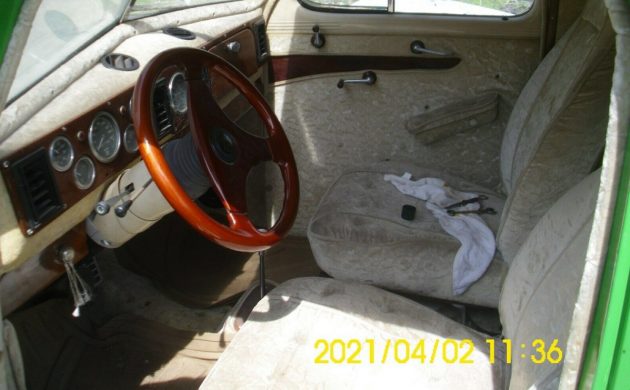 The interior and cargo area have been refinished in a beige fabric that is covering high-back bucket seats as well as the door cards. The instrument panel appears to be all custom and it looks great placed behind an aftermarket, undersized wooden steering wheel. As is frequently the case, the steering column is a late model GM piece. The interior presents surprisingly well!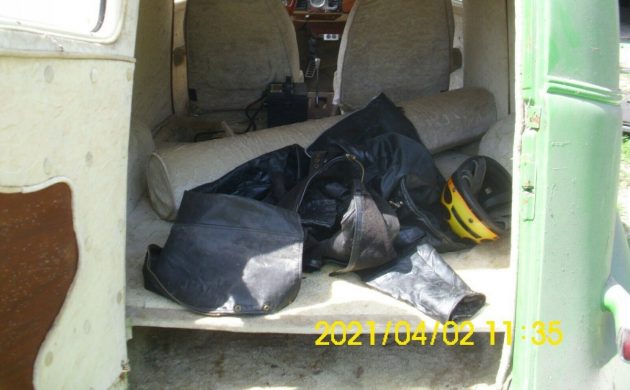 The cargo area continues the theme, at least with what can be spied. Interestingly, there is what looks like a false floor in place which provides underside storage. It would appear as if someone has motorcycling interest…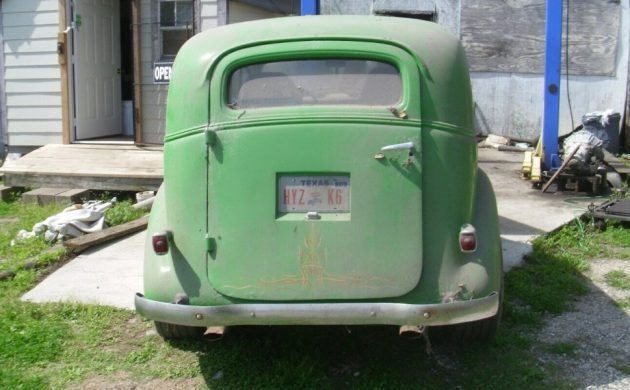 This hot-rod has a lot going for it, it's a shame that the listing is non-existent with detail. Giving this Chevy a good cleaning, getting it started, assuming that can be easily accomplished, and describing its virtues in detail would help enhance its value. But of course, seventeen bids seem to already see its value just as it sits.