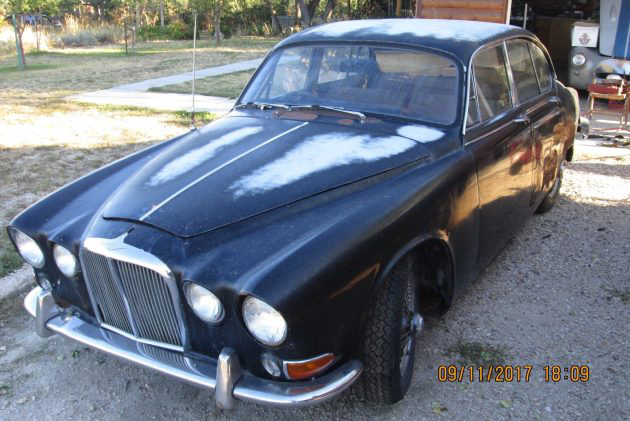 After snoozing in an Idaho barn for 20 years, this 1967 Jaguar 420 sedan seeks a new owner here on eBay. This right-hand drive classic presents a daunting restoration effort and may well constitute a collection of conveniently-attached parts. Though rusty and rough, its motor turns, it's reasonably straight and complete, and priced affordably.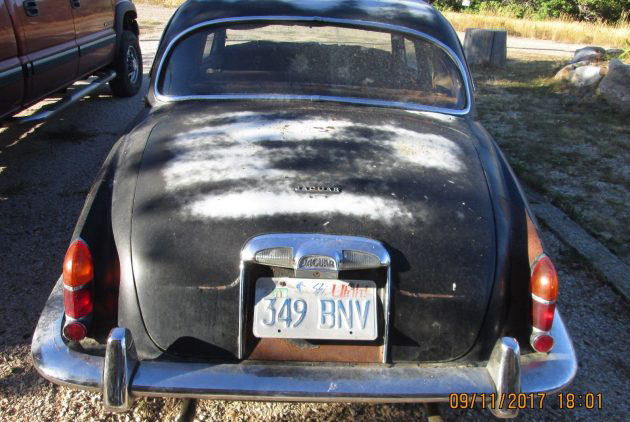 Looking more like 1952 than 1967, the 420's rear styling could be called "classic" compared to its contemporary American cars. By 1967, few styling cues from the fabulous '50s remained on Main Street U.S.A. The wraparound bumper looks straight and, while useless against rust, it likely protected the rear fenders from parking damage.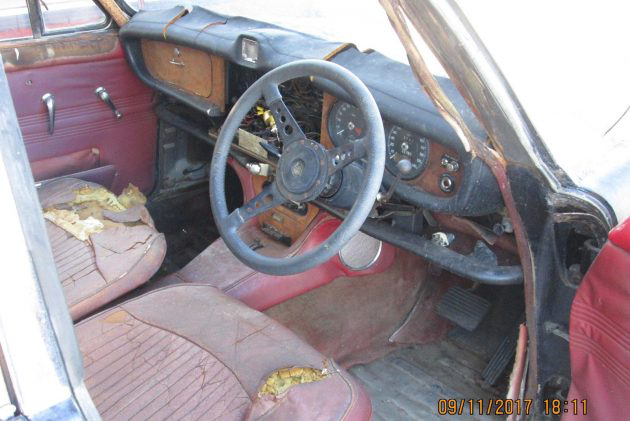 A Jaguar sedan may be the last vehicle that needs a $25 steering wheel from the "Demolition Derby Collection." Though the seller hints at a complete restoration, the condition of the leather, wood, and sheet metal suggest that no such project could be justified financially; Hagerty states #3 cars fetch about $16,000.  However the seller realistically set the Buy It Now price at $2250, possibly less than the sum of its parts. The listing shows the center control panel that fills the large rectangular hole evident in this shot. A typical column shifter controls the three-speed automatic transmission.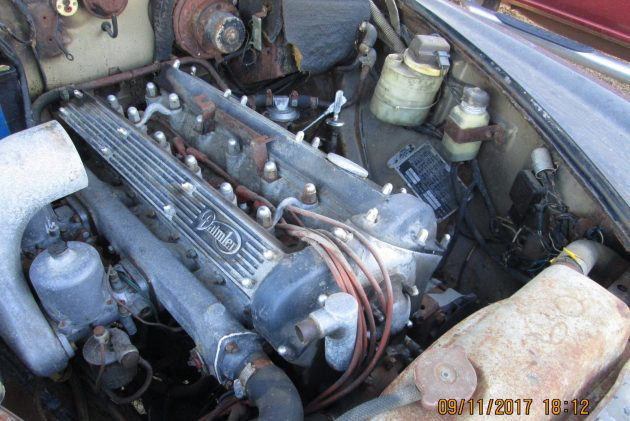 The "Daimler" callout suggests an engine from a Daimler Sovereign, a badge-engineered sister car to the Jaguar 420, however a Google Image Search confirms that some minority of 1967 Jaguar 420s sport the finned Daimler valve covers. Jaguar parts adorn the grille, wheels, and rear badging which differ on the Sovereign. This twin-carb version of the 4.2 L inline six cylinder engine produces 245 HP and 280 lb-ft of torque, slightly more and less (respectively) than a late '80s 5.0 Mustang in a car that weighs about 3800 lb, about 400 lb more than the "5.0." Some details from automobile-catalog.com. The Jaguar engine bay would have been painted body color, suggesting a buttercream hue may have originally graced this 420, a classy compliment to the deep red leather. Based on condition and today's market, who sees more than a parts car?