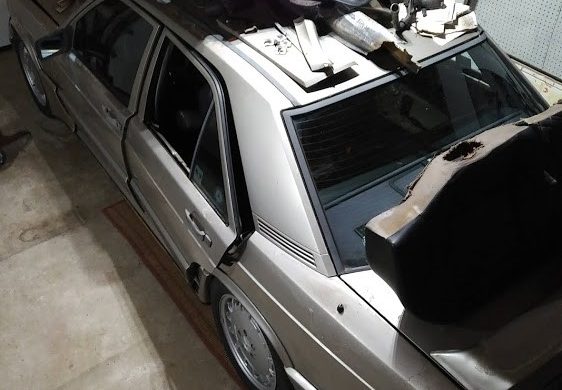 When I last reported on the progress being made on my junkyard find 1986 Mercedes-Benz 190E 2.3-16 Cosworth, there was a fairly big item on my list of missing components that was stripped out by the junkyard I bought it from. This same item was somewhat integral to the spirit of the Cosworth, and I feared the project would never be what I wanted it to become due to this MIA component. Fortunately, through the "wonders" of social media, this potential hurdle has been cleared – and sets the stage for the 190 to head to my mechanic for what will hopefully be a seamless first start-up. Check out the latest video installment below on the Barn Finds YouTube page, and keep your eyes on this page as the next installment will feature the results of our initial compression and leak-down tests!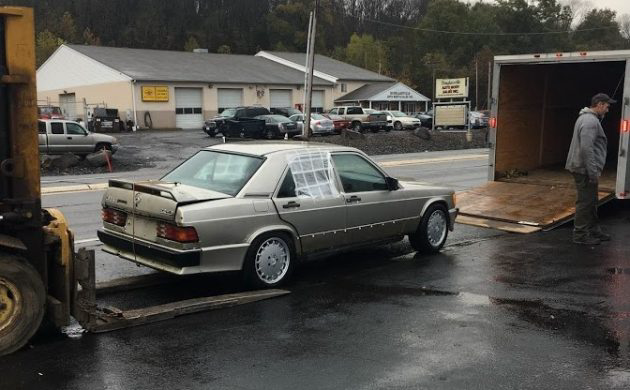 When the Mercedes was picked up, there was no hiding where it had been these last few years: it was literally plucked from a back row of a Pennsylvania salvage yard and moved out front so it be pushed into my shipper's trailer via forklift. The 190E was a bit lighter than stock, however, due to some missing parts. Most I knew about – the 16V-specific radiator was sold off, as were the rear window regulators (resulting in the back glass being smashed to pieces). But when the car arrived, I saw the 16V gas tank was no longer with the car. This was a problem: the gas tank on the 2.3-16 was enlarged from 55 to 70L, in keeping with the car's track-oriented nature and endurance racing history. It needed the larger tank.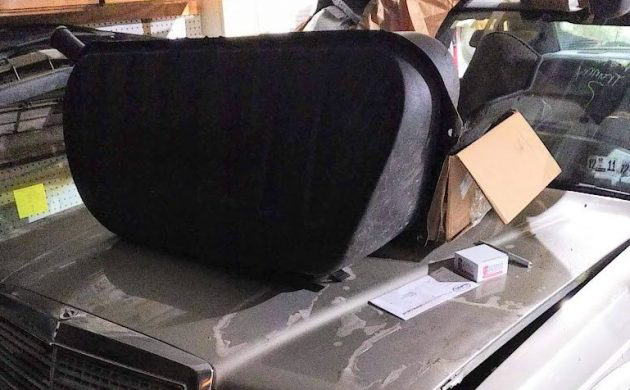 As you can imagine, finding a gas tank for a car of which only 1,953 were "officially" imported (not counting gray market cars) was a bit intimidating. Plus, every other salvage yard did the same thing as the one I bought it from, simply stripping it out as part of the inventorying process. Even if I somehow found another 16V in the junkyard, there's no way the fuel tank would have been saved. Enter the social media component: an Instagram user found my account via Barn Finds, and then reached out to tell me he had just finished restoring his Cosworth, and had a good tank out of a parts car he would sell. You can bet I snatched that up and sent it directly to Roger's Radiators in Medford, Massachusetts, one of the few shops in my neck of the woods that still cleans and re-seals old tanks. Job done!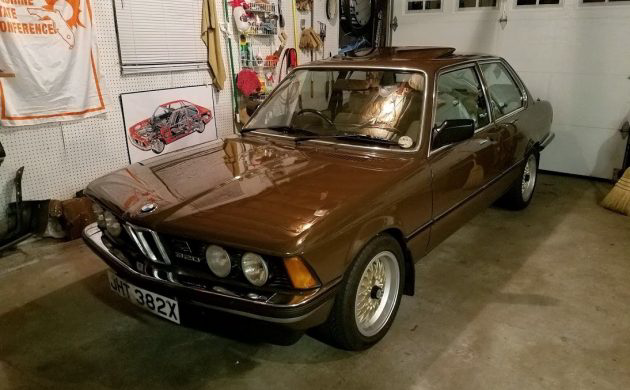 Of course, that's just one battle of many. The Mercedes is headed to my shop, German Motors in Providence, RI, for a compression / leak-down test, and barring any truly frightening results, its first start-up in over five years. Truthfully, I don't find it that intimidating, considering the car above was featured on this site as my first-ever barn find a few years back. This 1980 BMW 320 had been dormant for 20 years with the engine disassembled and sitting in the trunk. It was back on the road in about two years, and is a car I'd comfortably drive almost anywhere. The body was (amazingly) in far better condition and spent much less time in a body shop than the 190 ultimately will, but to say I'm not overly worried about the 190's prospects – which was supposedly a running/driving car when it came into the yard – is a fair assessment. Check out the video below (and my other projects) on the Barn Finds YouTube channel.
And don't forget to subscribe to our channel here to get more updates on my Mercedes and on other Barn Finds Projects!