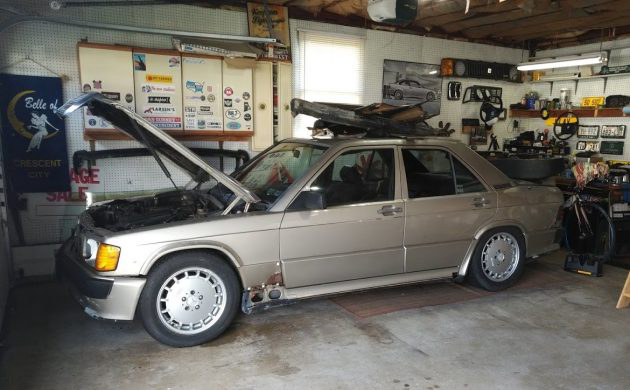 As some of you may have seen, I've been hinting that I wanted to find a new project car with four doors. I settled on a 1986 Mercedes-Benz 190E 2.3-16 as the ideal target, but buying one would mean selling off my prized '87 BMW 325is. Seeing as I'm bad at letting go of things, I took a different path – and found a genuine Mercedes-Benz 190E Cosworth in a Pennsylvania junkyard for under $1,000. It's now home in my garage, and I'm going to be providing ongoing updates here on Barn Finds as this junkyard-find 190E 2.3-16 gets nursed back to good health.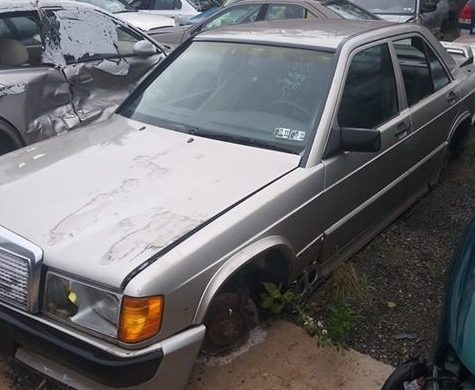 In a moment of boredom on a recent Saturday while my infant daughter slept, I perused car-part.com to see if any yards had 2.3-16-specific parts in their inventory. Even if I couldn't afford a proper Cosworth, maybe I could find some parts to sell. Instead, I found this: a 1986 model wearing Smoke Silver paint, sitting on its belly in a junkyard in Douglassville, Pennsylvania. I couldn't believe it when they sent pictures showing the complete car, with its 2.3L inline-four with a Cosworth-designed head still in place. Even better, it was a desirable manual transmission example with the unique close-ratio dogleg-shift box.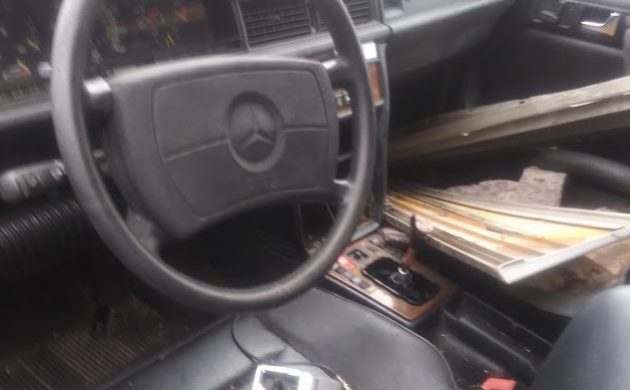 I went back and forth with the yard several times, as is often the case with salvage facilities. Truth be told, they were genuinely nice people, even if some items weren't as accurately reported as I had hoped. But the car was all there: the engine, transmission, limited-slip rear end, Recaro interior and (most) of the 2.3-16-specific bodykit. There was also a good deal of rust, mostly contained to the taillight panel, but also in the floor beneath the passenger-side backseat; along three of the four jack points; the bottom of the driver's fender; and beneath the trunk on the right and left side. But it could have been so much worse.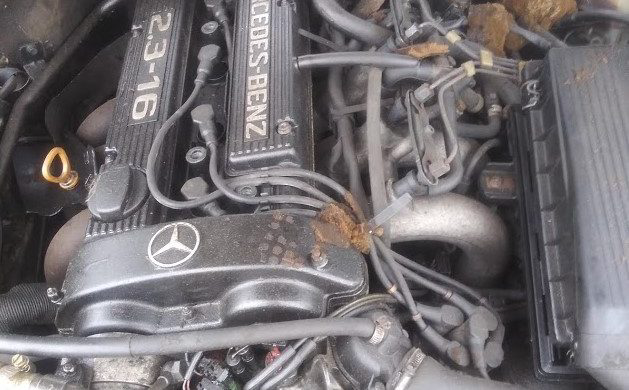 Seeing the engine there with a valve cover that wasn't missing all of its paint gave me some hope. The CarFax further filled me with confidence, as it showed this limited-production 190E was dealer-serviced at Mercedes-Benz of West Chester, PA up until 2011. It was a two-owner car with a clean title (missing, of course) and the only parts the yard had sold off of it were the radiator and rear window regulators. Of course, this meant the rear windows were smashed out, and as yards often do, they cut the exhaust and the cat off the car and yanked the gas tank. The problem with that last part? The 16V's had a larger gas tank from the factory, and replacements are near obsolete.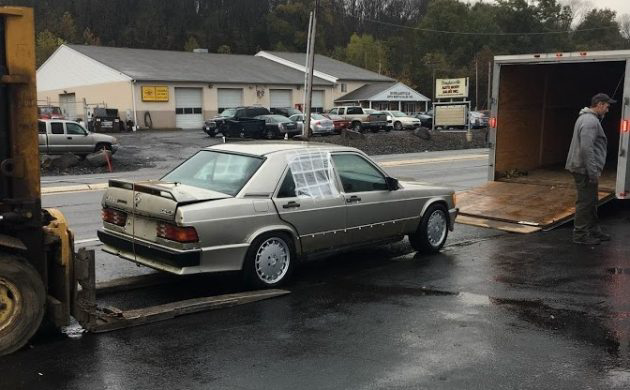 After I took a deep breath, the deal was done. I found a shipper on U-Ship and had the 190E home a few days later. I bought a set of 16″ R129 wheels from another junkyard in Long Island and sent those out to PA so the car would roll. It's going to be a very long road to bring this car back, but for a rare example like a 190E 2.3-16 with all of its unique components attached, it was a chance worth taking.
Hopefully, we'll find out if the engine still turns (the yard claimed it was running/driving when it came in) and we can get this significant Mercedes-Benz back in action and properly saved from a junkyard. I'll be posting updates here on Barn Finds and here on Instagram as well. Be sure to stay tuned for more videos of the process too, so be sure to subscribe on YouTube.
Have something to sell? List it here on Barn Finds!