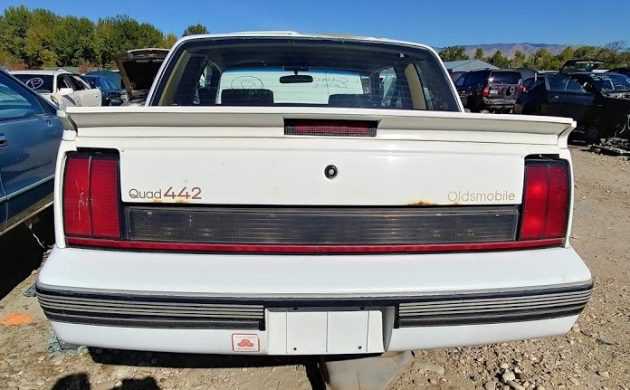 This may not be what you picture when you hear the numbers 4-4-2. Most of us picture the mid-sixties muscle car, so you can imagine my surprise when I spotted those iconic numbers on the back of this Oldsmobile while pursuing a local junkyard. Honestly, I had no idea there was a performance version of the Cutlass Calais. Who would have thought?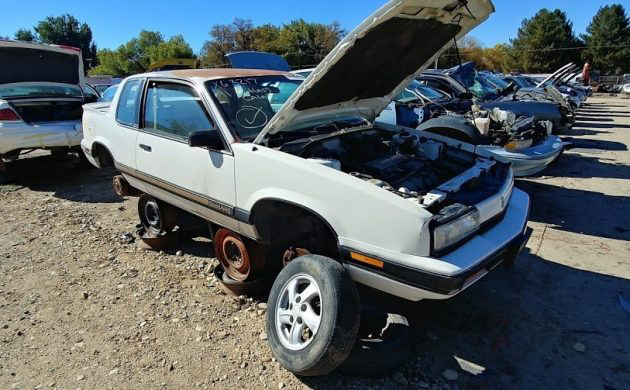 Most people probably pass by this poor car without a second glance. The front-wheel-drive Cutlass Calias wasn't anything to get excited about when it was new, nor is it today. These were normally fitted with an Iron Duke four-banger and a lazy shifting automatic transmission. The "Quad 442" badging was really the only hint that there might be something special going on here.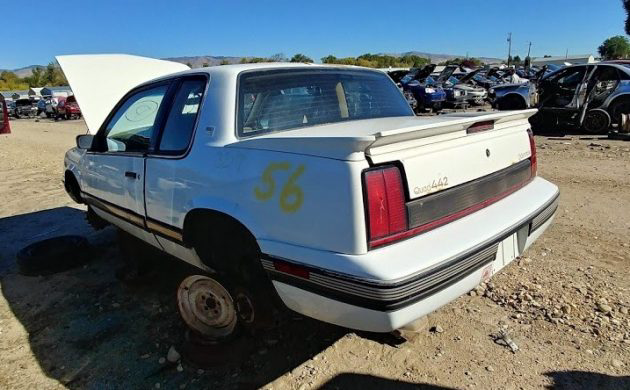 Well, and that rear spoiler. I'd never given this era of Olds much consideration, but the heritage of the model name piqued my interest. Obviously, this 442 doesnt have much in common with its predecessors, but perhaps this performance package is more than skin deep? It was fun trying to figure out what exactly made this car different than a base Cutlass.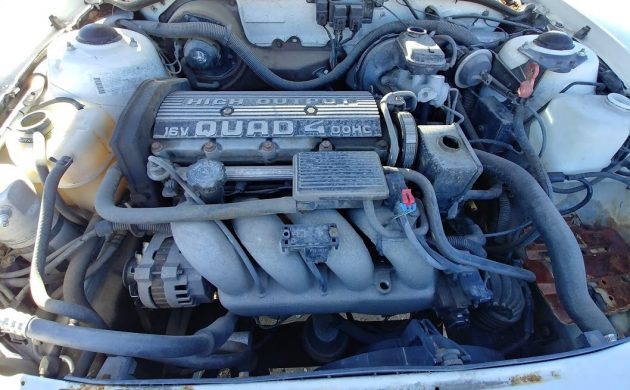 It's not a big V8, but that definitely looks like something special in there! The valve cover reads, "High Output Quad 4". That sounds interesting. Oh wait, there's a 16v and a DOHC on there too! The phrase high output is always good to hear, but the fact that this thing has 16 valves and dual overhead cams gets me even more excited!
A quick search reveals that the Quad 4 was good for 180 horsepower and 160 foot-pounds of torque. Not crazy numbers, but pretty good for the time. There was even a W41 version that added an extra 10 ponies! I'm not sure if the 7 second 0-60 mph time shown in the video above was for that engine or this one, but this Olds must have been tempting to at least a few guys who were missing the good ol' muscle car days.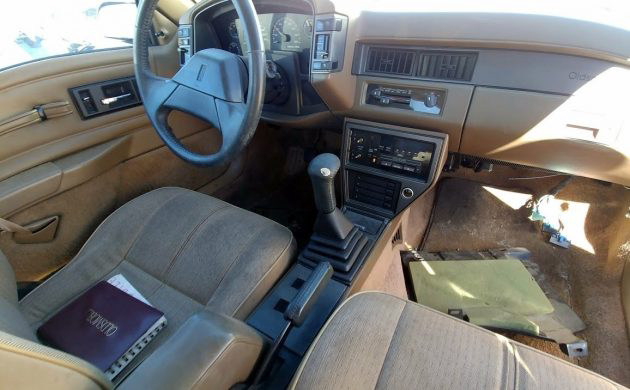 What? No way! There's a four… five on the floor! When was the last time you saw a 5-speed manual transmission in a nineties Oldsmobile? There's an ongoing debate about what 4-4-2 really stood for, but I'm guessing it stands for 4-cylinders, 4-speed (actually 5), and 2-doors here. What do you think? Either way, these cars were only built for a few years and I doubt there are many still around. Could it be rarer than the original?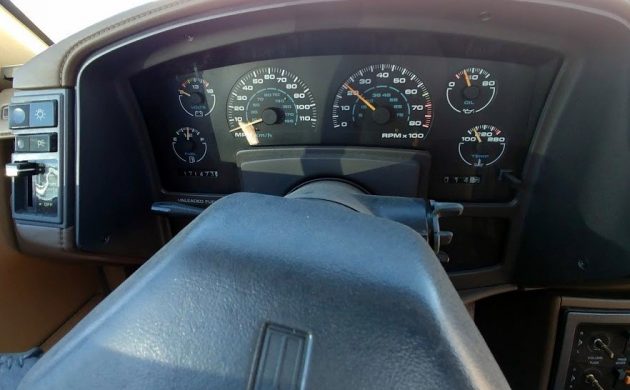 Maybe not, but I doubt the original could have done 171,000 miles without a rebuild. These cars were obviously better built than the cheap looking interior and trim would lead you to believe! Someone loved this car. It may not look very nice in the photos, but I bet this thing was actually in good shape when it was sold to the scrapyard for a hundred bucks.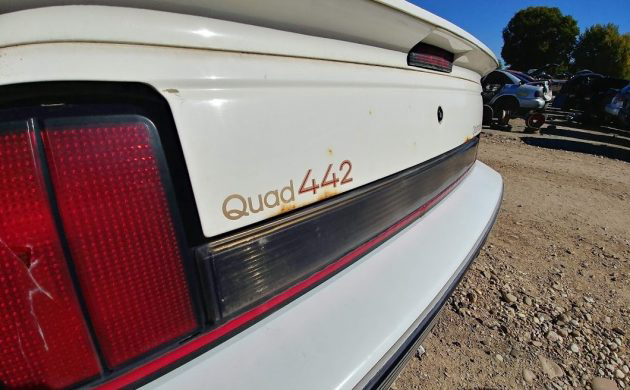 What a shame. One does wonder why a special edition car like this would end up here. Was there a mechanical failure that was too expensive to fix? Or did its previous owner pass away and the family didn't want to hassle with showing it to potential buyers? We may never know. One thing is for sure though, there is one less Quad 442 out there…