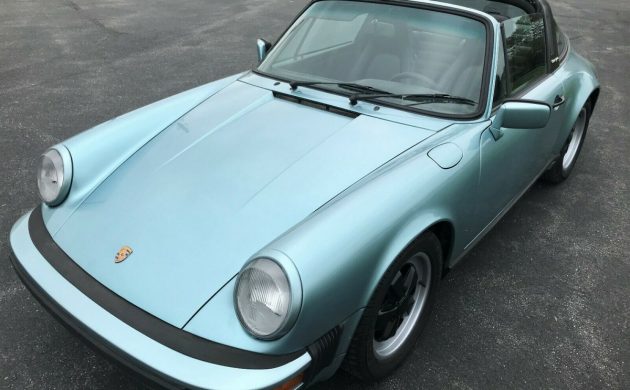 High mileage isn't scaring bidders away from this clean 1987 Porsche 911 Targa, as close to 180,000 miles on the clock is getting up there for almost any vintage vehicle. Still, many enthusiasts claim this is the era of overbuilt Porsches, and that this generation of the air-cooled classic is particularly long-lived when maintained. Throw in the rare color of Lagoon Greet Metallic and it's not shocking to see that the 911 has already nearly reached $35,000 here on eBay with no reserve. Condition is certainly decent for the mileage, and $5,000 in recent maintenance has been performed.
The targa models used to be the "cheap" ones, and while they're still on the lower end of the pecking order, "cheap" is no longer in their vocabulary. The rapid ascent of the traditional hardtop models and the turbocharged 930 has left rough-around-the-edges convertibles as the cheap point of entry into Carrera ownership. This car's targa roof panel is said to sit nice and tight, which I would assume to mean the interior stays dry. Targas can become a bit of a nuisance for wind noise and moisture intrusion if the fit is anything less than perfect. The paint may be rare, but head's up: it's been resprayed.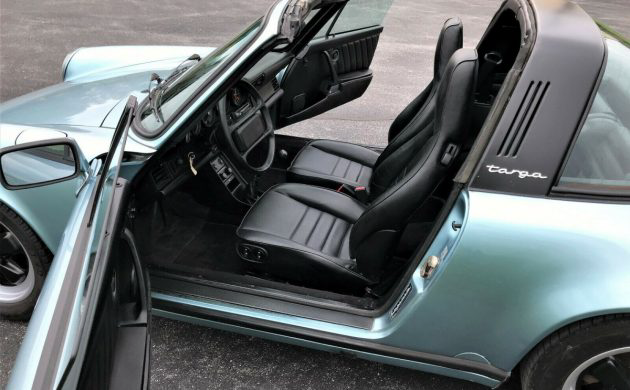 This isn't the end of the world, but it does knock the long-term value down a peg or two. Again, not sure how much it matters in air-cooled ownership, but it's a bummer nonetheless. The interior looks sharp, with nicely bolstered bucket seats that show no sign of wear or damage (the seat bottoms were recently reupholstered). The interior does hide a few secrets, however, it terms of some controls not working, including the wipers, seats, and driver's window power functions not working at the moment. The respray was perhaps done to a high level, considering the original paint code stickers affixed to the door jamb remain in place. The dash does have some cracks.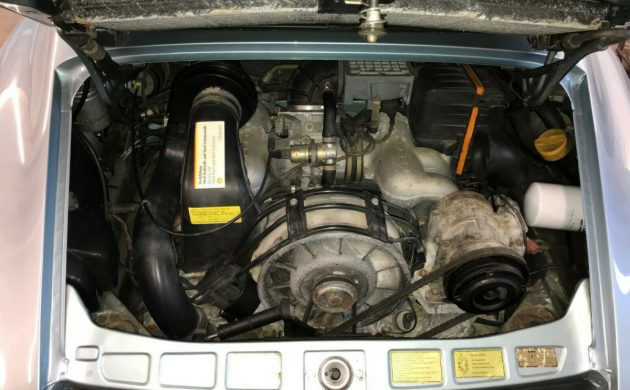 The engine bay presents well, and the seller notes runs well and puts power down smoothly through the preferred G50 manual gearbox. The $5,000 service mentioned earlier is described as impacting the brakes and fuel system, but no other details are offered. Hopefully, the injectors were cleaned up and any weeping fuel lines replaced, and maybe even a new fuel pump was added. This is all speculation, so reach out to the seller if you need confirmation. Original books and clean CarFax are included, and while it's no trailer queen, it's still a sharp 911 you can drive every day without fear of adding some mileage to do odometer. Perhaps 200K should be a goal for the next owner?
Have something to sell? List it here on Barn Finds!