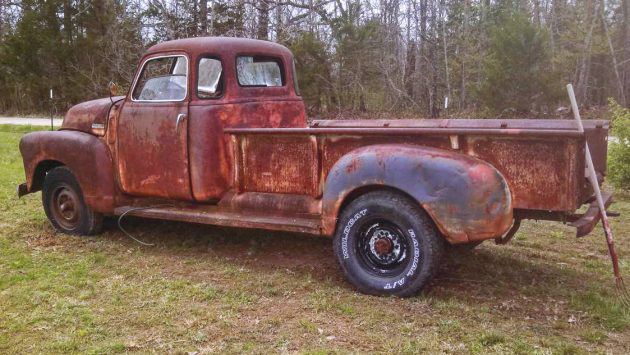 "So you think you're a Romeo…playing a part in a picture show…" goes the lyrics of the old Supertramp song circa 1979, "Take the long way home…"  That would be easy to do with a truck like this, and you'll always be popular with those friends and neighbors of yours who always need to head up to the big-box home improvement center to pick up some extra long lumber for that big project. This is a 1947 Chevy truck with a nine footbed. Yep, that's right, it's a foot longer than a "long bed" truck. The factory specs list the inside of the bed length as 100-1/4 inches. It's way cool and unusual, and the corner windows make it even cooler. A quick Internet search reveals that these extra-long bed trucks aren't too incredibly rare, but if they were offered with a one-ton chassis like this one appears to have been, certainly lots of them would have been converted to stake bed trucks, box trucks, boom trucks, wreckers, utility beds and other types of heavy-duty work vehicles. As such, the survival rate on them might not be real high, particularly those that still have their original factory-installed beds still attached. In keeping with that hard-working theme, it also looks like lots of these early extra-long trucks were GMCs rather than Chevy like this one.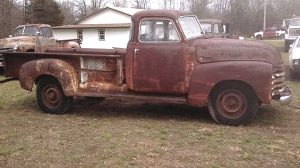 This truck is offered for sale here on craigslist and is located in Koshkonong, Missouri. The asking price is $2,500. The seller says it has an engine, but the transmission is gone. He has plenty of other trucks and parts, "and anything you would need to build it any way you could imagine."  Which would be helpful. What would also be helpful before that time, would be a few more photos. These are the only two the seller has provided. That leaves us free to extrapolate all we want to about it. At great length. Bad pun definitely intended. It looks like it was white when it was new, and for at least several years thereafter. That's about all I have on it right now. I'm proud that I made it through an entire post about this vintage truck without once using the "P" word… Doh!
So what would be best for this once-moving unit? An all-original restoration? A resto-mod? Get it roadworthy for the long way home and go? Do you feel it should be part of the scenery? You could listen to Supertramp while you worked on it. If you're old enough to remember it, love it or hate it, is the song stuck in your head yet? It's not like I tried to put it there just to aggravate you. Well, yeah, it kind of is. Share your thoughts on the truck, feel the love, or vent your hatred, below.