This gorgeous 1986 Jeep CJ7 Laredo is located in Crystal Lake, Illinois and is being listed for sale here on eBay.  With 31 bids, this 45,000 mile CJ7 has 115 watchers and is bid to $21,000. The Jeep is said to all original and comes with two tops. Not everything is all original and the seller has a list of upgrades and maintenance items that he has installed over the past couple of years. The Jeep was originally purchased in Arizona and is rust free.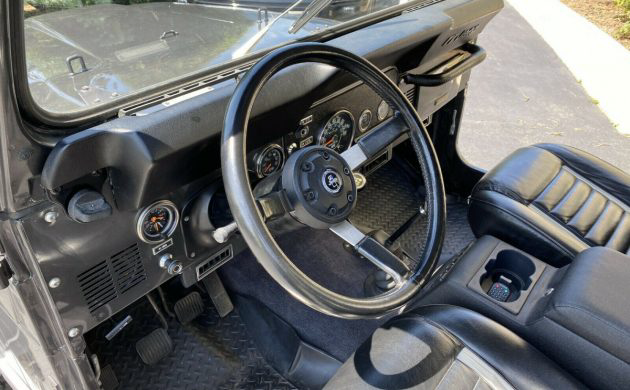 The black interior compliments the silver interior nicely.  All the seats look comfortable including the thickly padded rear bench. The current owner replaced the shocks and several suspension parts along with adding a Borla exhaust system. The Jeep comes with a hard top that was rarely used. The hood was repainted due to fading caused by the Arizona sun.
The 4.2 liter inline six cylinder engine mated to a manual transmission and 3:73 rear gears. While reliable, the 258 cubic inch engine only produced 98 horsepower and 193 ft lbs of torque. Early in its life the Jeep was undercoated and the current owners have kept it garaged and not taken it out in the snow. The headlights have been upgraded to LED for safety.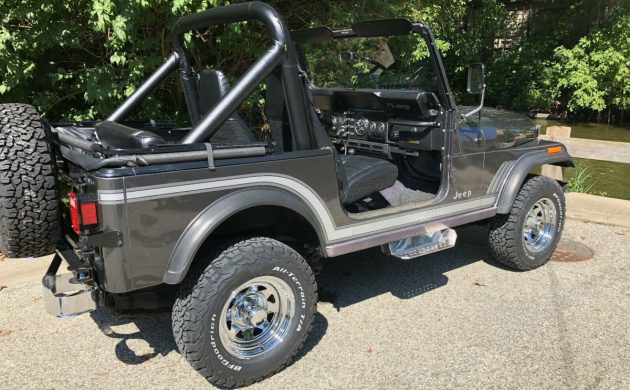 The current owner has only had it for two years but says he needs garage space. I think this is a beautiful CJ-7 and would keep it as long as I could. These Jeeps are widely sought after and the bidding shows it. What will be the final bid in 3 days when the auction is over?