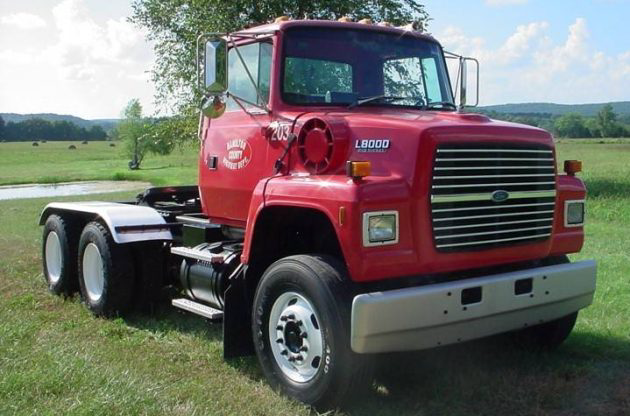 When I was a little kid, I had this Tonka interactive computer game that hooked up this toy control to the keyboard of my family's computer. In that game, I got to play all kinds of activities with trucks and construction equipment (bulldozers, excavators, front loaders, backhoes, etc.), and played a simulator driving a tractor trailer. Since then, I have been smitten with full-size trucks; their appearance is so aggressive and brawny to me. This 1994 Ford L-8000 H.D. is a perfect example of the statement above, and features low miles, the optional Cummins diesel engine, and original and beautiful red paint. Find it here on Hemmings in Belleview, Missouri, with an asking price of $18,500.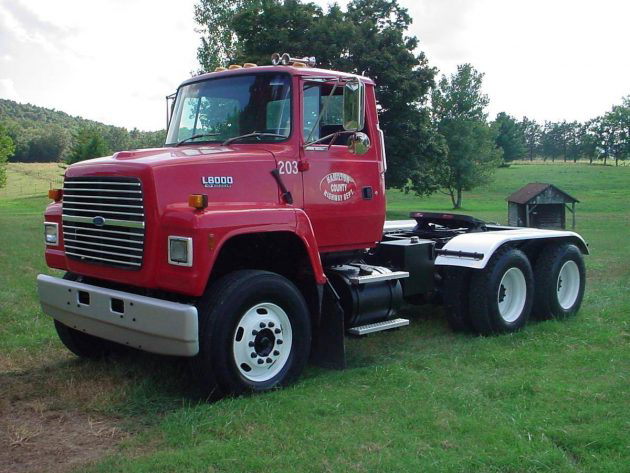 Introduced in 1970 to compete against GMC commercial, Kenworth, Mack, and Peterbuilt, the L-Series (nicknamed "Louisville Line" due to its manufacturing being done in Louisville, Kentucky) was Ford's first Class 8 truck and replaced Ford's N-Series. The L8000 had a 35,000 pound GVW as its base gross weight, and could be made available in any style of Class 8 truck. This L8000 is a 1994 model, features a 52,000 pound GVW, and was originally used by the Hamilton County Highway Department truck (most likely to haul trailers, since it is set up as a dual-rear axle tractor. Overall, this truck is in perfect condition, featuring R/22.5 Bud wheels wrapped in virgin 90% rubber, red paint with white rear fenders and a gray front bumper, air dryer, air brakes, dual air horns, dual fuel tanks, and a slew of other cool features. This truck is nicely spec'd, and the seller recommends converting the truck to a dump truck. Personally, I would leave it as-is and take it to truck shows all around the country.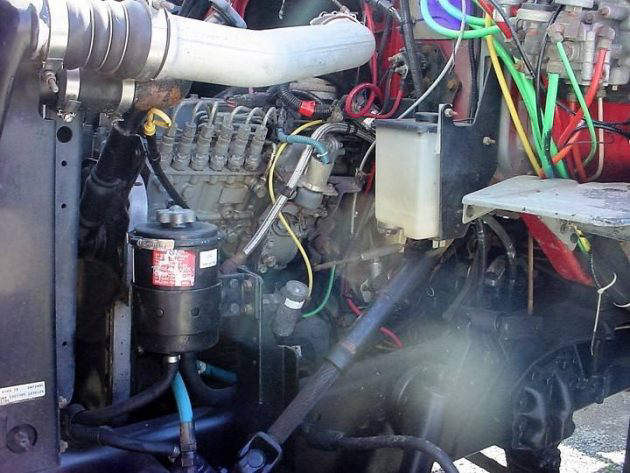 Much like the rest of the truck, the truck is nicely spec'd in the drivetrain department: a Cummins diesel (most likely the 8.3L). Rated at 250 horsepower, the C8.3 Cummins (the engine in this truck) in this Ford L-8000 has only covered 69,041 miles in its 23-year life, and is so clean you can eat off of it. The C8.3 is backed by a Road Ranger RT-7608LL Eaton Fuller 8LL transmission, and features a differential lock-out rear, block heater, wet kit, and live PTO. If properly maintained, the truck and its drivetrain should be able to rack up the miles no problem (personally, I would drive this truck sparingly). The truck was recently serviced, and two new batteries were put in during its service. I would take all the necessary steps to keep this truck's drivetrain in tip-top shape.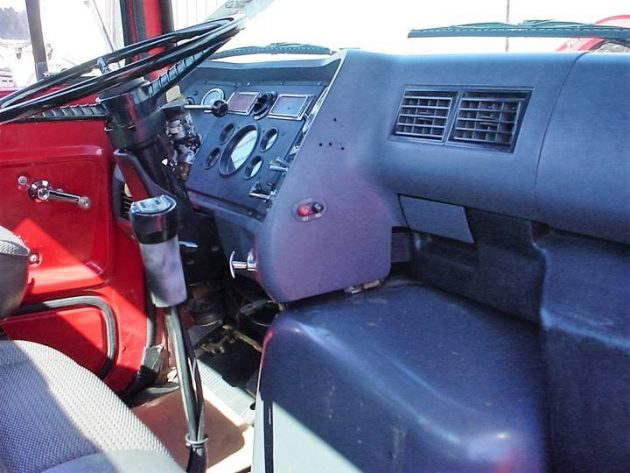 In the words of the venerable David Freiburger, the inside of this truck (much like the rest of the truck), is "mint". The gray cloth-and-vinyl seats and gray dash nicely complement the red door panels and the black steering wheel, and I love that this truck has manual windows. Overall, this truck is one of the nicest I've seen for sale today, and its mileage might be the lowest I've seen to date on a L-Series truck. I've seen a same-year truck online for sale for more than three-times more than this truck's selling price. What are your thoughts on this low-mile 1994 L-8000?