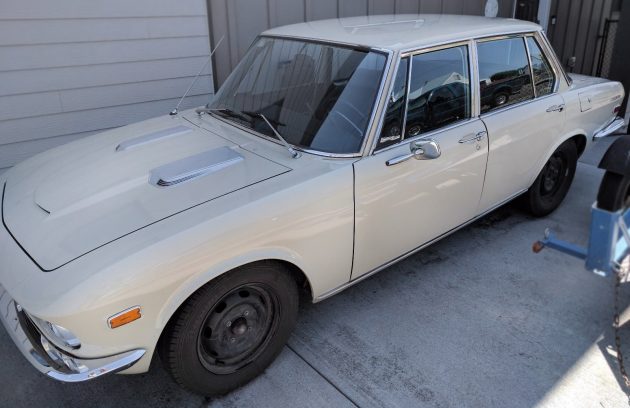 Ok, maybe luscious isn't quite the perfect word to describe this fantastically-rare and cool 1972 Mazda 1800. Lively? No, with a 0-60 time of 16 seconds, there may not be much zoom-zoom in this one. But, this is one unbelievably rare car. It's listed on eBay in Bremerton, Washington with an unmet opening bid of $4,739 (?!) and a buy it now price of $5,999!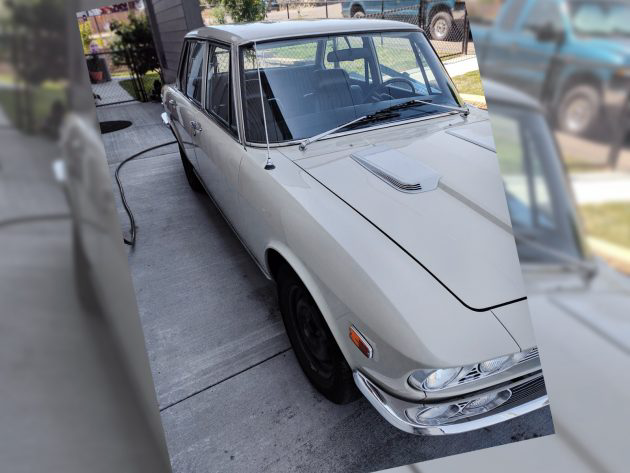 The seller has posted an odd mix of cut-off vertical and horizontal (or, portrait and landscape) oriented photos, so please bear with me on a couple of these. This car is really in nice condition, or it appears to be when looking at the photos. It looks like it has been repainted at some point but the seller says that it has a "very few small dents" and it has "very little surface rust" and that it's "not ready yet to be a daily driver." I agree and you will to when you read what it needs.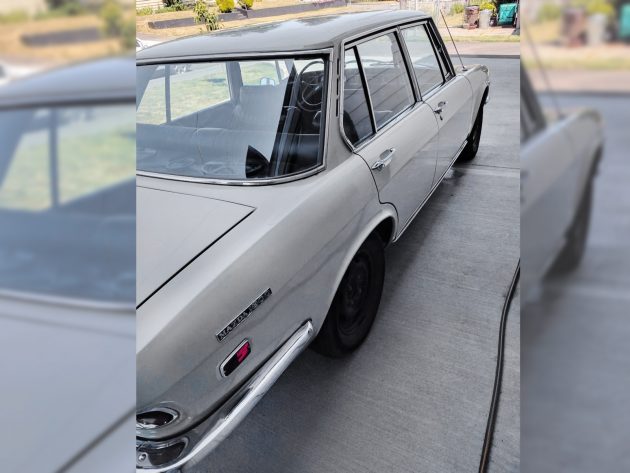 The Luce was designed by famed Italian designer Giorgetto Giugiaro. The Mark I cars were first the 1500 (1.5L engine, of course) and the 1800 (1.8L engine), which this one happens to be. The seller is honest in listing quite a few things that will need to be fixed, or found, including: "push pull for door locks locks on rear doors broke off" and "hubcaps missing", "front windshield has a ding and a little foggy", and also "brakes work but should need work not the best, steering ok but loose and needs alignment" and "will need shocks". Soooo, that's quite a list, and the missing parts, which for a car that they only imported 100 of them to the US, will most likely be almost impossible to find.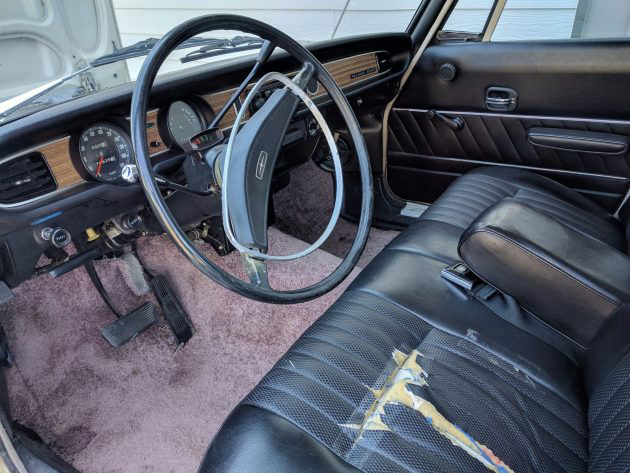 This car has an automatic transmission on the column, not really something that most people expect to see in an early-70s Mazda, even one meant to compete with the Toyota Corona Mark II and the Nissan Cedric. A 4-speed manual transmission would have been available and as is the case with most classic and collectible vehicles, it's the one that you'd want. You can see that the interior is pretty tidy and parts of it look absolutely perfect, but like the exterior it will need work. The seat repair should be a no-brainer as with the carpet, but any missing or broken pieces will be like trying to find world peace, if not harder. The back seat is quite nice. It even has the original plastic wrap in some places. The trunk is even luxurious for a 1970s Mazda; very nice. I still have this exact tool kit from my first car, a 1971 Toyota Corolla 2-door wagon. Let's check out what's under those hood scoops!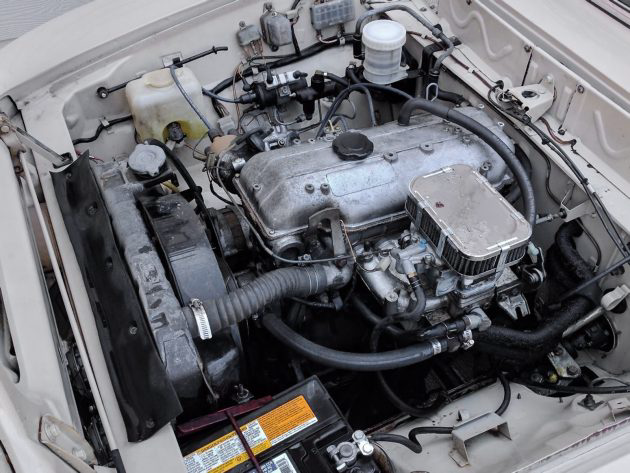 Fun fact: the hood scoops were added for the extra cooling needed for the 1.8L engine over the former 1.5L engine. This is, of course, not Mazda's famous rotary engine that really put Mazda on the map, performance-wise. This is a 1.8L inline-four with around 100 hp. That seems like a lot, relatively, but for a 2,400-pound sedan, much more power would have been nice. Mazda did offer the Luce with a 13A (1.3L) rotary engine that produced around 125 hp – their only front-wheel drive rotary-powered car. Around 1,000 of them were sold worldwide and if you find one, do not stop, eat lunch, or even call home before you find the money to buy it. Sell the cat, lease the mother-in-law; just buy it! The seller says that this "engine runs good smokes just a little from either sitting, mixture or rings, auto trans works good, starts right up." I really like these cars, but I'd want a manual transmission and one without a Weber carb conversion as this one appears to have. I have a hard enough time finding parts for 1980s Japanese vehicles, I can't imagine trying to track down parts for one of these. Do any of you have experience with a Mazda Luce, or 1500 / 1800?