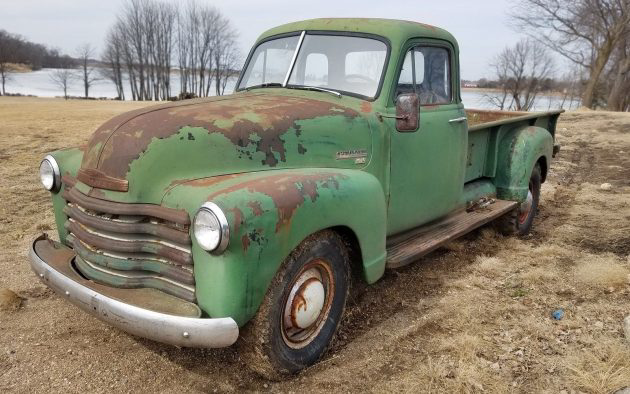 Made in Canada doesn't have quite the same connotation as made in Japan did back in the middle part of the last century. This 1953 Chevrolet 1434 Pickup was made in Canada and it's a tough one. A one-ton truck, in fact. It's listed here on eBay with a current bid price of $4,000 and there are over four days left on the auction! This toughie is located in Audubon, Minnesota.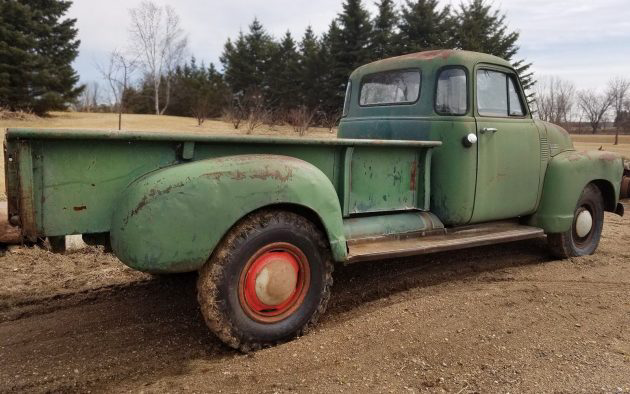 The 1434 is a one-ton pickup for the Canadian market, they were known as the 3800 series in the US. This is one tough truck, and it has a rare 9-foot box! There's a lot going for this one, as you can tell from the rampant bidding. Oh yeah, it's a five-window cab model, too. Did I mention that the 9-foot box is a hydraulic dump box?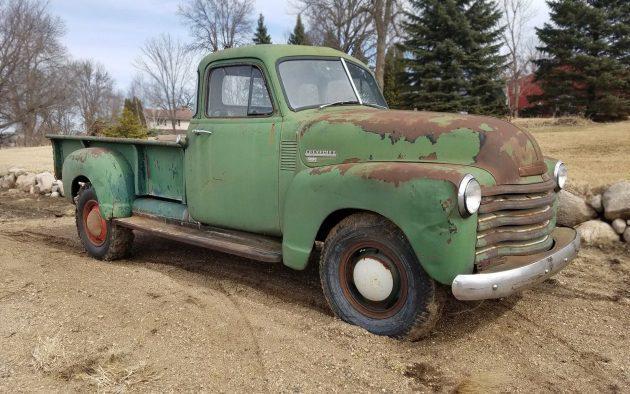 Trying to track down this color, or colour, I ran across several different sources for 1953 Chevrolet paint colors. This color/colour is listed as #332 on the tag. I'm assuming, maybe incorrectly, that GM used different paint codes for Canadian-made vehicles? It sure looks like a faded Juniper Green (#518) to me and I didn't run across a 332 paint code. One of you will know. And, about that paint, I promise to not use the p-word! 1953 was the last year with the two-piece windshield and one of them is cracked on this truck.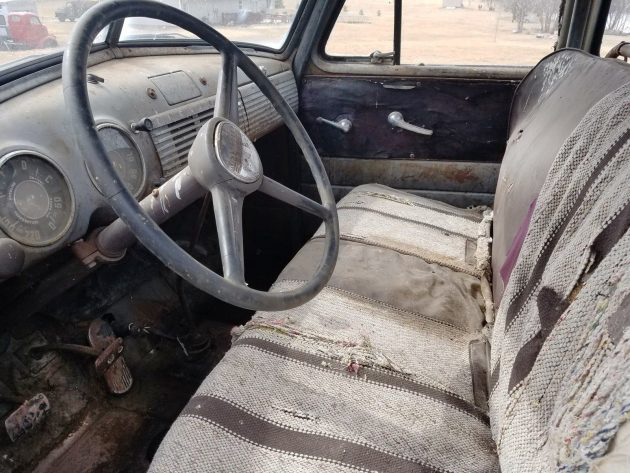 The seller mentions two small spots on the passenger floor, which I'm assuming are rust spots. They say that it's solid, but you can tell that it'll need lots of work before you trailer it to the concours show.. hey, wait, this is a truck! Most folks would get that floorboard rust under control, tidy up the interior, do the brakes, fuel system, cooling system, and the rest of the mechanicals, and use it as is.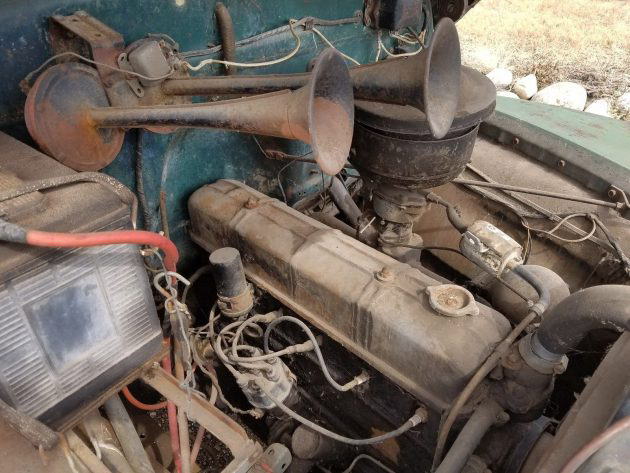 I believe this is Chevy's 216.5 cubic-inch inline-six with around 85 hp. There may have been some overlap on the 235 six that was used in some trucks starting in 1954. In either case, this one isn't in running condition currently, it hasn't run in years but it turns over. Hopefully the next owner can get this one back on the road. I've read a couple of articles that mentioned a 37 mph top speed, so if you see me zoom by you in a minibike… Have any of you owned a Canadian market Chevy pickup?