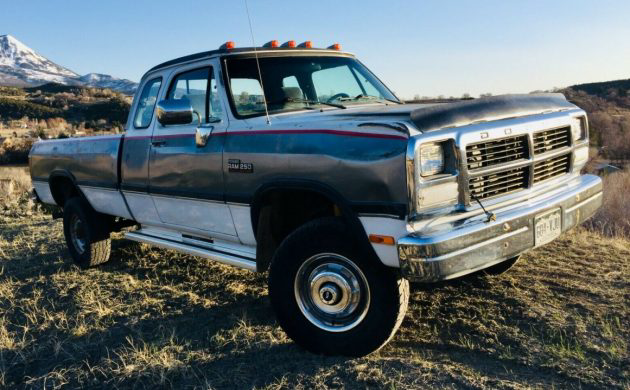 Cummins-powered Dodge Rams are among the increasingly collectible models of the late 80s and early 90s. They've been simmering for a while, but with the cool factor of 1980s cars and trucks continuing to grow, it was only a matter of time before the Ram pickup of this era began to heat up. Throw in the legendary reputation of the Cummins diesel powerplant and it's of little surprise to see this extended cab pickup already cresting $10,000. The truck belonged to the seller's father who can no longer drive, so it's up for grabs here on eBay and located in Paonia, Colorado, with just over 165,000 miles on the clock.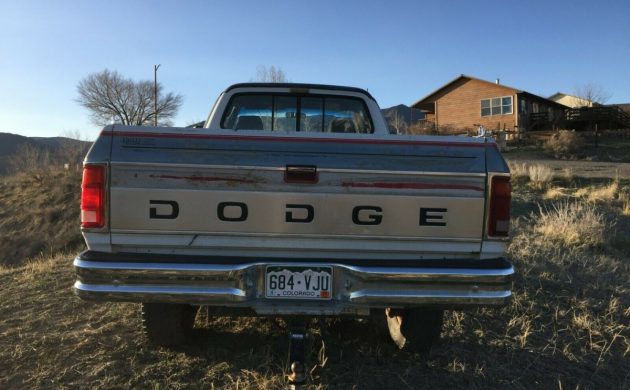 The 12-valve Cummins is a desirable machine, for a multitude of reasons. The reliability factor is one, but also the prodigious amounts of torque available at a very low RPM is another. This example is even equipped with the rarely-seen five-speed manual transmission, which should make the rich torque curve even more enjoyable to dig into. The seller notes that the truck drives quite well, but is cosmetically challenged. That's not a concern to the large pool of potential buyers, as this truck is bought to work, not for looking pretty. The bodywork, though dinged, dented, and scratched, is not rusty, thanks to the dry Colorado climate.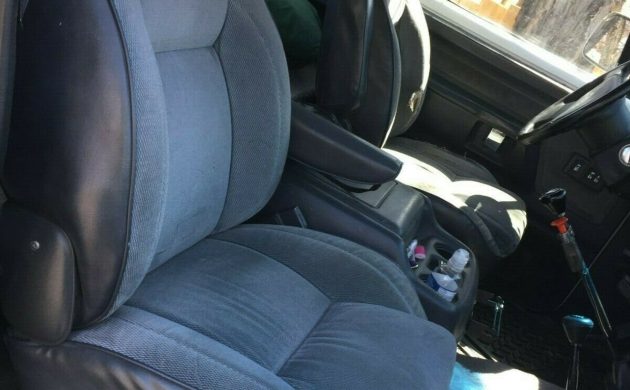 The interior features surprisingly deep-bolstered bucket seats and a large center console. These trucks were high on comfort as well, with plenty of space to spread out in. The Dodge is loaded up with power features, including locks, windows, mirrors, steering, and brakes, along with air conditioning, a tilt steering wheel, and AM/FM radio with CD player. The interior isn't in perfect condition and does display signs of wear and tear commensurate with the mileage, but it's nothing a decent upholstery specialist couldn't repair. The seller notes his father installed a "…. Gear Venders Under/Overdrive installed so now there are between gears from 3rd thru 5th. This is really nice on the highway."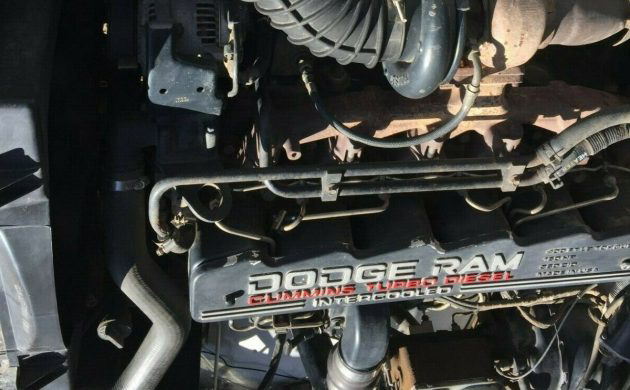 The 2500 12-Valve Cummins turbo diesel is a stout inline-six design that generates an astounding 400 lb.-ft. of torque and respectable 160 b.h.p. The engine is a testament to the benefit of using over-engineered components with heavy duty construction, as all manners of normal wear-and-tear parts were seemingly upgraded when this engine was designed. Connecting rods, six bolt per cylinder design, forged components – it all adds up to an engine that can tolerate an impressive amount of abuse while also being tuned for huge power if you so desire. The truck seen here isn't a trailer queen, but it needn't be – its most attractive components are beneath the skin. What do you think this increasingly valuable Ram will be bid up to?