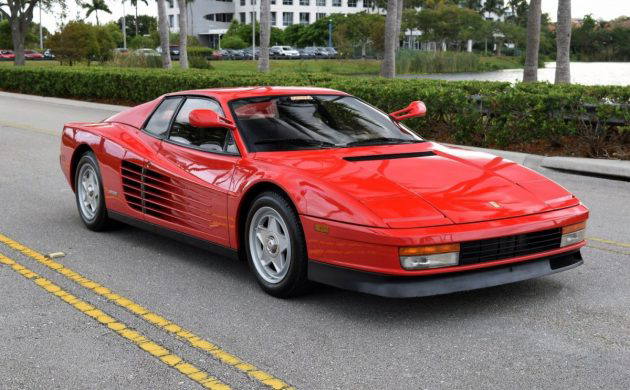 For me, it somehow seems right to find a 1986 Ferrari Testarossa for sale in Miami, Florida. For those of us over a certain age, a white 1986 Testarossa was the star car in the TV series Miami Vice. So, if this one was white, I'd definitely be doing a double take. The Testarossa is being offered for sale with a BIN price of $99,500, but the option is there to submit an offer. If this is a car that you would like to have in your garage, then you will find it listed for sale here on eBay.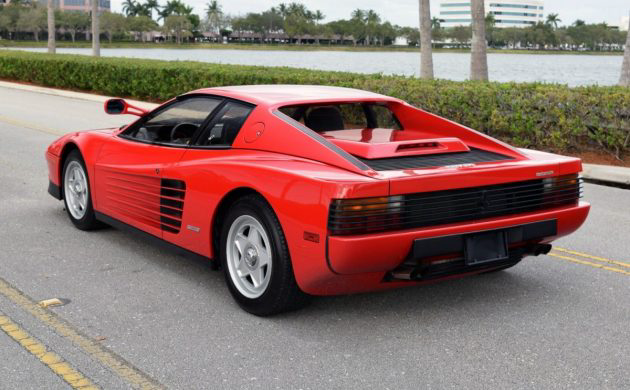 The Testarossa is one of those cars where the styling has tended to polarize people. It's not a car that I have ever really warmed to, but I do respect the engineering that has gone into the car. This one has a virtually flawless presentation, and those side strakes and external mirrors are two of the most distinctive visual features of the car. Having spent a number of years in climate controlled storage, and with only 20,000 genuine miles on the clock, it isn't surprising that the Ferrari looks as good as it does.
The interior of the Ferrari is a symphony in black, and it does present very nicely. There is some edge wear on the driver's seat bolster, but the rest of the interior does look good and very original, right down to the Alpine radio/cassette player. The car also features power windows and air conditioning that blows icy cold. One of the features that I have always loved, and it is almost never seen on anything but a supercar, is the gated shifter. I just think that these are a great looking thing, and if I could afford one, I'd probably buy a car like this just for that feature.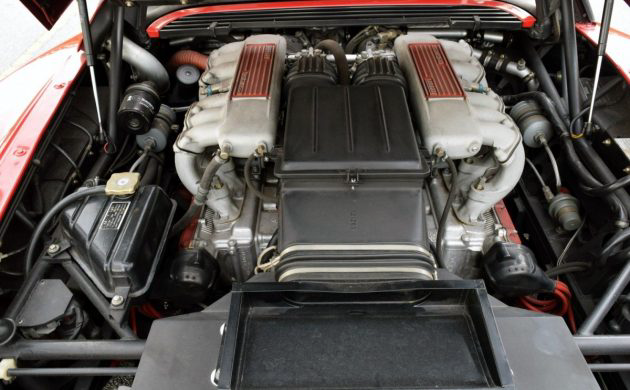 Under the hood of the Testarossa is a mid-mounted 4.9-liter V12 flat-12 engine, which sends its power to the road via a 5-speed transaxle. These engines produce in the vicinity of 390hp, but this is probably needed, as the Testarossa is no lightweight. Tipping the scales at 3,760lbs, this was one area where the Testarossa did cop some criticism, as many thought that it was too heavy. While it did blunt performance a bit, the Testarossa could still manage a 0-60mph time of 5.2 seconds and could cover the standing ¼ mile in 13.5 seconds, which was not shabby. This Ferrari is said to run and drive well, with both the engine and transmission working smoothly. One thing that will require attention is the belt servicing. This is now due as per the calendar rather than the mileage, and it's a vitally important item to pay attention to. The last thing that you want to hear from your thoroughbred Italian engine is one very loud noise, and then a lot of silence.
When it was released, the Testarossa was widely criticized for its appearance, but the passing of time has seen opinions tend to become far more mellow. This has been best reflected by the fact that while the values of the Testarossa took a bit of a battering in earlier days, they have bounced back in recent time, and the average price for a 1986 model is around the $115,000 region. This particular car looks to be in good condition, and it is a low mileage example. It has certainly attracted some attention since coming onto the market, with 179 people watching the eBay listing. I've never priced a belt service for one of these, but if that isn't horrendously expensive, then this Testarossa would seem like a pretty decent buy at the price.
Have something to sell? List it here on Barn Finds!