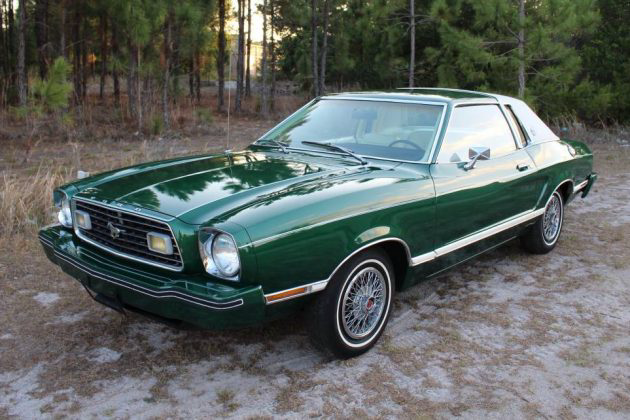 Every once in a while, you run across someone who takes car care to a whole different level.  A really, really different level.  Thanks to a tip from faithful reader Pat L., I think we have found an example of that dedication.  Feast your eyes on this meticulously cared for 1977 Ford Mustang II Ghia here on craigslist in Kissimmee, Florida, which has a market testing asking price of $12,495.  Before the price scares you off, you need to take a better look at this seventies stunner.
As you can see by the photos, this little Mustang II looks like a million bucks.  It's even painted the color of money!  The emerald green exterior is accented by a white vinyl top, pin striping, garnish moldings, and what appears to be an all white interior.  While it appears that the obviously hard to clean white interior is as spotless as the exterior, the owner unfortunately did not furnish any photos.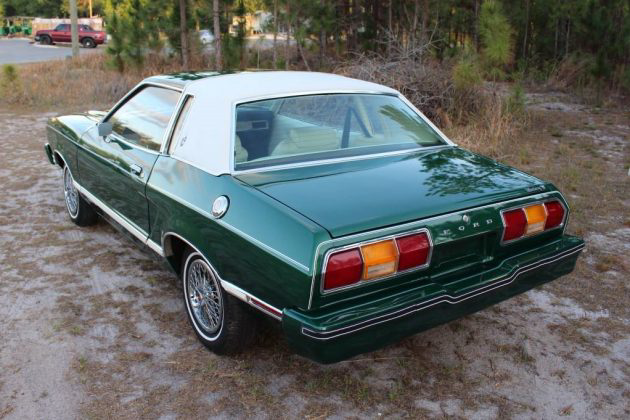 The seller of this one owner car, claims that it's has been garaged its entire life.  When you look at the complete lack of fading paint, the crystal clear plastic taillights, and the absence of rust around the vinyl top, that statement is easy to believe.  What is hard to believe is that the car has only 59,797 miles on the clock.  It looks like one of those museum cars that has never seen sunshine and asphalt.  To polish up this amazing story even more, the owner boasts that the original three sets of keys are still with the car along with the original decals and service stickers.  If you need further proof of this little pony's originality, the factory chalk marks from the production line are still evident in a few areas.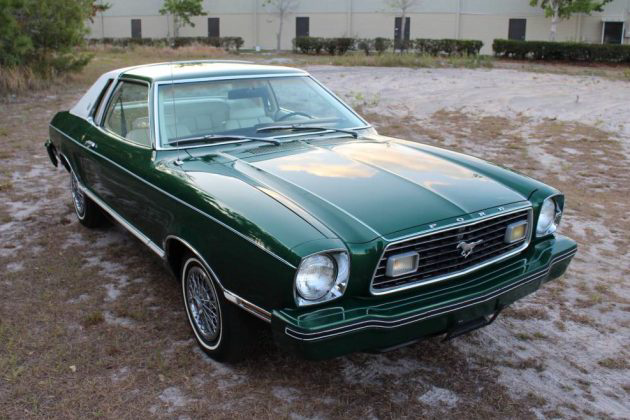 When you add it all up, this is a pretty amazing piece of history.  Between 1973 and 1978, Ford made over 1.1 million of these downsized Mustangs.  Only a handful of that number had the Ghia option that the feature car wears proudly.  Named after the famous European Ghia coach building firm, this was a very luxurious version of the popular second generation Mustangs.  Given that we had to suffer through the oil crisis and the demise of the fire breathing pony cars of the 1960s, cruising around in one of these little luxury cars was a pretty good plan B until better times came along.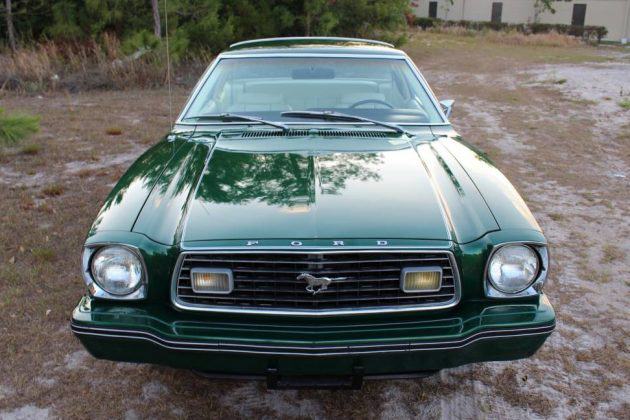 All things considered, this little Mustang II has a lot going for it.  Obviously, it was incredibly well taken care of and still has a lot of miles left in it.  Perhaps the most fun would be the conversations it would start at cruise ins and car shows.  There aren't a lot of people walking around that owned Shelby Mustangs, even though you seem to meet a whole lot of people who will claim to have been owners.  However, you will meet tons of people who really did own Mustang IIs.  The fun the next owner will have talking to them and hearing their stories will make this stunning little car worth every penny.